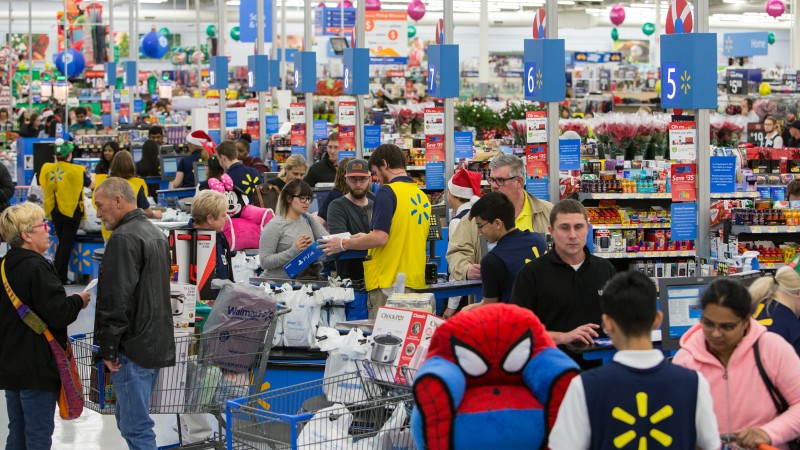 The new landscape of retail is increasingly looking like a two-way street—while Amazon (AMZN) is seeking a stronger presence in physical retail, brick-and-mortar titan Walmart is investing heavily in order to break into the e-commerce space.
In 2011, Walmart acquired a search engine startup called Kosmix for $300 million and renamed it Walmart Labs, a research division to support Walmart's e-commerce business. Through Walmart Labs, the retail giant has since built a massive—and costly—cloud server network that, according to Reuters, is the size of 60 football fields.
This digital infrastructure is key to keeping Walmart above the water in a time when traditional retailers—and large corporations in general— are struggling to compete with their tech-savvy rivals.
Success in the retail industry is all about precision in a retailer's supply chain, such as cash-tied departments like inventory. That is the primary goal of Walmart's cloud infrastructure. With a robust cloud network, Walmart is able to monitor inventory movement and shopper activities in real time across store, desktop and mobile apps.
Walmart's chief technology officer Jeremy King recently told Reuters that Walmart can now make more than 170,000 changes to software that supports its website every month, compared to fewer than 100 changes before implementing the cloud network.
Thanks to tech upgrades, Walmart's online revenue rose by 50 percent in the third quarter of fiscal year 2018 (ended October 27, 2017), its best number since 2009.
And Walmart's enormous size allows it to utilize the economy of scale in its favor, even in the digital era. According to a consumer survey this month by student finance site LendEDU, Walmart's prices are, on average, 10 percent lower than those on Amazon.
In addition to building in-house cloud infrastructure, Walmart has also been rapidly expanding into e-commerce through startup acquisitions. Since 2016, Walmart has acquired some of the fastest-growing shopping sites like Modcloth.com, Shoebuy.com and Jet.com, just to name a few. 
Walmart is reportedly in talks to acquire up to 20 percent of India e-commerce giant Flipkart.
If the deal goes through, Walmart's digital footprint will extend significantly into India and other emerging markets in Asia, where China's Alibaba holds a dominant position.
The company is set to release it's fourth-quarter and full-year earning results next week.