Amara is Michael Schwartz's first waterfront eatery.
Courtesy Amara at Paraiso
Try Amara's approach to Latin American cooking.
Courtesy Amara at Paraiso
Chef Schwartz brings together bold Latin American flavors and coastal ingredients.
Courtesy Amara at Paraiso
Besides Schwartz, the kitchen is led by Executive Chef Michael Paley.
Courtesy Amara at Paraiso
Be sure to grab a reservation before everyone else in Miami does.
Courtesy Amara at Paraiso
The indoor-outdoor space accommodates cocktail receptions of up to 150.
Courtesy Amara at Paraiso
The majority of the food is cooked using wood-fire grills.
Courtesy Amara at Paraiso
On a buzzy Saturday evening in Miami's Edgewater neighborhood, white-aproned cooks prep bowls of whipped carrot dip garnished with heaps of crème fraîche and flip lamb ribs and hanger steaks over a wood-fire grill. Behind them, the Miami Beach skyline shines through floor-to-ceiling windows.
Amara at Paraiso is James Beard award-winning chef Michael Schwartz's newest restaurant. Less than four weeks since opening, it's proven to be a similar success to the chef's other Miami-area restaurants, like Michael's Genuine in the Design District, Fi'lia in Brickell and Harry's Pizzeria in Coconut Grove.
Located inside Paraiso Bay, a luxury condo project by the Related Group, Amara is Schwartz's first waterfront restaurant. The menu, which features an eclectic bunch of Latin American dishes, is mostly cooked using wood-fire grills and Josper charcoal ovens. Schwartz describes it as "his love letter to Miami."
"The dynamic energy, local ingredients, and natural beauty that define why we live and visit here are what Amara is all about," Schwartz said. "It couldn't exist anywhere else. This restaurant is in the unique position to bring it all together." Besides Schwartz, the kitchen is led by Executive Chef Michael Paley, who trained under Daniel Boulud and was previously the executive chef at Metropole 21c Museum Hotel in Cincinnati, Ohio.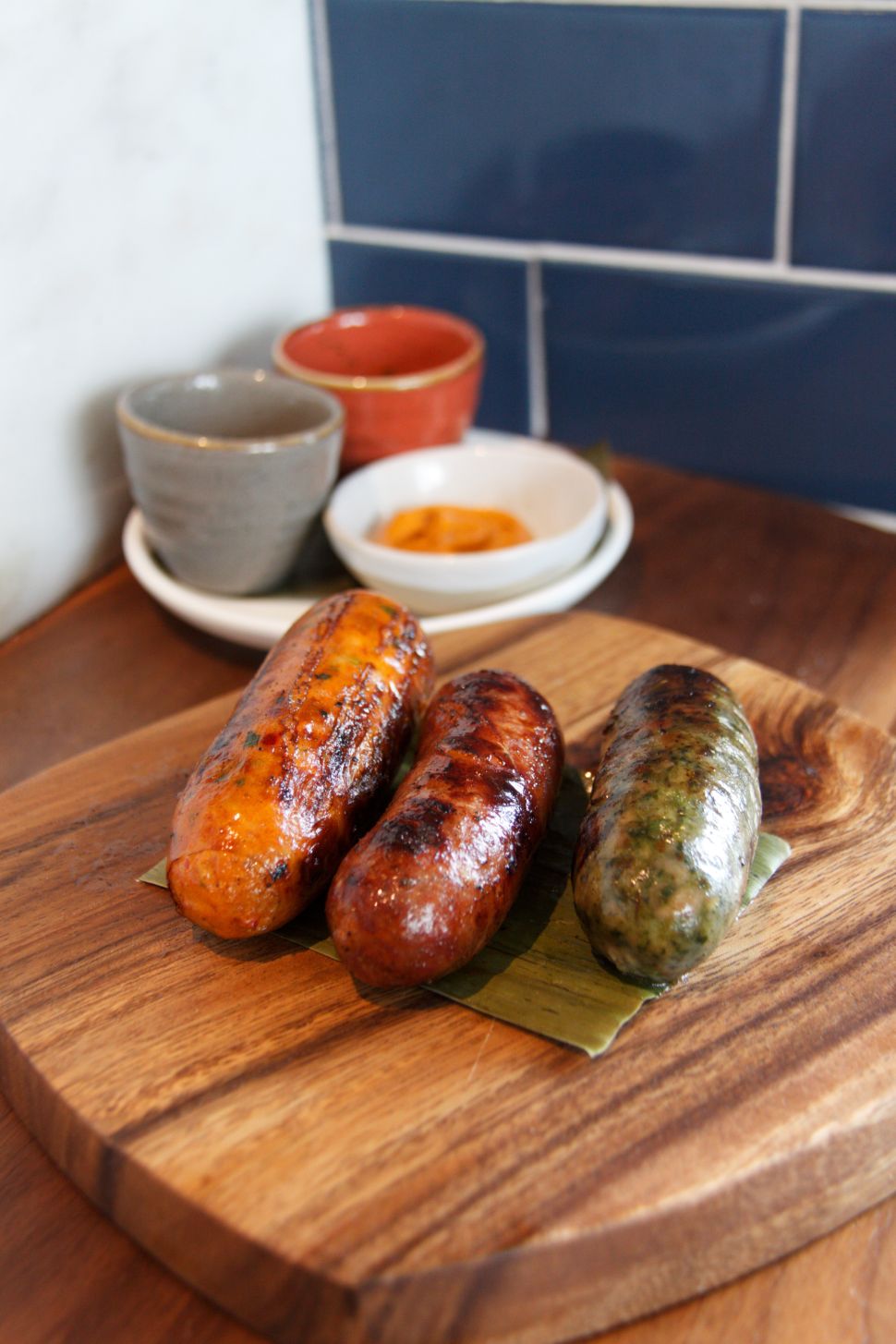 Within the restaurant's 4,500-square-foot dining room, diners will find sweeping views of Biscayne Bay and Miami Beach. Nearly every table in the restaurant— both indoor and outdoor—offers a dramatic waterfront view, in addition to an eyeful of tropical-inspired décor with wooden furnishings and copper accents.
Begin your meal with an order of Amara's two empanadas. The first is a short rib, baked in a doughy crust and served with a light chimichurri sauce; the second is corn and leek, stuffed with roasted poblano and mozzarella and wrapped in a crispy fried yucca.
Continue with a few more snacks and small plates, like the smoked fish dip served with plantain chips, and yucca cheese puffs sprinkled with parmesan and sea salt. The ceviche, made with avocado, grilled sweet potato and smoked oil, is a must-order. There's also beef tartare topped with an egg yolk and cashews.
Medium and large dishes include crispy octopus drizzled with a smoked paprika aioli vinaigrette and cobia served steaming inside a banana leaf wrap. Paley recommends a medium-rare charred hanger steak spritzed with a grilled lemon. He is also particularly proud of his Amara feijoada: a warm stew of red beans, pork belly, chorizo and short rib-marinated kale.
For a true feast, diners can tuck into a meat or a seafood parrillada. The flaming platter of grilled items comes stocked with hanger steak, short rib, chorizo and sweetbreads; or cobia, octopus, giant prawns and seafood chorizo. 
Many of Amara's cocktails feature fruity liqueurs and juices. Take the La Fresa, a mixture of strawberry-infused rum, ginger and lime; or the Tomás Collins, made with a Latin gin blend, cucumber, lime and club soda. There's also the Will Fernet About You blended with cola syrup, lime and cava.
For dessert, request Amara's flan. Unlike a traditional version, this one is made with a light dulce de leche base. And, if you still have room, opt for a wood-grilled pineapple upside down cake.
Besides Amara, Schwartz is in the midst of a multi-restaurant expansion of his home-grown pizzeria, Genuine Pizza. By 2021, he expects to open 20 locations across the country. Right now, he has outposts in Aventura, Florida and Atlanta, Georgia; Miami Beach, Sunrise, and Shaker Heights, Ohio are expected to follow within the next year. Schwartz is also behind a forthcoming restaurant in Coconut Grove, though a concept and expected opening date have not been released.
In the meantime, be sure to book a reservation at Aamra—especially on the weekend, when it's required.