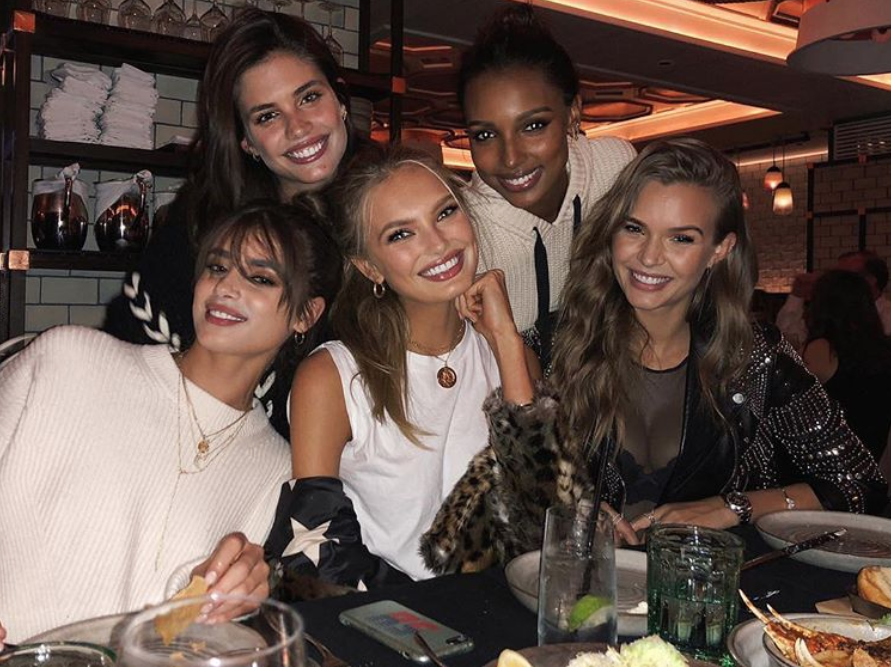 New York Fashion Week has changed in major ways over the last five years and it looks like the shifts will continue in 2018. Even more designers have dropped off of the calendar this season, in favor of showing in Paris or simply opting for more casual presentations, like Lela Rose who will simply be using her favorite bloggers and influencers in an Instagram show.
The one thing that will never change about New York Fashion Week? There will always be a ton of beautiful, young models running around the city. They can usually be spotted slouching in a booth at the restaurant of the moment, dressed in head-to-toe designer garb and surrounded by their equally stunning entourage. If you're wondering where these ethereal creatures go to Instagram their avocado toast or nibble on burgers, we've got the ultimate list.
Here's where to spot a model during February fashion week in New York.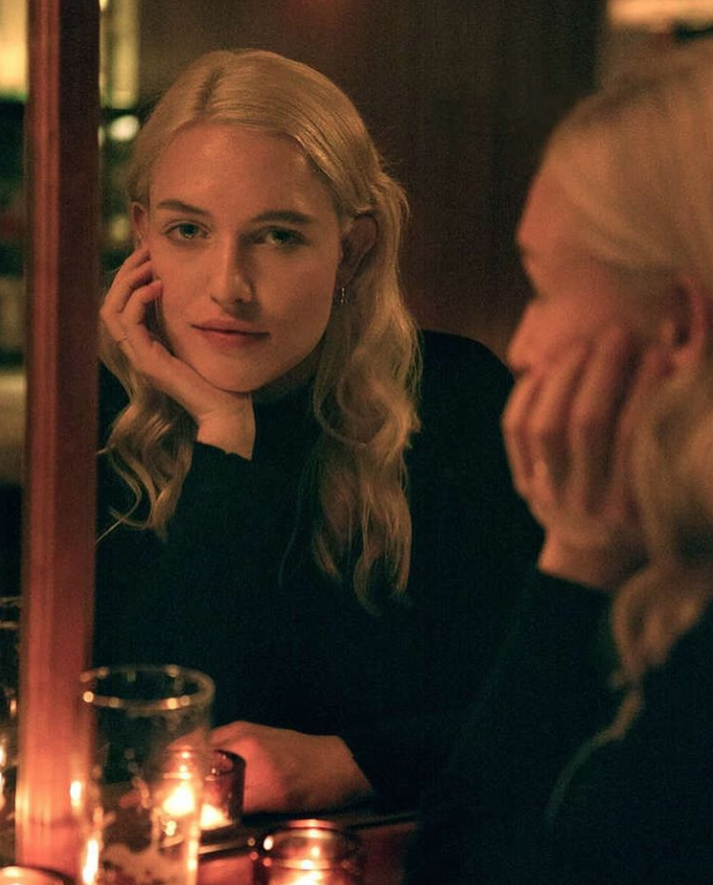 This is a great spot to drop in between shows and with a menu designed by John Fraser of the Michelin-starred Narcissa, you can trust it's going to be damn good. There are a few details to keep in mind: The menu is divided into "bites" and then "bigger bites," the tables are communal and the food is meant to be shared and eaten with your hands. Also, "Narc Bar" is slang for edible weed, but that's not offered on the menu—yet.
What to order: Khachapuri (a savory Georgian flatbread), steak tartare, and green pea tostadas.
Spotted here: Carlotta Kohl, Chrissy Ionno, Viktoria Kvalsvik and Kira Ship.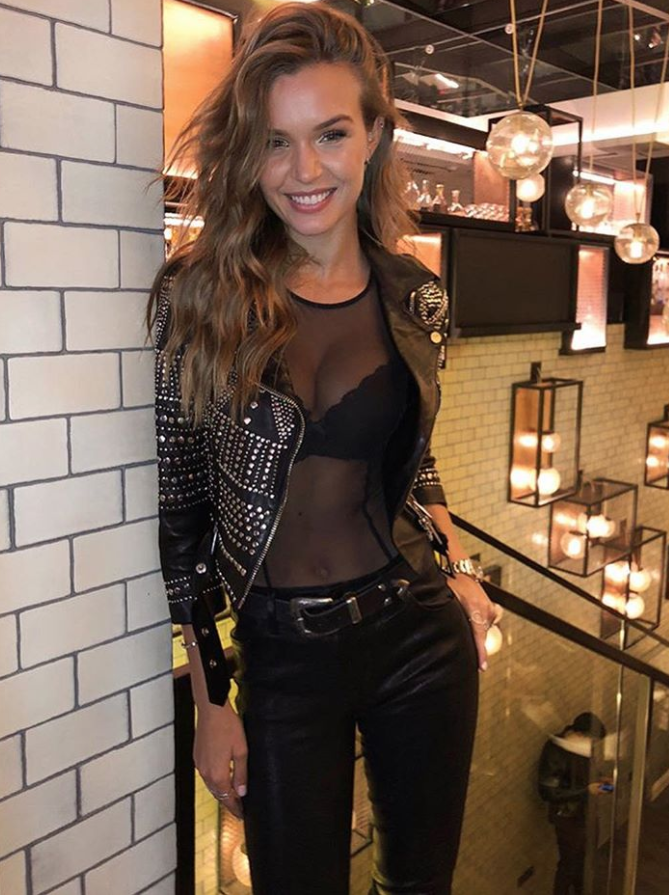 TAO Group's newest seafood restaurant is located in the heart of the Garment District in the Moxy Hotel and focuses on classic dishes with a millennial twist (i.e. the food is super Instagrammable, particularly the seafood tower.) Once you finish eating, follow the catwalkers to the Moxy lounge for a game of foosball or up to the rooftop Magic Hour bar, replete with rotating sofas and topiary teddy bears in compromising positions.
What to order: Baby Golden Beet Salad, Half Lancaster Lemon Chicken, Lobster Bake, Trio of Veggie Tips with Hot Bomba Bread.
Spotted here: Romee Strijd, Jasmine Tookes, Josephine Skriver, Taylor Hill, Sara Sampaio, Laverne Cox, and Sandra Kubicka.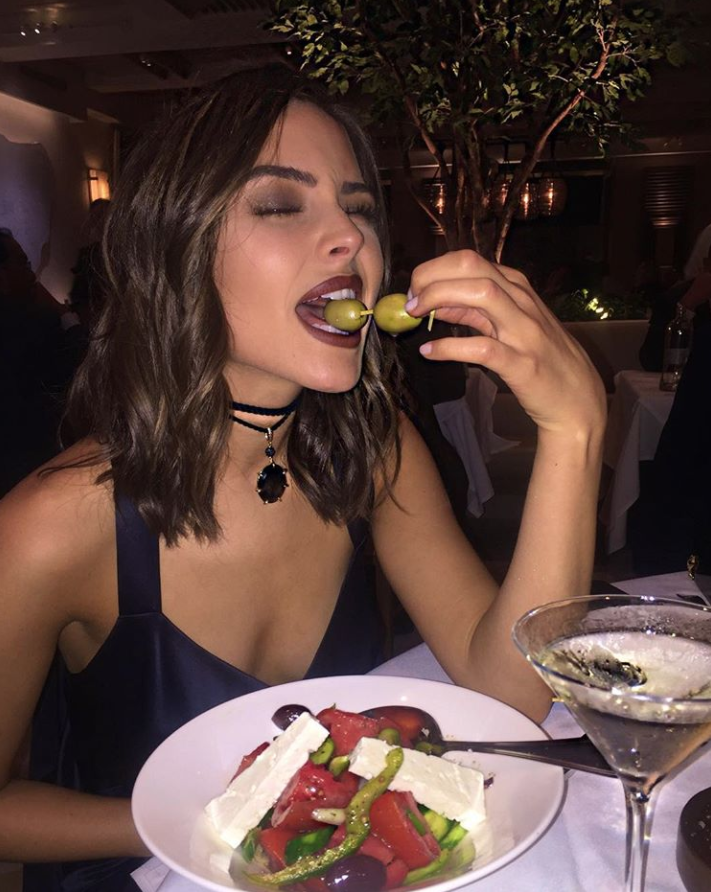 This bi-level restaurant on the Upper East Side offers traditional Greek cuisine with an emphasis on fresh seafood. The impressive décor features a reflecting pool, 400-pound hand-blown chandeliers and 8-foot-tall-lemon trees. Although Elliot Spitzer allegedly had a lewd outburst at this eatery, legendary supermodels like Naomi Campbell and Cindy Crawford are fans.
What to order: Greek Salad, Grilled Octopus, Tuna Sashimi, Avra Chips, Fish by the Pound.
Spotted here: Nina Agdal, Olivia Culpo, Nicole Richie, Padma Lakshmi, Naomi Campbell, Donna Karan, Alexander Wang and Cindy Crawford.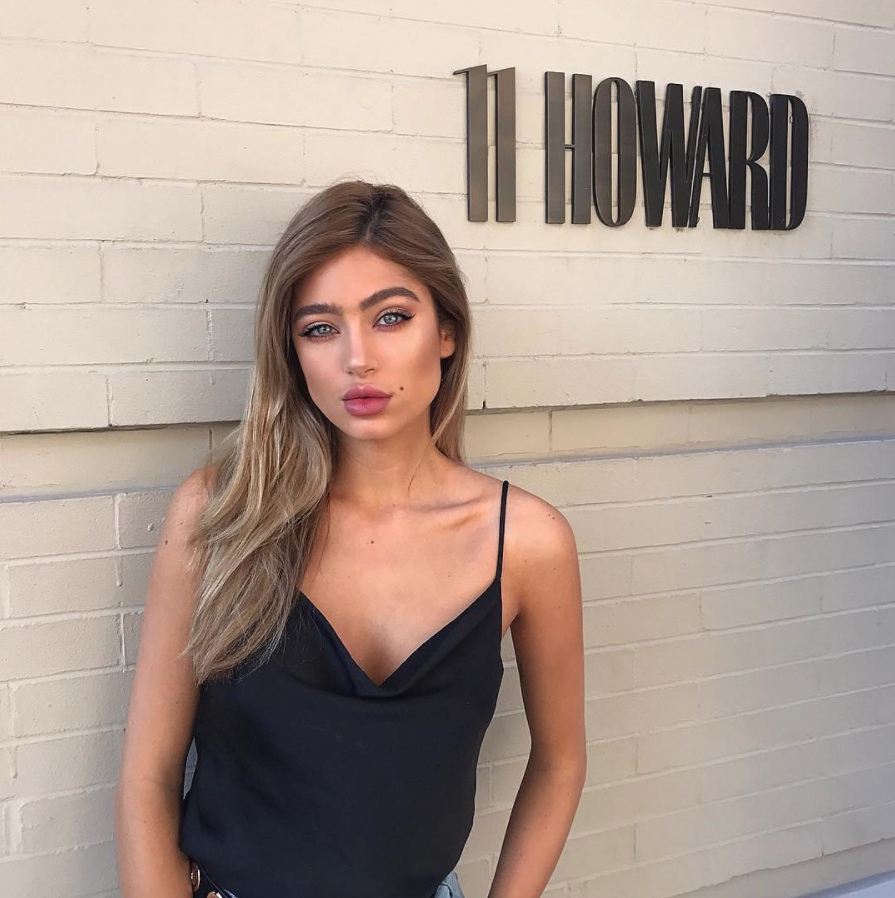 It comes as no surprise that the bar inside Aby Rosen's 11 Howard draws quite a fashionable crowd. After all, the man is known for his legendary Art Basel party and after 10 p.m. this place is hard to walk into—unless you have the leggy physique of a model. The bar has a sexy Fifty Shades of Grey vibe and pays homage to the hot blonds of decades past, such as Marilyn Monroe and Paul Newman. While celebs adore this place for their own functions, like Kate Upton, who had her birthday party there in 2016, the hotel itself has also become a go-to for stars like Lea Michele, who recently took a photo of herself jumping on the bed topless.
What to order: Tuna tartare, grilled cheese, and avocado toast, all of which are prepared by the kitchen at Le Coucou, the must-visit Stephen Starr restaurant just next door. Down the Centerfold cocktail, made with vodka, chai green tea, grapefruit, champagne or sip The Casual Encounter, featuring tequila, ginger beer,  allspice dram and lime
Spotted here: Kate Upton, Jasmine Tookes and Mary-Kate Olsen.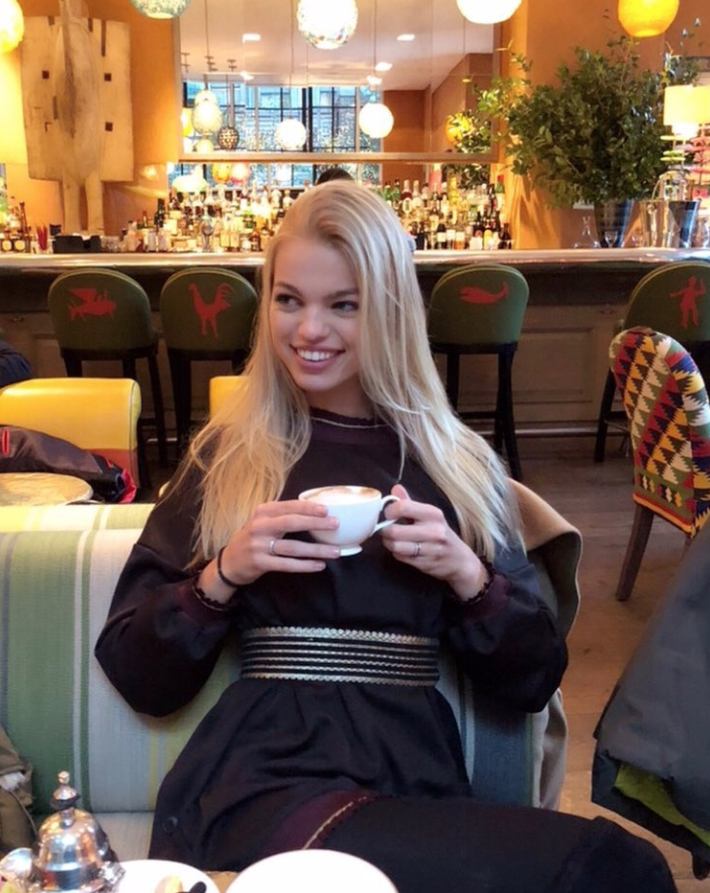 Although the bar at the Crosby Street Hotel is a lovely spot for a nightcap, it's also a great place for a morning meeting or afternoon tea amid a sea of models and designers. They serve a gorgeous tower of cakes and scones as well as rather large cupcakes. To wash it all down, there's the Detox Tea, free from gluten, dairy, eggs and refined sugar.
What to order: The Tiger's Eye with Stoli vodka, cinnamon, lemon juice, pear nectar, champagne.
Spotted here: Daphne Groeneveld, Emily Ratajkowski, Hilary Duff and Dianna Agron.
Adrien Grenier (a.k.a. Vinnie from Entourage) owns this place so of course it's a regular stop for models. The four-level restaurant, which opened in 2016, has comfy leather couches, table service and, duh, an amazing record collection.
What to order: The drinks are inspired by the '70s, but they're still perfect for any model's Insta feed. That includes the 1862 Milk Punch, mixed wtih brandy, cognac, Batavia Arrack, pineapple, spices and black tea. Thankfully, the food menu is utterly modern, featuring a salmon poke bowl with tortilla chips and seaweed salad.
Spotted here: Bella Hadid, Diane Kruger and Issa Rae.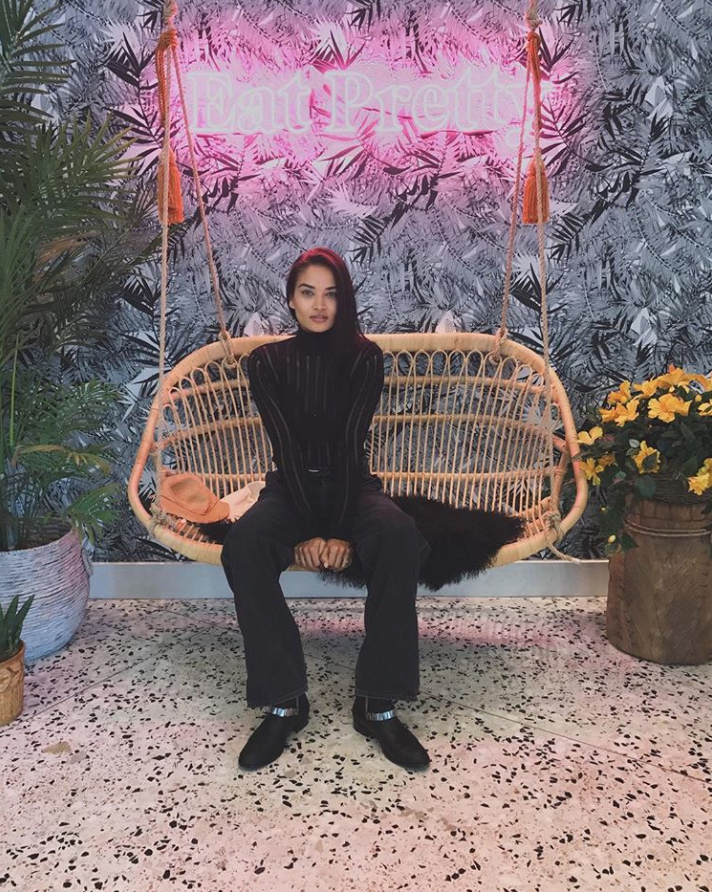 Just because these girls are working hard all week doesn't mean they aren't going to make time for their workouts. After they box at Rumble they can turn the corner over to the new fast-casual health food restaurant, Broken Coconut. Opened by the guys behind 1OAK, The Butter Group, Black Seed Bagels, Babu Ji and Cipriani's Socialista this is the new hotspot for models to feast on signature yogurt, grain bowls, eggs and toasts.
What to order: Farm Scramble, Midnight Lemonade, Vegan Delight, Supergrain Salad and the Ginger Shoyu Tuna Poke Bowl.
Spotted here: Bella Hadid, Something Navy's Arielle Charnas, Shanina Shaik, Ashley Benson, Jasmine Tookes and Sara Sampaio.