Los Angeles is a place where love means eating whatever you want, so the options for Valentine's Day dinner around the city are diverse and wonderful. Here are five places where the food will be good and the mood will be right.
For à la Carte Majesty 
Silver Lake hot spot Sawyer is offering some baller à la carte specials from chef Peter Macias. Choose your own Valentine's Day surf-and-turf adventure from options like rock crab claws with drawn butter and truffle aioli ($25), a chilled seafood platter including oysters, shrimp and Peruvian scallop tartare ($21), local halibut ($26) and a 31-day-dry-aged 16-ounce rib eye with truffled potatoes and au poivre sauce ($59). The decadent dessert special is a chocolate torte with hazelnut mousse, white chocolate pearls and raspberry ($12).
For the Best Downtown Date
Redbird is one of downtown's most elegant places to dine, and chef Neal Fraser's beautiful Valentine's Day menu ($125) starts with a surprise amuse bouche before your choice of three courses. Starters include burrata ravioli with winter truffles, parmesan and pink peppercorn. Or perhaps you'd prefer a romance-inducing Shigoku oyster with Meyer lemon mignonette and red ogo seaweed? After a second course of tofu, John Dory, bacon-wrapped saddle of rabbit, filet of beef or a porterhouse for two ($30 supplement), pastry chef Kasra Ajdari's offers your selection of desserts including his version of an eton mess with kaffir lime meringue, citrus curd, strawberry preserves and burnt lemon.
For Classic Indian in Beverly Hills
Bombay Palace is an upscale, celebrity-friendly Indian restaurant in Beverly Hills where you can enjoy a candlelit dinner for two on Valentine's Day. This is a great option if you think that love means a family style feast. The restaurant's special $150-per-couple Valentine's Day menu includes prosecco and a procession of lovely dishes including Bombay Palace's beloved tandoori chicken, seekh kebabs, tandoori prawns, samosas, assorted curries, rice, bread, raita and two desserts.
For All of the Amore
Akasha Richmond's AR Cucina in Culver City is serving lovely Valentine's Day specials (ranging from $10 to $49) like fluke crudo, beet and goat cheese agnolotti, lobster and prawn risotto, a New York steak for two and cannoli with ricotta and chocolate. We totally understand if you order some pasta off the regular menu, too. Mixologist Clare Ward's Italian-inspired Valentine's Day cocktails ($14) include the Casanova (Pig's Nose scotch, Pama liqueur, blood orange cordial and Antica Vermouth) and the Isabella Rossellini (tequila, raspberry gin, rosé, firewater bitters, lime and rose salt).
Pizza is Love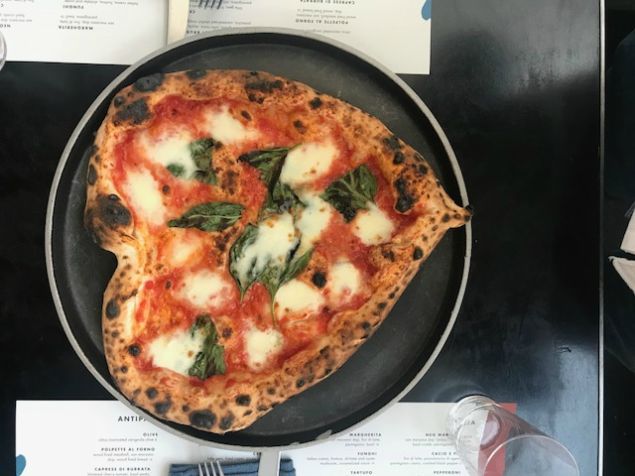 Brentwood's Pizzana consistently attracts crowds who are in love with Daniele Uditi's neo-Neapolitan creations. For Valentine's Day, Pizzana's got heart-shaped margherita pizzas in addition to its regular menu with an amatriciana pizza, a Sunday gravy pizza, a truffle-topped pizza, a chorizo-and-jalapeno pizza and lots more.