It's almost Valentine's Day, once again. For the hyper-organized, Type A personalities among us, romantic dinner reservations have been set, pre-paid, and confirmed for two weeks already. As for the rest of us…well, we're going to have to move quickly to claim a prime date-night table. Luckily, a number of excellent Manhattan eateries still have some availability on Valentine's Day.
We scoured OpenTable and blew up reservation lines to find For your best options for a February 14th dinner for two between the hours of 6 p.m. and 9 p.m.
Andrew Carmellini's vegetable-forward seasonal restaurant at the Smyth Hotel makes for a clean, modern, and chic Valentine's Day venue, complete with blond wood, contemporary art and plenty of greenery. Little Park will serve a $110 per person prix fixe menu on February 14, including four courses and optional wine pairings. Guests can select from dishes like kohlrabi with roasted garlic and hazelnut, beetroot risotto with chevre and poppy seed, aged Long Island duck with kumquat agrodolce and fermented chili, finished off with a chocolate pine tart and muscovado ice cream. If you're up for a post-dinner libation, be sure to swing by Evening Bar, the Mad Men-esque cocktail lounge helmed by mixologist Anne Robinson.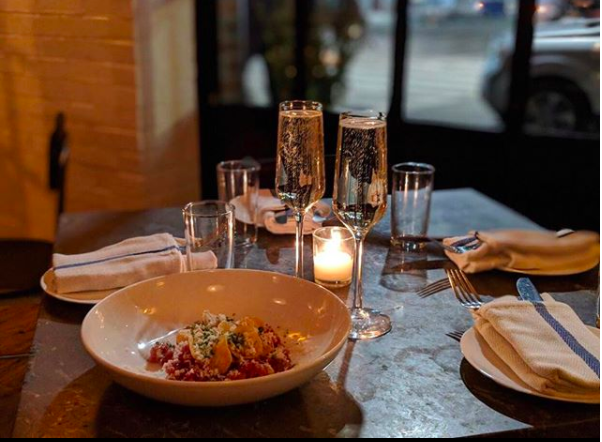 A stylish New American bistro from Matt Abramcyk (of Smith & Mills and Tiny's), Yves will offer an à la carte menu on Valentine's Day, supplemented by holiday specials. Yves' dinner menu features crowd-pleasing items like yellowfin tuna tartare with cucumber, radish, and fingerling potato chips, dover sole meuniere with capers, lemon, and brown butter, and steak frites with a dry-aged bone-in NY Strip and sauce au poivre.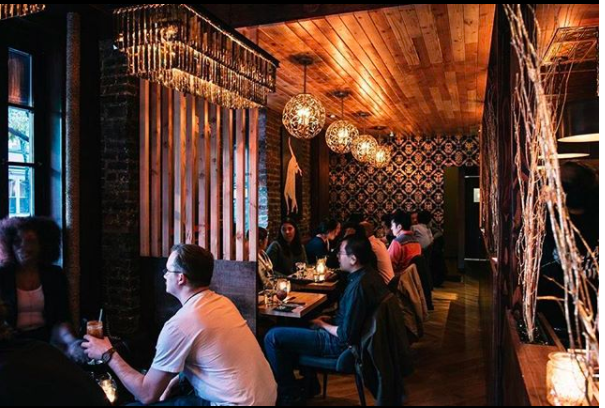 A cocktail boîte with Japanese influences, Bar Moga certainly won't be a boring Valentine's Day destination: elegant but sensual decor, a drink list designed by a Sasha Petraske protegée and a menu based on the yōshoku (or "Western") dishes popular in Japan during the '20s. On February 14, Bar Moga will open its intimate Fireplace Room to couples for a prix fixe menu. Dishes include fluke carpaccio with yuzu vinaigrette, Valentine's Omurice fried rice with an omelette and cocoa-infused demi-glace sauce, and a Kusudama Puff pastry with strawberry, blackberry and rose for dessert. The $70 ticket price also gets you a cocktail pairing for each course, with examples like the Yuzu Fizz made wtih Nikka Japanese gin, yuzu, ginger, vanilla, soda and the Ume Sour, from Kamoizumi ume shu (plum wine), umeboshi (salted pickled plum), chocolate bitters, soda. 
At his inventive Indian restaurant, Rahi, Chef Chintan Pandya (formerly of Michelin-starred Junoon) aims for an ambitious interpretation of traditional Indian cuisine, accented by global influences and meticulously-sourced ingredients. Therefore, it comes as no surprise that Chintan will take a concept-driven approach to Valentine's Day. Rahi will serve two five-course prix fixe menu (one appropriate for vegetarians and one for meat-eaters). Each dish will incorporate ingredients known to have aphrodisiac qualities, such as the Anjeer Chili Paneer with house-made paneer, 5-chili blend, fig compote, the Lotus-Root Kofta made from paneer, fanugreek-tomato curry, lotus chips, and Kashmiri Lamb Ribs featuring braised Colorado ribs with Yakhni curry and Sichuan peppers.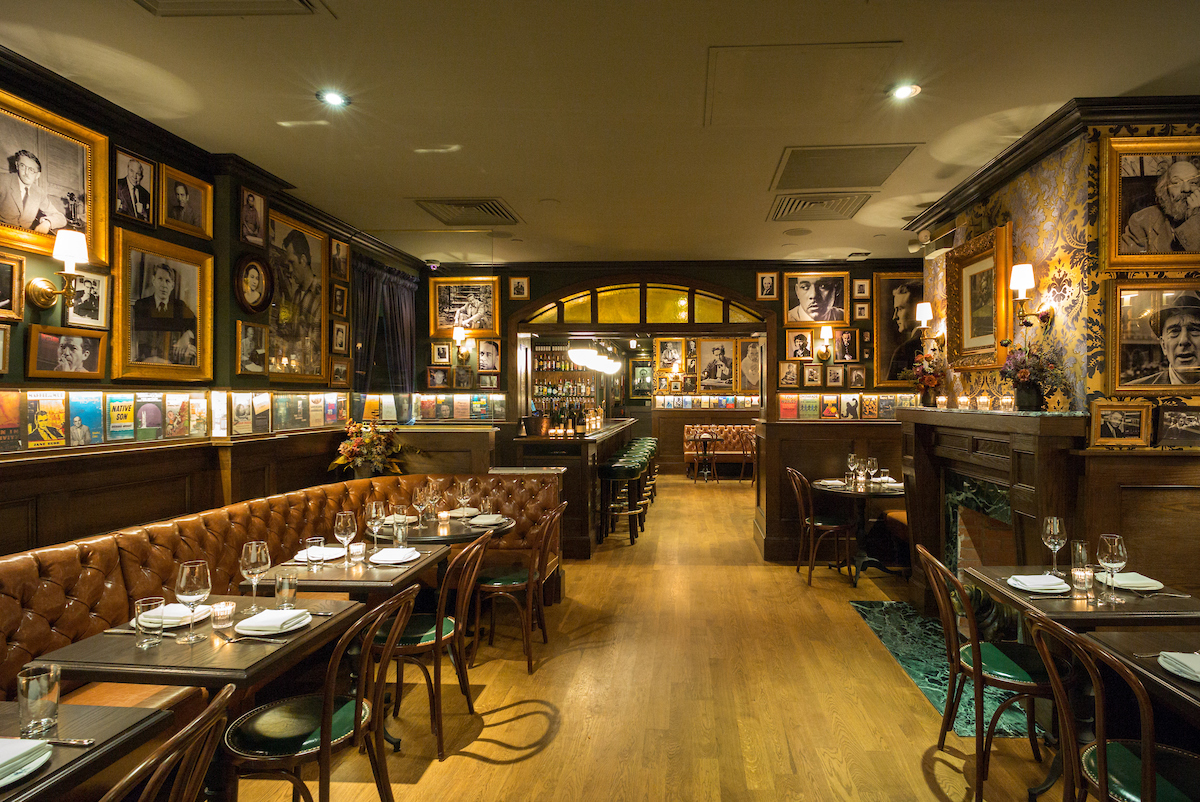 The reincarnation of a classic West Village literary haunt that once counted F. Scott Fitzgerald and William Faulkner among its regulars, Chumley's now serves upscale American pub grub and craft cocktails alongside its draft beers and whiskey pours. Neighborhood residents and visitors alike flock to Chumley's for its ever-changing menu, featuring hearty bites like lobster with brown butter, wild mushroom risotto with chanterelles, porcini, and brandy, and the "86ed Burger" with bone marrow, crispy shallots, American cheese, and special sauce. On Valentine's Day, adventurous twosomes can reserve a table at Chumley's for an à la minute $95 prix fixe dinner. The actual menu won't be announced ahead of time, so it's a leap of faith…but considering Chumley's excellent track record of creative dishes with a hint of nostalgia, you can trust that you'll be in good hands.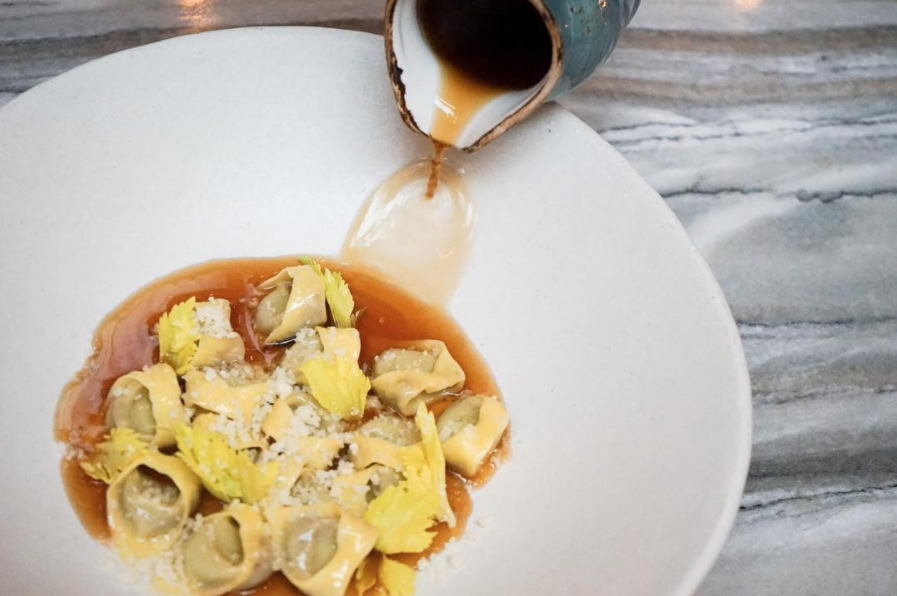 Casa Apicii's romantic-evening credentials are as follows: a prime location inside a 19th-century Village townhouse, seasonal Italian dishes perfect for sharing and an upstairs cocktail bar with plush sofas and hidden-in-plain-sight vibes. On Valentine's Day, they're setting the bar even higher, offering a $75 four-course prix fixe filled with Casa Apicii favorites, like Winter Chicory Salad with apple, saba, Piave cheese and pecans, gnocchi with milk-braised veal, peas and Parmigiano, Slow-Roasted Pork Belly with stewed artichokes and beans, and Chestnut "Pandoro" with salted-caramel gelato and pears. After dinner, you'll want to head up the incognito staircase behind the host stand, where you'll find the aforementioned cocktail lounge, Bar Fortuna. There, you can enjoy Italian-influenced libations like the Ville d'Este featuring gin, Aperol, rhubarb, lemon, prosecco and the Cabroni No. 2, made with tequila, Mirto de Sardegna, Campari.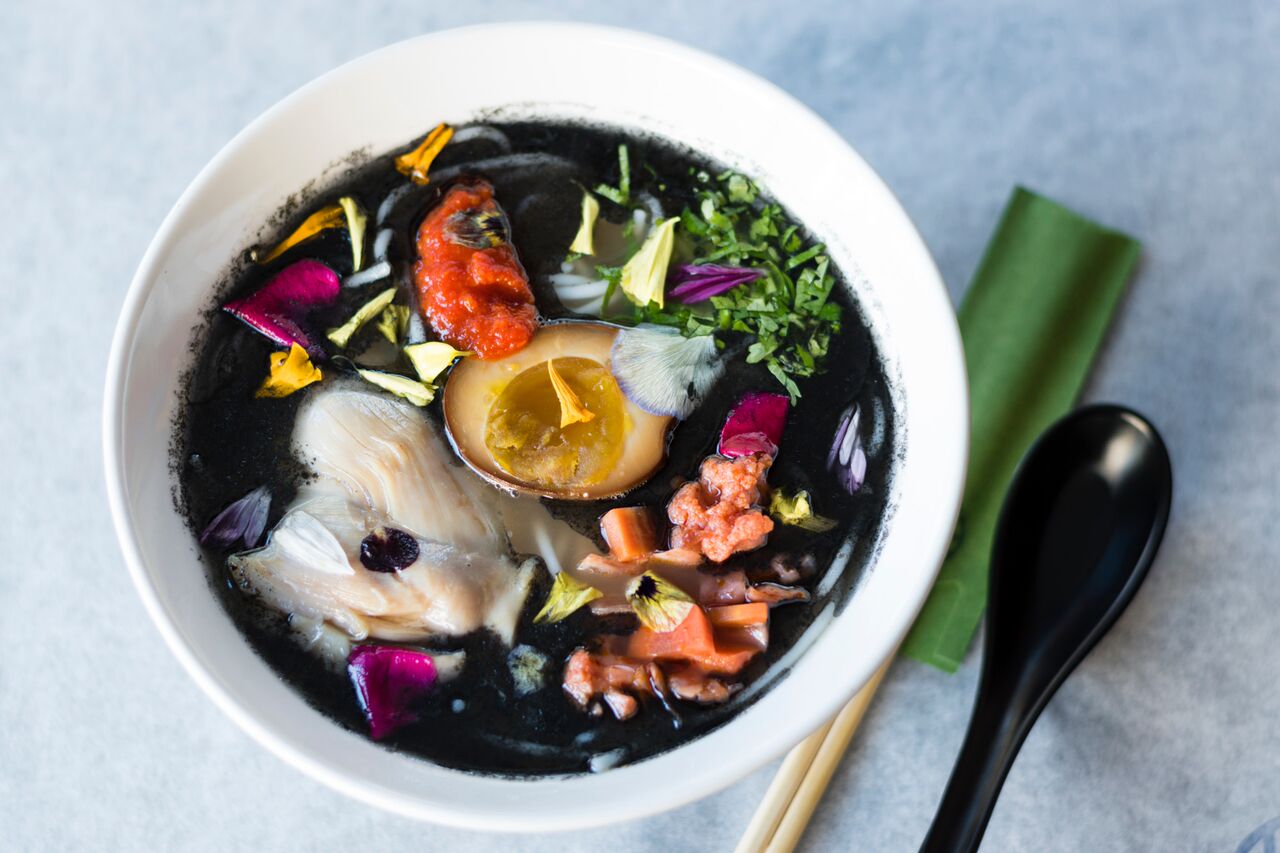 Looking for a low-key Valentine's dinner with plenty of bold flavors? Little Tong Noodle Shop, the East Village mixian parlor from Chef Simone Tong (an alum of wd-50), is just the spot. Here, you'll find a two-course prix fixe menu for $40, with plenty of ways to personalize your meal. Our ideal would be an appetizer of Beef Tartare with smoked yolk sauce and scallion pancakes along with a bowl of Little Pot Mixian featuring pork broth, minced pork, shiitakes, garlic chives, pickled mustard stems, pea shoots, chili vinaigrette—it's also available as a vegetarian dish. Also intriguing is the Banna Shrimp Mixian with smoked tomato-shellfish broth, shrimp, coconut mint sauce, pickled green chili, herb oil and fried shallots.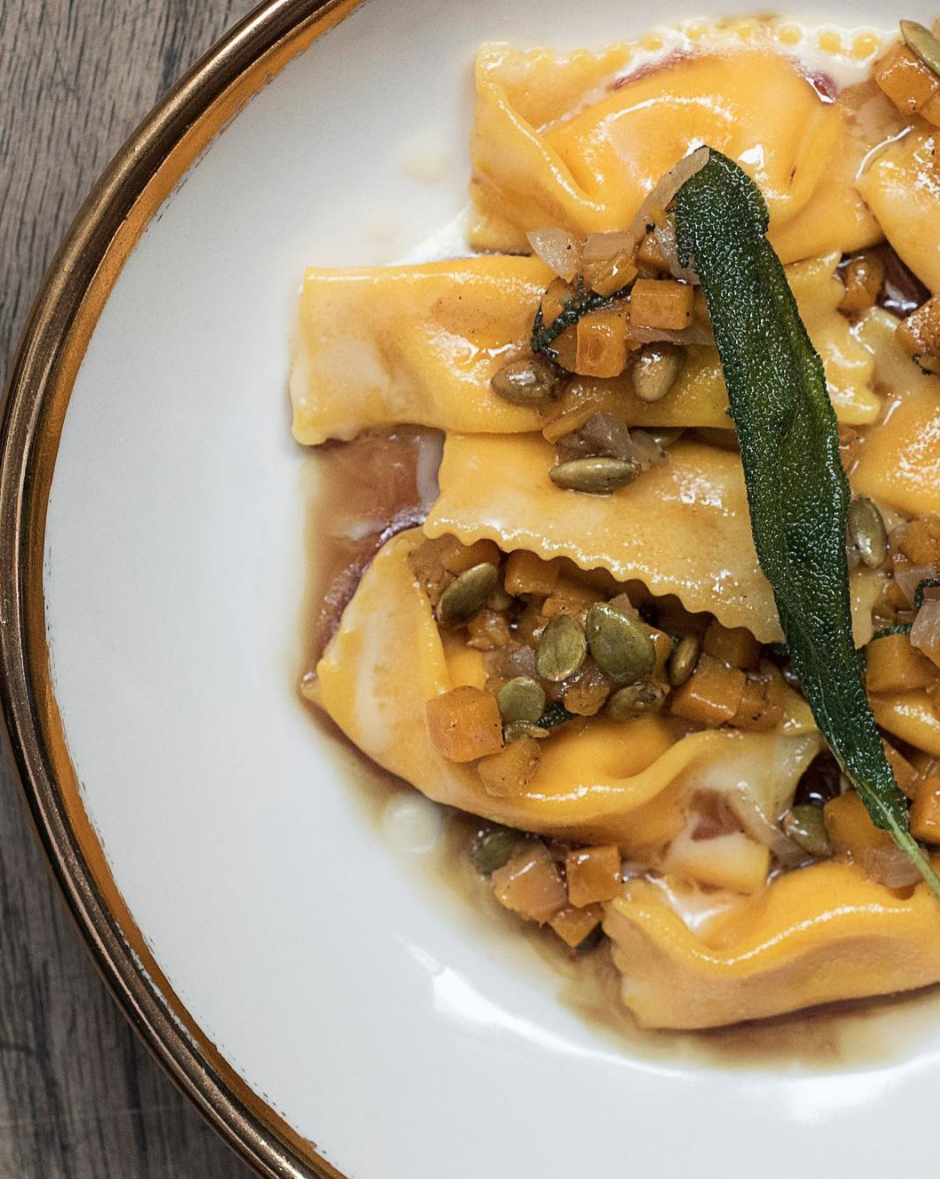 For Valentine's Day dinner with a classic New York spirit, head to The Red Cat, the long-time Chelsea favorite from Chef Jimmy Bradley. This year, the team at The Red Cat will celebratethe holiday with a three-course menu, featuring your choice of appetizer, entree and dessert. For $75 per person, you'll be able to sample dishes like Scottish Salmon Crudo with trout caviar, sea beans, wild rice, and mustard-seed vinaigrette, Pumpkin Agnolotti alongside butternut-squash caponata, pumpkin seeds, and sage, Grilled Filet Mignon with balsamic-braised endive, baby Yukons and bordelaise. For dessert, tuck into Lemon Cheesecake with fresh and candied citrus, pomegranate, candied ginger and mint.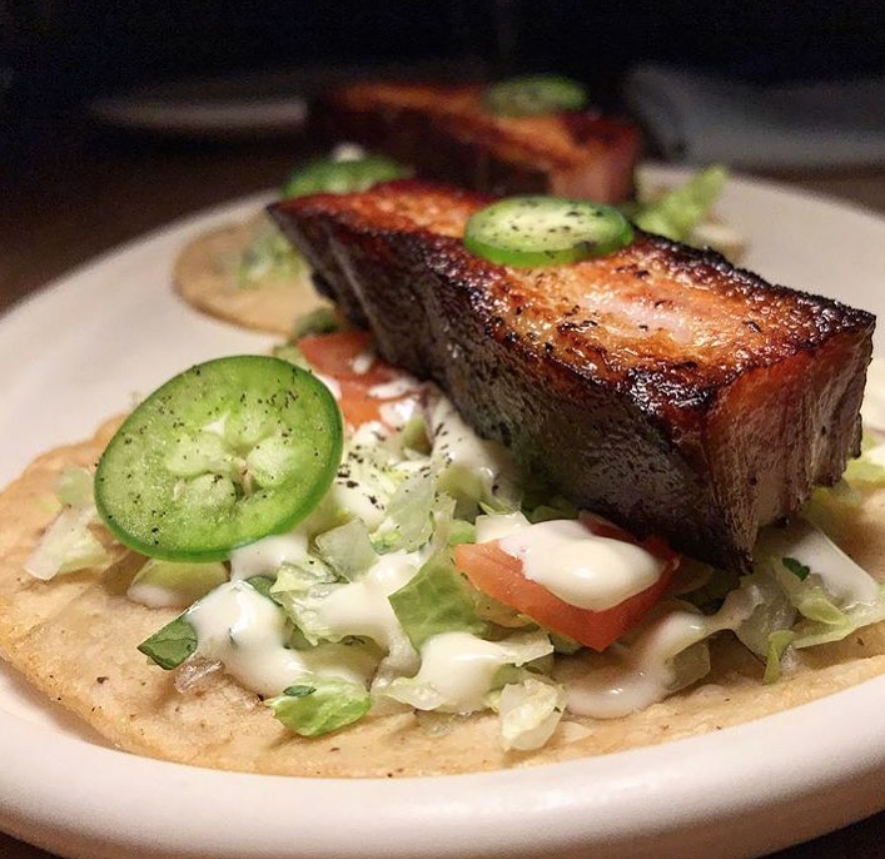 At his sleek and sophisticated Midtown restaurant, Chef Alex Stupak (an alum of wd-50 and Alinea) crafts avant-garde Mexican dishes with global influences. Empellón's Valentine's Day offering involves a six-course prix fixe for $115, including a welcome toast. Among the menu options, guests will find Empellón's famous Guacamole with Seven Salsas, Bay and Sea Scallops with Ají dolce dressing, Short Rib Confit with picadillo and a Dessert Avocado with lime, olive oil, and eucalyptus yogurt.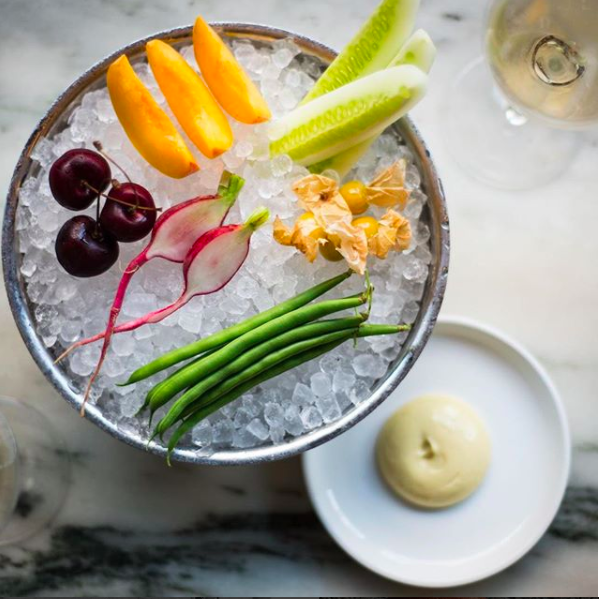 A sleek, minimalist eatery from Estela and Cafe Altro Paradiso alums located on the ground floor of the Met Breuer, Flora Bar ins't your typical "museum restaurant." That's because it's become a destination in its own right, with a Mediterranean-influenced menu focused on seafood. On Valentine's Day, Flora Bar offers a $175 per person prix fixe with five opulent courses, featuring dishes like Asian Pear Crudité, Beef Tartare with buckwheat and crème fraîche, Ricotta Dumplings with black truffle and celeriac, Monkfish with sunchoke and sorrel, and Camembert Tre Latti with figs. Afterwards, consider taking a romantic stroll through the museum.