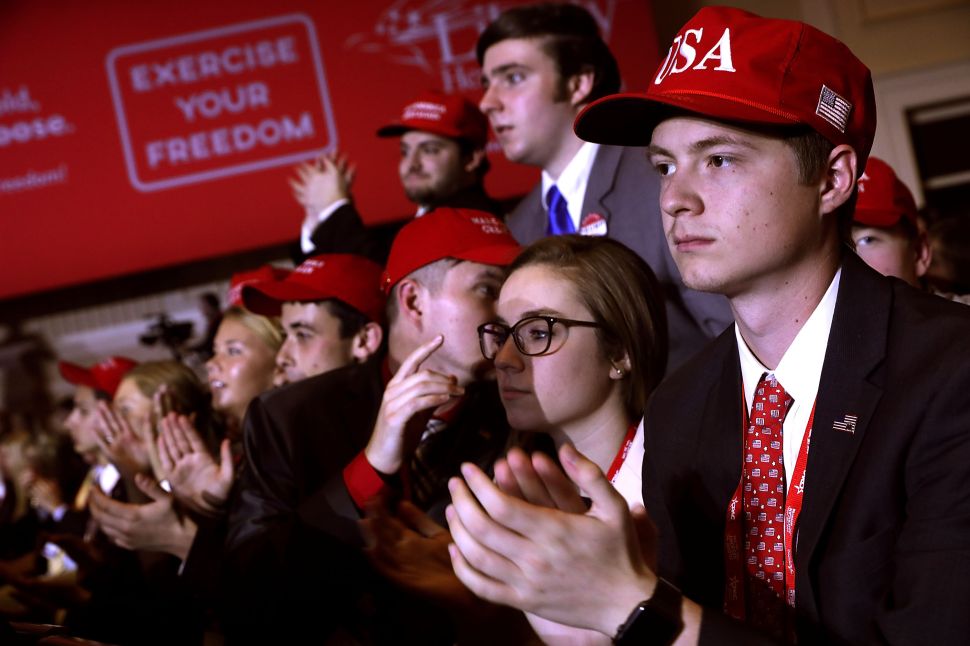 CPAC is a right-wing Coachella.
Every year, the biggest names in Republican politics flock to the Conservative Political Action Conference at the Gaylord Hotel in Oxon Hill, Maryland, to boost their platforms, meet fans and sell their own brands of conservatism.
It's the one time of the year where pro-life videos attacking "George Soros and his army of death worshippers" end with rapper Lil Jon's "Turn Down For What;" where Sean Hannity chucks footballs into a near-empty audience before diving into monologues laced with deep-state conspiracy theories; where a morning spent marinating in French nationalism segues into afternoon daydrinking alongside President Donald Trump's former advisor Roger Stone.
Children were interviewed on NRA TV days after a mass school shooting, "private security contractors" were lauded rather than American military forces and ousted Trump advisor Sebastian Gorka threatened reporters with physical assault.
These were not confined incidents, but simultaneous narratives showcasing a Republican Party in freefall, suffering an identity crisis worse than Shia LaBeouf's public meltdown.
Although nationalism was the unifier—sponsored by behemoth corporations like the NRA and Google, promoted by shell nonprofits like Turning Point USA—some shades were whiter than others as "New Right" internet celebrities exchanged words with white supremacists, their racial controversy infecting CPAC's centerstage.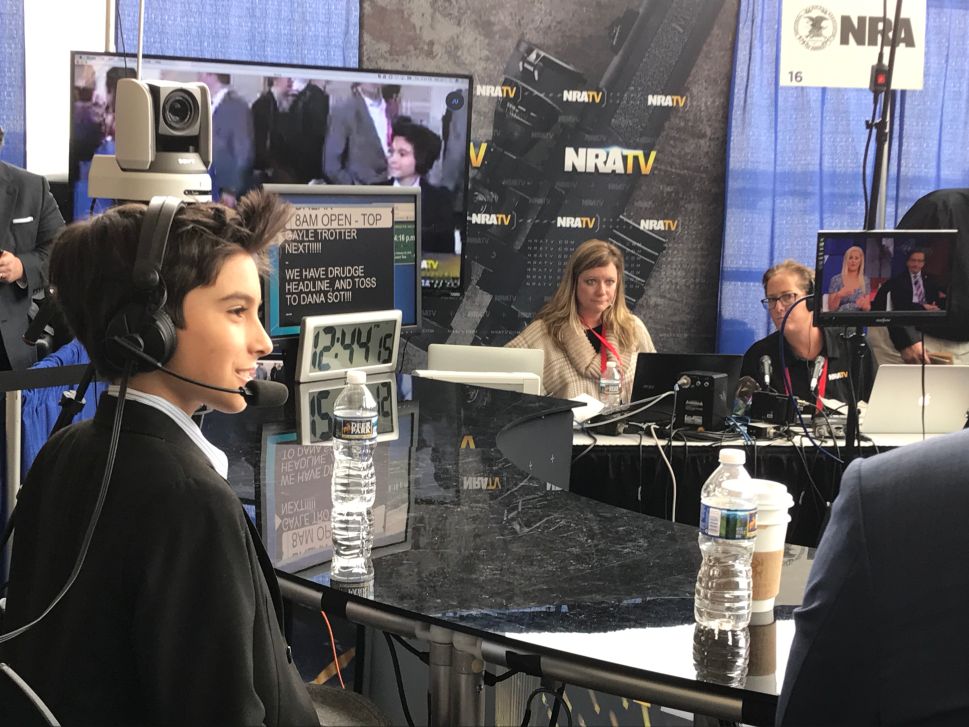 This year's CPAC centered on uniting Trumpism with Republicanism.
Vice President Mike Pence echoed Trump's nationalist rhetoric, while House Intelligence Committee Chairman Devin Nunes (R-Calif.) received the American Conservative Union's "Defender of Freedom" award to close out the conference. The president recited his greatest hits in a keynote address resembling a campaign rally—chants of "lock her up!" and "build that wall!" boomed throughout the Gaylord's upper levels.
But even with speeches celebrating the White House's 'America First' platform, CPAC was a mess of conflicting right-wing ideology and party infighting.
With Breitbart's influence diminished following the resignation of its former chairman Steve Bannon, startup media companies, fringe movements and political figures all vied for far-right hegemony—each boasting varying degrees of controversy.
After peddling an unverified claim that the survivors of the Parkland, Florida shooting were "crisis actors" bankrolled by billionaire George Soros, the Gateway Pundit's founder Jim Hoft saw his speaking invitation rescinded for a Friday breakout session on internet censorship alongside Project Veritas' James O'Keefe and fired Google engineer James Damore.
While Republican Senator Marco Rubio (R-Fla.) castigated the conspiracy theorists on Twitter as a "disgusting group of idiots with no sense of decency," many associated with the fringe outlet attacked CPAC.
"How are you any different than YouTube or Twitter when you de-platformed Jim Hoft from this panel when he wasn't even the author of the article?" a Gateway Pundit reporter asked the session's organizer during a Q&A.
As conspiracy theorists cheered the condemnation, white nationalist Richard Spencer courted reporters in a private room. Having been banned from the conference, the fringe figure kept a low-profile and lingered on his hotel balcony only once, according to The Daily Beast.
Controversy and racial overtones weren't solely confined to CPAC's fringes.
Several hours after Spencer vacated the premises, the organization's communications director Ian Walters hurled a racial insult at former RNC chairman Michael Steele during Friday night's Ronald Reagan dinner.
"We elected Mike Steele as chairman because he was a black guy, that was the wrong thing to do," Walters' told hundreds of shocked conservatives dining on filet mignon.
"If he feels that way, I'd like him to come say that to my face," Steele told Observer in response.
A CPAC organizer later asked for my name, typed something into his phone and walked away after I questioned him about Walters' comments outside the hotel—the most empty threat D.C. figures will employ when trying to demonstrate power they don't actually have.
GOP infighting continued on Saturday as National Review columnist Mona Charen rebuked the Republican Party for enabling sexual predators, with heavy criticisms directed toward the president and disgraced former Alabama Senate candidate Roy Moore.
"I'm disappointed in people on our side for being hypocrites about sexual harassers and abusers of women who are in our party, who are sitting in the White House, who brag about their extra-marital affairs, who brag about mistreating women," said Charen on CPAC's main stage, sparking fury from the audience. "The Republican Party endorsed Roy Moore for the Senate in the state of Alabama, even though he was a credibly accused child molester… You cannot claim that you stand for women and put up with that."
POLITICO reported that Charen was escorted off the premises by three security guards.
Although CPAC officially ended that afternoon—unofficially, it ended after Trump left the day prior—political vitriol continued into the night.
Antifascist protestors in masks surrounded the entrance to conspiracy theorist Mike Cernovich's CPAC after-party, "A Night For Freedom."
As right-wing provocateur Milo Yiannopolous addressed the room and reportedly insulted CPAC for rescinding his invitation to speak last year, protestors outside chanted, "Fuck Mike Flynn!" while blowing horns. Compared to Cernovich's previous "A Night for Freedom" party in New York—where an antifascist hospitalized a 56-year-old and where whistleblower Chelsea Manning's attendance was crucified by media outlets—this scuffle was tame.
"They're both a bunch of idiots," a Washington Examiner reporter told me at the "Reaganpalooza" after-party several blocks away.
Overdosing on the toxicity of tribal politics, I hailed a taxi. Outside the car window, rain fell over Washington D.C. as lobbyists scurried the streets for shelter.