Whoopi Goldberg sold her longtime Pacific Palisades mansion. Click through to see inside the historic home.
Mossler Properties
Goldberg bought the house in 1993.
Mossler Properties
It was built by Vicki Baum in 1933.
Mossler Properties
David Niven once owned the estate.
Mossler Properties
The black and white floors are original.
Mossler Properties
The kitchen.
Mossler Properties
The gated estate spans 0.64 acres.
Mossler Properties
There's also a guesthouse on the property.
Mossler Properties
It appears Goldberg hasn't lived here in a while.
Mossler Properties
It's not yet clear who bought the home.
Mossler Properties
Whoopi Goldberg managed a speedy sale for her pedigreed Pacific Palisades abode.
Goldberg, one of the few Hollywood stars to win Emmy, Grammy, Oscar and Tony awards, listed the six-bedroom, seven-bathroom estate for sale in mid January, asking $8.795 million for the home. She earned just a touch over her price point; it just sold for $8.8 million, according to the Los Angeles Times.
The View personality has owned the 0.64-acre property for over 20 years, when she paid $2.55 million for the home in 1993.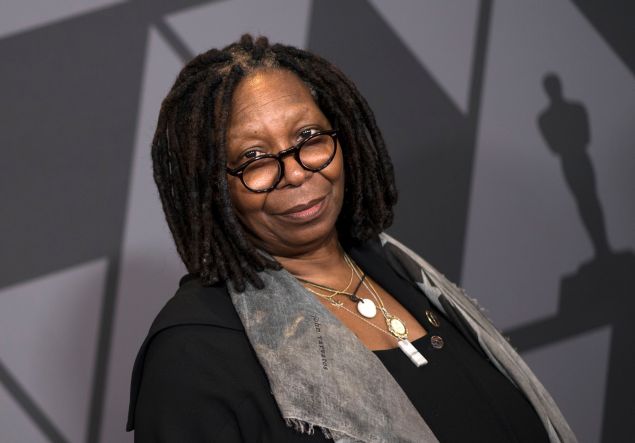 The two-story home has a glamorous history that predates Goldberg's ownership. It was originally built in 1933 for Grand Hotel author Vicki Baum and was later owned by the late English actor David Niven. In fact, one of Niven's additions to the home is still intact; per the listing held by David Mossler of Mossler Properties, the actor installed a (still-functioning) foot pedal in one of the powder rooms, supposedly to "make it easy for any inebriated guests to wash their hands."
Other original features of the main home include the pink brick exterior walls, black-and-white checkered marble floors in the foyer as well as crown moldings and fireplaces. The home is composed of a living room, formal dining room, library and kitchen, though the listing photos depict an entirely unfurnished residence, so it seems Goldberg hasn't lived in the home for some time.
The house also has a hidden speakeasy bar and multiple terraces. There's also a guesthouse with a bedroom, bathroom, kitchen and fireplace on the property, along with a pool.
It's not yet who scooped up the historic home, but hopefully they have an appreciation of the home's glitzy past—former houseguests include Deborah Kerr and Angela Lansbury.