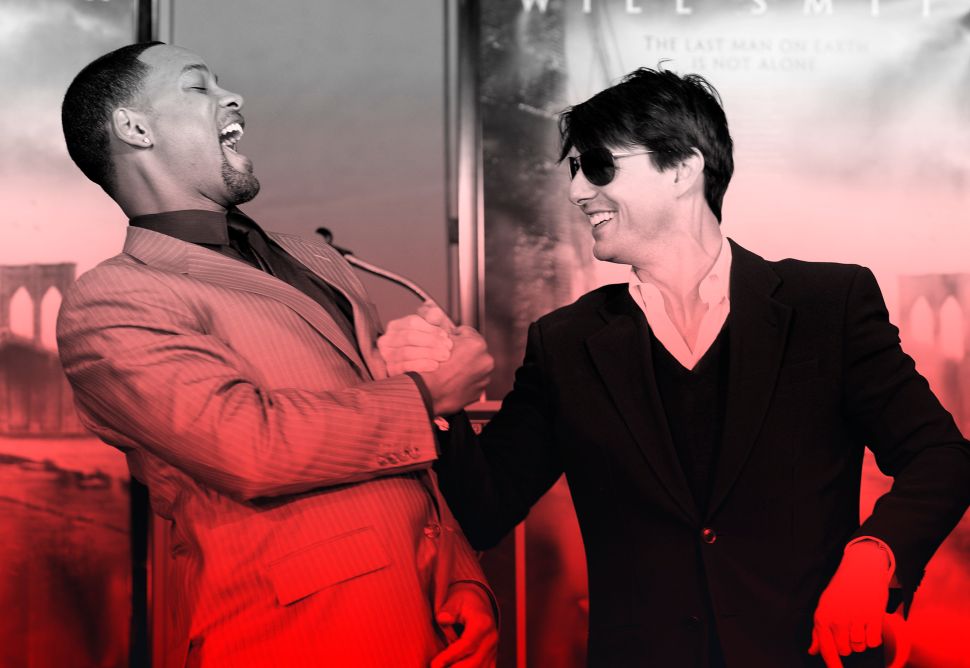 In the early 2000s amid the first real cell phone boom, I remember seeing a commercial with my father for one of the very first camera phones. At the time, he authoritatively exclaimed with the absolute dismissal only a seasoned Baby Boomer can muster, "Who the hell is ever going to want to take a picture on their cell phone?! This will never sell."
Good call, Dad.
As we all know, camera phones have essentially rendered digital cameras obsolete, a relic of the past with no real commercial use today. In a similar sense, Movie Stars have also become an outdated fossil of Hollywood, no longer technically needed for success.
To be clear: there's a difference between a movie star and a Movie Star. Joseph Gordon-Levitt is a movie star; Leonardo DiCaprio is a Movie Star. But he's the last of a dying breed. In fact, you could easily make the case that all bankable Movie Stars are dead, and they're never coming back.
Dwayne Johnson's box office muscle is a rarity these days.
Don't believe me?
Tom Cruise, Jennifer Lawrence and Will Smith, three of the undisputed biggest names in Hollywood, are all in the midsts of varying degrees of cold streaks. Adam Sandler, once one of the safest box office bets in the game for years, has fled to Netflix where financial flops can no longer plague him. Julia Roberts, Bruce Willis, even Tom Hanks, have all been dotted with movies that just didn't quite connect in recent years. For every Sully, there's a Larry Crowne; with each passing Mission: Impossible, we also get an Oblivion.
How come the biggest names in Hollywood can no longer consistently lead films to profitability?
Because these days, it isn't about the names, it's about the property.
"The idea of star power used to be in global audience recognition, a major star in a movie might ensure global success here and in the international marketplace," Paul Dergarabedian, senior media analyst at comScore, told Observer. "A Tom Cruise, a Will Smith, a Julia Roberts. Classic names that could ensure foreign pre-sales and solid box office."
"But with the advent of big concept movies, franchise ensembles like Fast and Furious and Marvel and big-budget blockbusters, the concept and marketing is now what gets people excited," he added. "Merely having a movie star is no longer a guarantee of box office success. Now, big stars need a concept in concert with that star power to create excitement."
Look no further than Robert Downey Jr. in the Marvel Cinematic Universe.
Since 2012, every single MCU film featuring Downey's Iron Man, save for Spider-Man: Homecoming, has topped $1 billion at the worldwide box office. That's Movie Star money, but despite all of our love for his blistering genius-billionaire-playboy-philanthropist performance, that box office gross is tied more to the character and the property than it is to Downey.
His 2014 adult-skewing star-vehicle drama The Judge cost $50 million to make and only took in $84.4 million overall (studios typically like to triple the production budget). Why couldn't Downey's name alone put butts in seats? Because the game has changed.
Streaming, SVOD services and other home entertainment options have given new life to "on the fringe" movies. Why spend money and go all the way to the theater when you can just wait for a film like The Judge to become available from the comfort of your own home? Even more importantly, why go through all of the trouble of seeing a film in theaters that you're feeling lukewarm about when television has gotten so good that you're guaranteed a good time from your couch?
It's easy to see why ticket sales have been on a steady decline since 2002.
Audiences aren't automatically keyed up for original concepts like they are for familiar branded entertainment, a dramatic shift in consumer taste that has taken place over the last 20 years. Major film studios have responded accordingly by dramatically reducing their yearly output and placing a greater emphasis on proven commodities. Thus, the notion of star power equaling box office success has become outmoded.
So if the game has changed like that, our metric of evaluation needs to change as well.
"You still get goosebump-inducing moments when you see a big star attached to something really cool," Dergarabedian explained. "But star power may not be marked by currency such as dollars and cents anymore… Ultimate star power is now with the audience, particularly with social media giving everyone a voice where they can make their happiness or concerns known to filmmakers. So we're really trading in currency for an actor or actress' ability to draw interest to a cool concept."
This should go without saying, but it seems to fly over the heads of studios far too often: the most crucial factor to generating quality box office numbers is making a good movie.
We've seen what happens when you put the cart in front of the horse with notable crowd-displeasers in Warner Bros.'s DC Extended Universe and Universal's would-be Dark Universe launching pad The Mummy (a Tom Cruise joint).
"It doesn't matter who is in the movie if it sucks," Dergarabedian said. "You could walk into a world-renowned restaurant and the chef could make a terrible meal. It doesn't make it any better just because they're famous."
Now the question becomes: Is there room in today's cinematic environment for mid-budget dramas, comedies and whatnot—"star-vehicles"—or are release schedules solely reserved for superheroes, dinosaurs and Jedi?
The answer is yes, but with a caveat.
It's very difficult for a non-franchise film to make a mark amidst the onslaught of marketing noise generated by year-round blockbusters, even with a major star playing passion project. But the majority of awards contenders every year can be classified as adult dramas, so there's still a market for these more mature films. The key is managing your budget.
You can't spend a fortune on a drama aimed at people older than 40 and expect to recoup huge profits no matter whose name tops the marquee.
On paper, 2015's Steve Jobs was a home run. Oscar-winning director (Danny Boyle) teamed with Oscar-nominated actor (Michael Fassbender) working off a script from an Oscar-winning screenwriter (Aaron Sorkin) about one of recent history's most important figures. But when you spend $30 million on production alone and at least half of that on marketing, the $34 million it made at the box office is going to ruin your bottom line. Universal would ultimately lose about $50 million on the picture.
Frugal filmmaking is the name of the game if you're striving for something more artistic.
No matter the ambition of your movie, it has become abundantly clear that the parameters of Hollywood success have changed. It's not enough to release a profitable blockbuster, you need to break box office records; it's great that you just cast an A-lister, but which superhero continuity do they belong to? We may yearn for the simpler times when Movie Stars reigned supreme and the movie-making business was far more straightforward. But that was the past, a moment long gone, a snapshot of a time that was captured by, well, a digital camera.