Figure skater Adam Rippon is Reese Witherspoon's number one fan, a bonafide social media star and the first openly gay winter Olympian. There's a reason why all eyes have been on the 28-year-old Olympian—and it's not just because of his bedazzled ensembles, his impeccable eyebrows and his undeniable grace on the ice. His outspoken personality and social media prowess have led fans, especially those who might not usually tune in, to watch his every move, both on and off the ice.
He's currently America's favorite figure skater—especially the since risqué ice dancers Tessa Virtue and Scott Moir hail from Canada, leaving the U.S. with the G-rated Shib Sibs. But if you missed Rippon's best social media moments and performances, there's still time to catch up before the Winter Olympics come to a close.
Rippon is known for his social media presence, where he discusses his "trashy" routine and trades barbs with his many haters. But his most amusing back-and-forth yet is with actress Reese Witherspoon, who asked him to "keep making us all so happy" on Twitter.
The skater immediately replied and suggested they star in a movie together, along with his ideas for a compelling plotline. Most recently, he told NBC "more than anything…I really want to make Reese Witherspoon proud," since she's spent "at least three minutes" composing tweets to him personally. He also mentioned wanting to make his mother proud, but he joked about caring more for Witherspoon since she has a better social media following.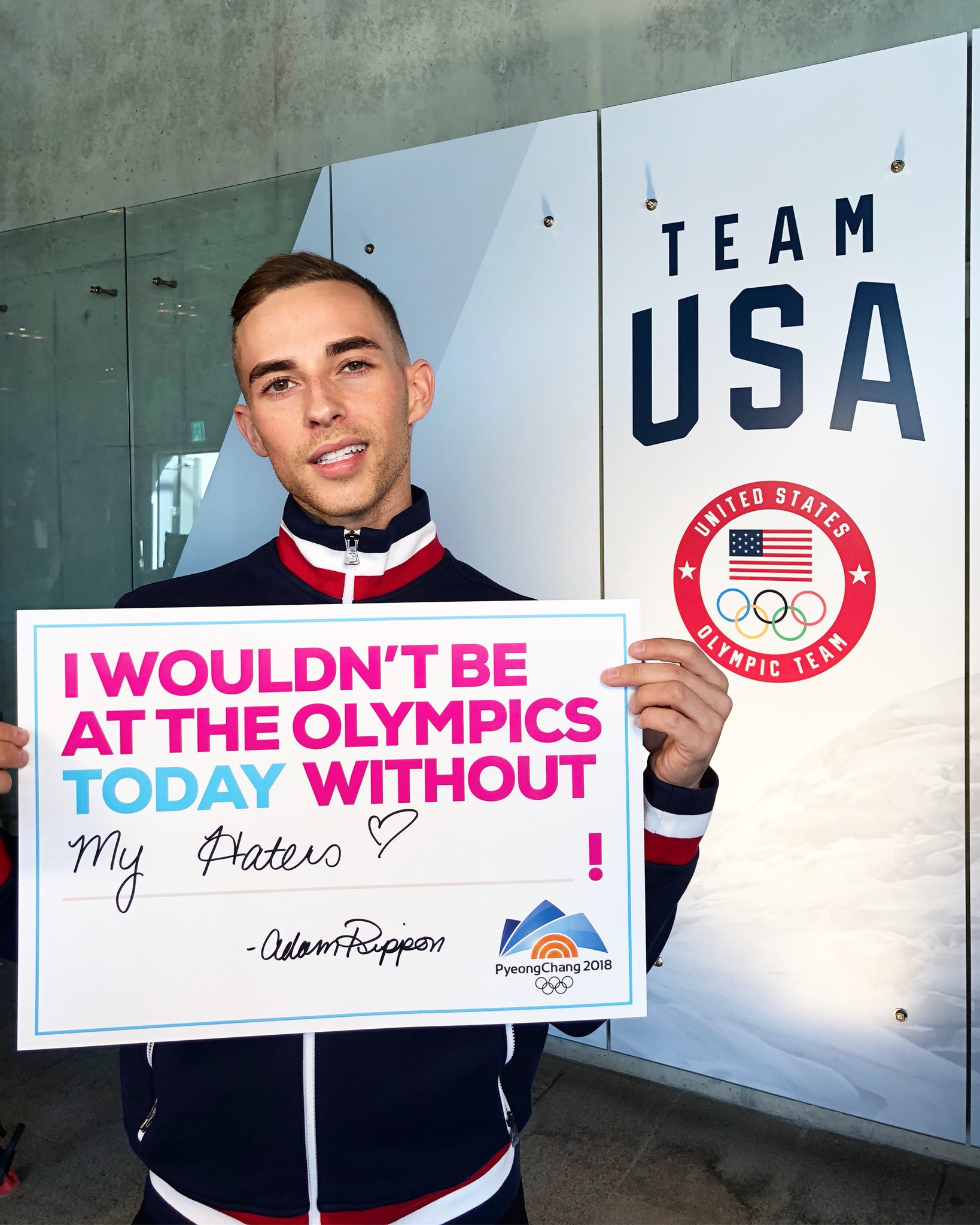 In his most viral photo yet, he proved he's thankful to his many haters in an Olympics promotion that never made it to TV. In the actual on-screen promotion, he thanked his mom, who he's incredibly close with.
His mother, Kelly Rippon, told Good Housekeeping, "He is giving a voice to people that really need a voice" in an interview earlier this month. Like Aly Raisman, he's using his platform as an athlete to speak his mind, which doesn't appeal to everyone (like said haters). He told reporters that he would not meet with Vice President Mike Pence because of his anti-LGBTQ views and his past with conversion therapy.
And while other skaters are one trick ponies, Rippon proved he's also a double threat. In December 2017, at the Gala portion of the 2017-18 Grand Prix of Figure Skating Final in Japan, he performed to Rihanna's "Diamonds," and also decided to treat the audience to his own rendition of the song. After the singing portion was over, Rippon started actually skating.
Unfortunately, he has yet to sing in PyeongChang, but maybe for his next performance, Witherspoon can join him.