One minute you're an It Girl, garnering attention just by walking into a room; then the next, you're a mature woman people don't seem to notice.
Such is the challenge for "Maggie Harris," the 53-year-old Chicago wife and mother in Camille Pagán's fourth novel Woman Last Seen in Her Thirties, just released by Lake Union Publishing.
"I always start a story with a character in mind. I think 'Who is the person I want to write about?' I felt like I was not reading as many novels as I would have liked to about woman who were not 29." So, Pagan explained to Observer, she wrote the book she wanted to read.
Writers are advised to write what they know. Pagán claims to write "what I'm afraid of." In The Art of Forgetting (2011) there were broken friendships; Life and Other Near Death Experiences (2015) dealt with incurable disease; and in Forever is the Worst Long Time (2017), it was the anxiety of leaving the world before one's children have grown. And now, with Woman Last Seen in Her Thirties, the author faces her fear of growing older. "As a woman turning the corner on her youth, the world will soon render me irrelevant."
Pagán acknowledged that aging can seem like a ridiculous worry: "As long as you're alive, you can be useful, needed and seen." But then come the barrage of ads for wrinkle creams and articles for rejuvenation regimens and a daily onslaught of various memes suggesting a woman's worth lies in youth and beauty that suggest otherwise. She added, "One can barely turn on the television without being reminded a woman over 40 seems to have but two options: turn to the scalpel and syringe in order to stay in the scene; or accept her fate and fade into the background." Women, the subtle messaging goes, should always strive to be like the 20-year-old versions of themselves.
Putting Maggie on the other side of fifty wasn't enough. Pagán took her protagonist's one true thing—her marriage—and showed that it wasn't. "I'd reached a stage in life where my friends were no longer getting married. They were getting divorced. Some of these divorces were really a surprise to me because they seemed so secure from the outside. And it got me  thinking—you just don't know."
So after thirty years of taking care of her children, Jack and Zoe, and husband, Adam, who's just up and left her, Maggie must begin anew. But as Pagán writes: how can Maggie possibly face the world alone if no one can see her?
The fear of irrelevance had been lurking in Pagán's subconscious ever since her grandmother imparted this observation: "Women who are elderly are treated much better than women who are in the middle." That seemed true to the author. "Younger women are revered. Toward older women, there's more deference. But when you're in the middle you're just bypassed." Pagán observed that a cashier would strike up a conversation with a middle-aged man—but not a woman of the same age who checked out just after him. Doors were held open for the young and the old—but rarely for women in the middle. Job postings seemed to tout a desire for candidates with experience, gravitas and knowledge—yet filled with bright young men clutching degrees practically still wet with ink.
What made her put pen to paper though was an incident one afternoon at Whole Foods. "A college-aged man bumped into me," Pagán said. "He was busy talking to his friend; glanced up and looked right through me, then continued on his way. It made me wonder if I had just been given a glimpse of my future."
In that moment, the premise of Woman Last Seen in Her Thirties was born.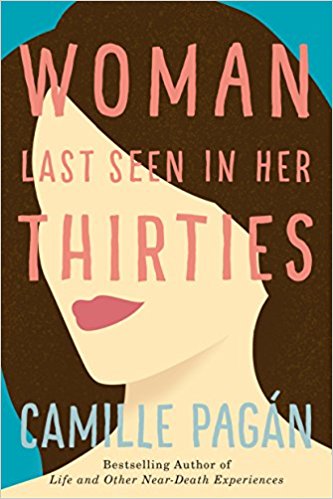 Pagán's grocery store incident plays out for Maggie when someone bumps into her and hurts her, and carries on without acknowledging the incident. Then she realizes that's how the people closest to her act as well, as though she's invisible—and she's been letting them.
When life is upended unexpectedly, Maggie begins drinking to cope. At first, she wants to keep everything the same—her home, her life, her schedule—but the universe has other things in mind. A series of opportunities crop up and, little by little, Maggie starts letting them in, realizing that she'd been neglecting the part of herself that thrives on adventure and risk-taking.
Maggie gets up the nerve to vacation alone in Rome, then housesits in Ann Arbor, as there's nothing anchoring her to the Windy City anymore. She takes a volunteer job, which brings her back to a career she walked away from long ago; goes to a divorce support group; and starts dating. Or as Pagán put it: "She learns to play it as it lays—to see, explore and discover things about herself. Regardless of how it turns out, she [takes] the chance."
While she's saying "yes" to life, Maggie learns it's also O.K. to say "no," like when her ex needs assistance, and still expects her to step into her former role of his helper. Pagán admitted: "It was nice to write about someone who wakes up and takes control."
And in writing the book, Pagán herself had an awakening of sorts. Ads may have been telling her that growing older made her less relevant, but the examples all around her were of women doing incredible and exciting things. "I have writer friends and business friends in their 50s who are raising money for cancer, running women's business associations, writing novel after novel, and they have healthy relationships. These are women engaged in life. Smart, savvy, wonderful women making waves, loving and being loved, and living damn good lives." They weren't falling victim to the myth that they had to look 20 or 30 to be taken seriously. "I realized, as is so often the case when I'm working on a book, that writing is nothing if not a form of therapy; my fears of irrelevance had disappeared."
Ultimately, Pagán's book contributes a kind of counter message from what the fear-mongers communicate to middle-aged women. Namely, that "the choices that you make are yours and you can choose to have a good life regardless of your age," said Pagán. It's a simple message, but one not often emphasized to women 30-plus. And the author is quick to reiterate: "I'm looking forward to the rest of my life!"