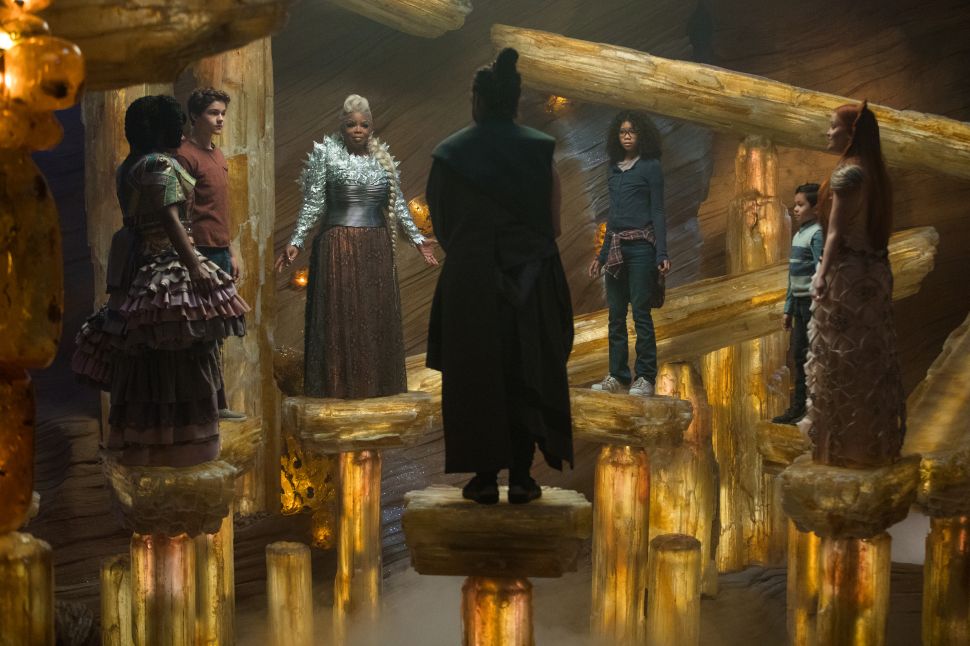 Disney is set to dominate the box office once again in 2018 and is already off to quite an impressive start with Marvel's Black Panther. The Mouse House's next blockbuster is A Wrinkle in Time, a $100 million adaptation of the beloved 1962 novel directed by Ava DuVernay (Selma).
With a stellar cast that introduces Storm Reid and includes Oprah Winfrey, Reese Witherspoon, Mindy Kaling, Gugu Mbatha-Raw and Chris Pine, plus the marketing might of Disney, A Wrinkle in Time is expected to be a contender at the box office.
But for some kids who can't afford to see it, AMC Theaters and Color of Change have got it covered.
Starting March 9, the two organizations are joining forces to supply underprivileged children with tickets to the movie. The effort comes through the "Give A Child The Universe" initiative, which looks to recruit individual and group benefactors to purchase and donate theater tickets, per Variety.
Color of Change was formed in 2005 after Hurricane Katrina and exists today as a civil rights advocacy organization. In 2015, it was ranked No. 6 on Fast Company's list of the 50 Most Innovative Companies in the World due to its effective use of social networking.
"Color Of Change believes in the power of images and supports those working to change the rules in Hollywood so that inclusive, empathetic and human portrayals of black people and people of color are prominent on the screen," Color of Change executive director Rashad Robinson said. "From Selma to now A Wrinkle In Time, Ava DuVernay has set out to change the rules in Hollywood for people of color and women."
"By casting a black teenage actress, Storm Reid, as the heroine at the center of this story, the filmmakers and the studio send a powerful message to millions of young people who will see someone like them embracing their individuality and strength to save the world," Robinson added. "We are pleased to partner with AMC to ensure that as many young people as possible, regardless of economic and financial hardships, can see this groundbreaking film."
AMC is the largest theater chain in the United States, boasting more than 8,200 screens. While official tracking numbers for A Wrinkle in Time are not yet available, industry analysts peg the opening between $50 million and $60 million. However, as we saw with Black Panthers, long-range forecasts and tracking numbers can be wildly inaccurate, with the Marvel movie far outperforming initial expectations.
DuVernay has previously expressed concern about her film's diversity not being embraced by mainstream audiences.
"We're really, really in the weeds on trying to finish the movie right now," she told Vulture last October. "I love it, but I don't know how it's going to be received. I feel something very deep in my gut when Oprah's voice says, 'There's a darkness in the world, and the only one who can stop it is…' smash cut to a black girl. I don't know. I don't know. I don't know if people are going to feel like that."
DuVernay is the first black woman to helm a picture with a budget of at least $100 million.