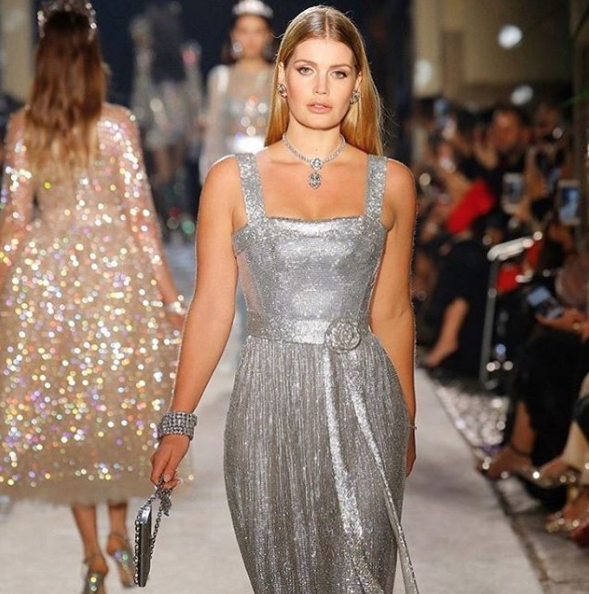 Most of us haven't heard someone referred to as a Lady with a capital "L" since Downton Abbey ended in 2015, but the courtesy title is still very much alive and well, with special thanks to Dolce & Gabbana. Their "Secrets & Diamonds" show this past weekend was stacked with eligible young royals to know. The brand presented their very sparkly eveningwear-only presentation during Milan Fashion Week, which served as the perfect setting for English roses with perfect pedigrees to make their runway debut.
Surprisingly, Lady Amelia Windsor did not walk the D&G runway, despite previously modeling for the brand and making a few appearances at Fashion Week in New York and London (at least according to Instagram). But the show was otherwise packed Ladies and up-and-coming socialites, including Suki Waterhouse's celebutante sister, Maddi.
Princess Diana's niece Lady Kitty Spencer donned a tiara for the show, looking just as regal as her late aunt. She shared snaps from the eventful evening with her 60,000 Instagram followers, including a backstage selfie with fellow model Eleonore Von Habsburg, a member of the oldest noble family in Europe. But this is hardly the first time Lady Kitt has worked with Dolce & Gabanna; the 27-year-old is also the star of their Spring/Summer 2018 ad campaign and walked in the brand's millennial Christmas show last November.
Lady Kitty is following in her family's philanthropic footsteps as a patron for Give Us Time, an organization that helps military families spend more time together and a Centrepoint Ambassador, where she works with Prince William and Prince Harry's rumored former love interest Ellie Goulding to provide aid for homeless young people. Similarly to Lady Amelia, she's also trying her hand at modeling professionally and is represented by Storm Management.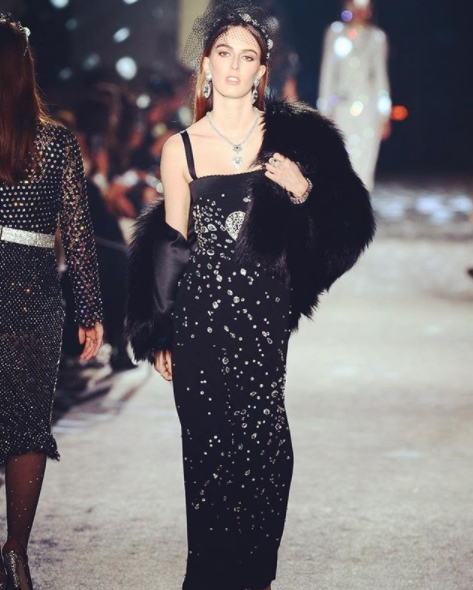 Other royals in the show included Lady Violet Manners, whose name sounds like a character in a Regency romance novel. Lady Violet, who wore a black headband and a bejeweled gown at the show, is the eldest daughter of the Duke and Duchess of Rutland and works at a creative agency. She was joined on the catwalk by her sisters, Lady Alice, a columnist for The Sunday Telegraph and a stylist at Selfridges, and Lady Eliza Manners, a student.
If their names sound familiar, it's because according to Vanity Fair they're the British version of the Kardashian sisters, only with fewer lip kits. Still, their lives are full of reality show-worthy drama and social media-fueled intrigue, including the story behind their parent's divorce; once they were separated, the former couple chose to stay in their Leicestershire castle, along with different partners.
The Manner sisters are regulars on the London social scene, often riding and skiing, just like the royal family. This February, they were spotted out and about at NYFW and naturally, their every movement was documented by British Vogue. While in town, they visited The Beekman Hotel (Lady Amelia also spent time there), The Met and were front row at the Bottega Veneta Show.
The Manner's younger brothers, Lord Hugo and Charles, Marquess of Granby will be eligible bachelors in a few years, especially since Charles stands to inherit the family's massive castle. Perhaps they'll be spotted next time on the runway, during men's fashion week.