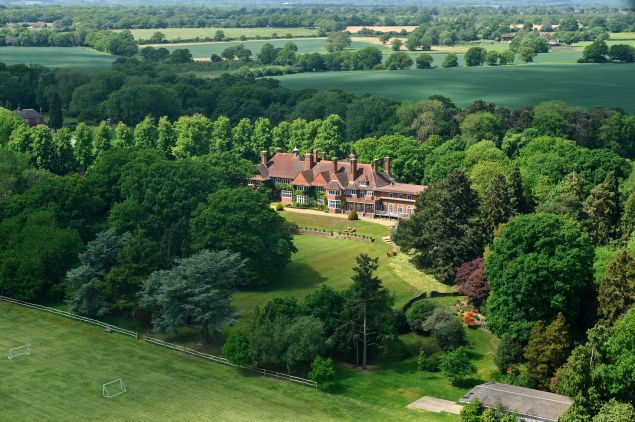 Adele's picturesque former country home in West Sussex is now on the market, but the next owner will probably be someone just like the Grammy-winning singer—at least in terms of fame and funds.
Adele rented the Partridge Green estate, known as Lock House, for two years starting in 2012, and the state of total privacy is likely what drew her to the nearly 85-acre property.
"It suits someone famous or well-renowned," broker James Mackenzie of Strutt & Parker (part of Christie's international Real Estate), who is listing the £7.25 million property, told Observer. "It's off the beaten track, and it's not in an area people would imagine. You go down a bumpy old lane to get to a very, very private drive, and then the house is set back behind trees, around the corner. The privacy is brilliant, which I'm sure was probably Adele's main requirement when she was looking."
The home had its own 15 minutes of fame when Adele took Anderson Cooper on a tour of the property on 60 Minutes in 2012. During the segment, the singer took the journalist through the mostly empty home, baked cupcakes and showed off her bedroom.
Originally built as a "proper old money U.K. home" around 1900, the structure was later turned into a convent, Mackenzie said. The present owner transformed the estate back into a residential home, and completely renovated the property, shortly before leasing it to Adele.
The main house features a reception hall, drawing room and formal dining room, with an "enormous" breakfast room. It's composed of a total of 13 bedrooms, six of which are en-suite. The property has plenty of accommodations for the help, as there's a three-bedroom "staff flat" as well as a guest cottage.
This celeb-friendly property also includes an outdoor swimming pool, tennis court and a pavilion, in addition to a full "leisure complex" with an indoor swimming pool and gym—though the indoor pool might get more use, considering the fickle English weather.
Lock House is located about 45 miles from south London, but there's a rather speedy way to reach the home—a helicopter hangar is on the property, so someone could "fly in and out, and use the home whenever they want," Mackenzie explained. Indeed, from the inquiries Mackenzie has received thus far, it seems the buyer could easily be someone able to summon a private helicopter on a whim.
"It'll be most attractive to someone who cares about that kind of privacy," Mackenzie opined. "The interest we've already had tends to be from celebrities looking for complete and utter privacy."