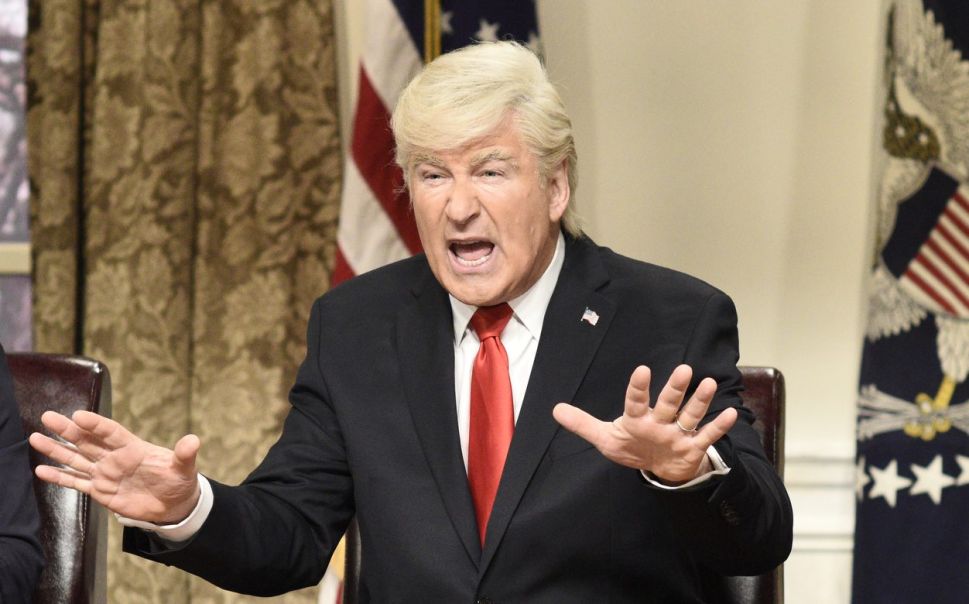 There are many reasons for Saturday Night Live's surge in the ratings over the last two seasons, but arguably the biggest contributing factor is Alec Baldwin's Emmy-winning impression of President Donald Trump. The gig sparked a more politically focused version of the sketch-comedy show during the 2016 presidential election and has proven to be an enduring bit with fans.
While Baldwin had expressed concern over making Trump seem "too cuddly," all indications pointed toward an extended run in the role for him. However, while speaking to Jimmy Fallon on Monday's Tonight Show, Baldwin described the job as "agony."
"Everybody knows that Lorne [Michaels] came to me, and I thought we were going to do it for three weeks in the fall," Baldwin remembered of the start to his current SNL duties. "Then he won, and I was like, 'Oh, no.'"
Fallon then read many of Trump's recent tweets attacking the actor, describing him as having a "dying mediocre career" that was resurrected by "his terrible impersonation."
"It is agony," Baldwin said of the job. The actor then responded to the president's tweets by saying, "Nobody is forced to watch… When Trump forces people to listen to him, we call them government employees."
He noted that having the Commander in Chief tweet about him was overly "surreal."
Baldwin also joked about Trump's frequent use of social media and wondered if it takes him away from running the country, "Hold on one minute, Alec Baldwin is a loser," he said with a laugh.
You can see the segment below: