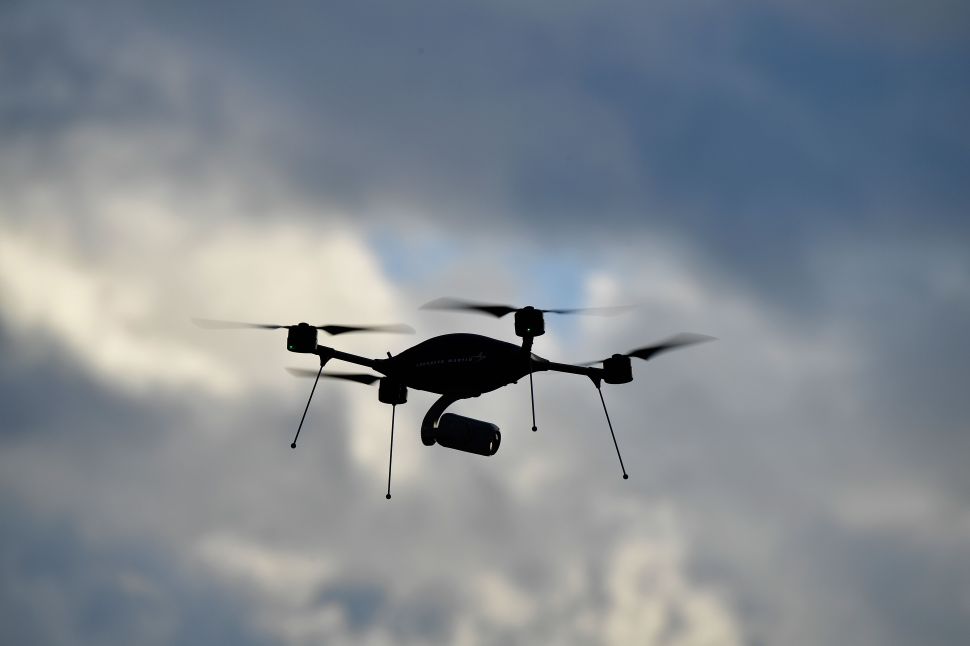 Amazon is finally acknowledging that drones are scary.
The online retail giant has patented a delivery drone that responds to human voices and movements, no matter how frenzied.
Amazon initially filed the patent in July 2016, and it was posted online by the U.S. Patent and Trademark Office this week. The listed inventor of the drone is Frederik Schaffalitzky.
According to his LinkedIn page, Schaffalitzky worked as a principal research scientist at Amazon from November 2013 to December 2015 after stints at Microsoft and Google. He's now a principal engineer at Apple.
Amazon has reportedly been studying "human interaction with unmanned aerial vehicles" since 2014. The company is developing Prime Air, a fleet of drones that can deliver packages to customers in 30 minutes or less.
The drones are trained to recognize motions such as pointing, waving arms and flashing lights. But the company seems very aware that not all customers will welcome our new robot overlords.
Amazon's patent includes an illustration of a man wildly waving his arms at a drone, with a blank speech bubble next to his mouth. While his words aren't filled in, he's likely yelling something along the lines of "Don't kill me!"
"This is exactly how I would react if a drone came flying at me," GeekWire's Nat Levy wrote.
Amazon's drones can react to this emotional and physical feedback accordingly.
If the customer shoos the unmanned aircraft away, it will stop moving closer and drop the package in a padded box. But if they seem more welcoming, it will bring the package right to their doorstep.
Each drone is equipped with several cameras and sensors that will help it navigate. It will also feature speakers, microphones and cameras so it can communicate with the customer.
In 2016, Amazon made its first autonomous drone delivery to a shopper in the United Kingdom. A private customer trial for drone delivery in Britain is ongoing.
This patent features only concept art, so it's not clear if, or when, the drone will ever be produced. Amazon has a history of filing patents for products that never actually make it to market.
For example, the company's concept for a drone that takes itself apart midair if something goes wrong never materialized. And an augmented reality mirror that let users virtually try on clothes has not shown up in a single store.
If the drone does make it to market, it will face some stiff competition. Samsung and DJI have already patented unmanned aircrafts that respond to human gestures.
But the fact that Amazon's drones have specific features designed to put users at ease could definitely give it an edge in the battle for sky dominance.