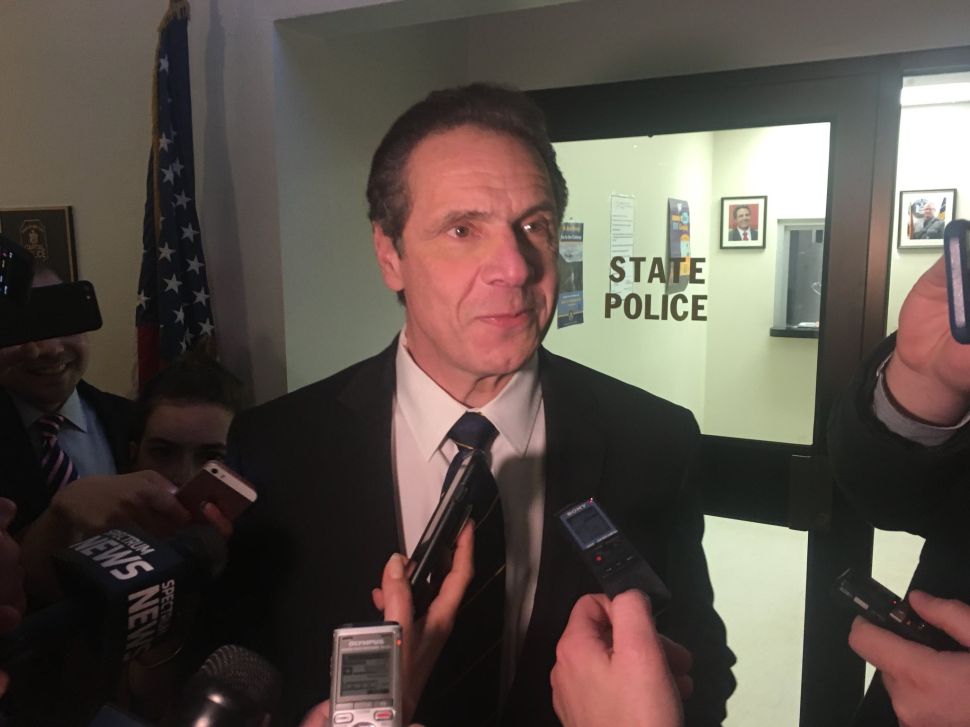 A longtime Albany reporter was arrested early Wednesday afternoon after he used his cell phone in the lobby of the New York State Senate—a move that gave birth to a hashtag movement and saw Gov. Andrew Cuomo step in to free him.
Ken Lovett, who has been serving as the New York Daily News Albany bureau chief since 2008, was seen being taken in handcuffs, according to Sean Ewart, legislative director for Assemblywoman Addie Jenne.
He also noted that he has "never seen a reporter arrested in the Capitol before."
The situation got so out of hand that people even started hashtags #FreeKenLovett and #FreeLovett that saw reporters and even Senate Democratic Leader Andrea Stewart-Cousins as well as other elected officials weigh in.
Lovett has covered five governors in the 20 years that he has been covering Albany politics at the state Capitol, according to his biography.
"Earlier today a reporter was asked to comply with a rule prohibiting use of a cell phone in the Senate lobby," Scott Reif, a spokesman for the Senate, said in a statement. "He refused and the State Police were notified."
"The incident escalated quickly, and unfortunately he was detained by the State Police," Reif continued. "We formally requested that he be released immediately and very much regret the incident."
Cuomo told reporters there was a "disagreement" between Lovett and the sergeant of arms and that he was brought down, according to a video taken by POLITICO Albany bureau chief Jimmy Vielkind. But he said the Senate does not want to press charges.
"He's not gonna flee the jurisdiction," Cuomo said. "We don't believe any charges will be filed. Freedom of the press is alive and well in the [state] of New York."
When asked why he decided to rescue Lovett, he suggested that Lovett has a hot temper but said he could not violate the freedom of the press.
"Well, on one hand, I know that Ken Lovett can be a dangerous man, and I know that he can lose his temper," the governor continued. "But I think the freedom of the press trumps even Ken Lovett's personal demeanor."
But does Cuomo think he is a threat to public safety? Yes.
"He has been known to be a threat to public safety on a number of times but nothing trumps the freedom of the press, and I wanted to make sure that he had a good counsel and that's why I offered my services on a pro bono basis and it just does my heart good to be able to say I freed Ken," he added.
Lovett got back to his desk safe and sound.
Lovett insisted that the state police "were very professional." And he seemed to allude to his tough reporting when sharing a conversation he had with Melissa DeRosa, secretary to the governor.