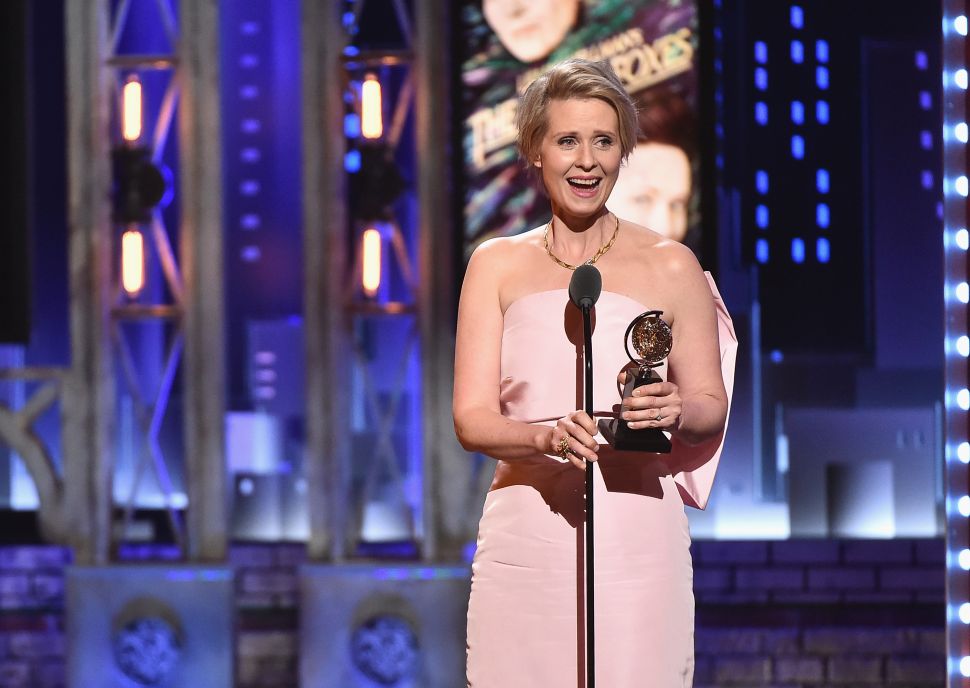 It looks like Miranda is bringing sex back to the city.
After months of teasing a potential Democratic bid against Gov. Andrew Cuomo, education activist and Sex and the City actress Cynthia Nixon announced that she will, indeed, be challenging Cuomo.
A little after 1 p.m. on Monday, Nixon, 51—known for playing Miranda Hobbes in the HBO series Sex of the City from 1998 to 2004—posted the first ad on her Twitter page formally launching her bid against Cuomo, 60.
The ad depicts Nixon taking care of her son at home with her wife, Christine Marinoni, walking him to school with shots of wealthier and poorer parts of the city, as well as footage of her walking through the streets and waiting for the subway. It concludes with her riding a train and the voiceover saying, "Next up, Albany."
"New York is my home," Nixon can be heard saying in the voiceover. "I've never lived anywhere else. When I grew up here, it was just my mom and me in a one-bedroom fifth floor walkup. New York is where I was raised and where I'm raising my kids. I'm a proud public school graduate and a prouder public school parent. I was given chances I just don't see for most of New York's kids today."
Nixon started working as an actor when she was 12 years old to earn money to finance her college education and paid her way through Barnard College. She noted that New York is the most "unequal state" in the country, home to "both incredible wealth and extreme poverty."
"Half the kids in our upstate cities live below the poverty line," Nixon continued. "How did we let this happen? I love New York. I've never wanted to live anywhere else, but something has to change. We want our government to work again on healthcare, ending mass incarceration, fixing our broken subway. We are sick of politicians who care more about headlines and power than they do about us."
She also launched her official campaign website titled, "Cynthia for New York."
In a press release, Nixon—a staunch ally of Cuomo's sometimes-foe Mayor Bill de Blasio—argues she is the best progressive option for the state.
"Cynthia's candidacy gives Democrats a strong progressive alternative to the incumbent, Andrew Cuomo, a centrist and Albany insider," the press release reads. "Cuomo's time in office has been defined by a string of indictments for corruption, his failure to fix the New York City subway, and his support for a backroom deal which handed Republicans control of the state Senate, resulting in the failure of numerous pieces of progressive legislation."
Nixon noted that she has been fighting for better schools and more equitable education funding all throughout the state for the past 17 years, pointing to her work as a spokeswoman and organizer for the Alliance for Quality Education (AQE).
She also helped establish Fight Back New York, an endeavor to remove state senators who are against marriage equality—a campaign she says raised $800,000 and helped elect three new votes to legalize same-sex marriage. Nixon added that she worked with Planned Parenthood in Albany to advocate for the full Women's Equality Agenda.
And she took a jab at Cuomo over the problems plaguing the city's subway system. The MTA is a state-run authority and therefore under Cuomo's purview. The mayor and the governor have been sparring over who should fund a subway action plan unveiled by MTA chairman Joe Lhota in July.
"Unlike Andrew Cuomo, Cynthia rides the subway nearly every day, and understands the toll that his disastrous mismanagement of the MTA is taking on New Yorkers," her campaign said.
She said millionaires and billionaires have seen "massive tax cut windfalls and handouts that loot the state budget" and pledged not to take "a dime of corporate money."
In a statement, a campaign spokesman for Cuomo told Observer that "anyone can run for office" and pointed to the governor's achievements.
"Governor Cuomo has delivered more real progressive wins than any other Democrat in the country, including passing marriage equality, the strongest gun safety law in the nation, a $15 minimum wage, free college tuition, paid family leave, record setting funding for public education, expanding and protecting healthcare for our most vulnerable, and banning fracking," the spokesman said. "We look forward to building on that record as we continue to fight and deliver for New York families statewide."
Earlier this month, she indicated she was getting closer to declaring her candidacy when she tapped Rebecca Katz, who served as a special advisor to de Mayor Bill de Blasio, and Bill Hyers, campaign manager for de Blasio's successful first campaign, to work with her. She also seemed to confirm a bid after her wife, Marinoni, resigned from her position as special adviser for community partnerships in the city's Department of Education (DOE).
In the coming weeks, Nixon plans to travel throughout the state to hear from voters. If elected, Nixon would become the first woman and first LGBTQ governor.
In recent months, she had been speaking more openly about a bid.
In January, she said "maybe" on a possible run. A month later, she said New York needs "bluer Democrats," not mentioning Cuomo by name but clearly taking a jab at him. And in October 2017, she fueled rumors when she hosted the 68th annual National Book Awards—widely seen as a prelude to a potential bid.
Though Cuomo has racked up endorsements from the Human Rights Campaign, 1199 SEIU United Healthcare Workers East, singer Elton John and the state chapter of the National Organization for Women, Nixon's got some endorsements of her own.
Her Sex and the City co-star Kristin Davis took to Twitter to endorse her candidacy.
Comedian and actress Rosie O'Donnell—whose brother is state Assemblyman Daniel O'Donnell—and Alexandria Ocasio-Cortez, who is challenging Rep. Joseph Crowley (D-Queens/Bronx), the House Democratic Caucus chairman, also announced their support for for Nixon.
Nixon, however, faces an uphill battle.
This marks her first time ever running for office, and Cuomo has more than $30 million in campaign money and is a rumored 2020 presidential candidate.
A poll released Monday morning by the Siena College Research Institute found that the governor would beat Nixon in a Democratic primary by 66 percent to 19 percent.
But his 2014 challenger, Zephyr Teachout, surprised observers when she captured 34 percent of the vote despite not having name recognition and the same resources as Cuomo. She will serve as Nixon's campaign treasurer.
And Nicole Aro, who previously served as director of digital strategies for the American Federation of Labor and Congress of Industrial Organizations (AFL-CIO)—the largest union federation in the United States—from 2012 to 2017, will be Nixon's campaign manager.
So far, de Blasio has not formally endorsed Nixon, recently saying it is "her own choice" but insisted that she will always be "politically active." However, he stated he was "very uncomfortable" with how the governor has handled the Republican state Senate and a group of breakaway Democrats in a power-sharing agreement with the Senate GOP.
The mayor's office declined to comment on Nixon's candidacy.
Former Syracuse Mayor Stephanie Miner is currently mulling a Democratic bid. Former State Senator Terry Gipson is the only other declared Democratic opponent. And Brooklyn Councilman Jumaane Williams is challenging Cuomo's running mate, Lieutenant Gov. Kathy Hochul.
On the Republican side, Cuomo faces state Senator John DeFranscisco and Dutchess County Executive Marc Molinaro, who will announce his bid in early April.
This story has been updated to include a comment from the governor's campaign.