It's the beginning of March, which means one thing for anyone who likes art and lives in New York City—Armory Week is here. The Armory Show, now in its 24th year, is one of the most influential events on the art world's year-round calendar of international fairs and along with the sundry half dozen satellite fairs—including NADA, Independent New York, Spring/Break, Collective Design Fair, Clio and Volta NY—it makes for a very hectic few days. Except this year, the Art Dealer's Association of America's annual fair, the oldest in the city, got underway February 28, extending what was once a week of non-stop mingling and mayhem into nearly two. So we talked to some of the leading art world insiders, fair directors and dealers to get their pro tips on how to fit in all the event hopping, art seeing, and party going without getting fair fatigue.
Beware of Your Battery Life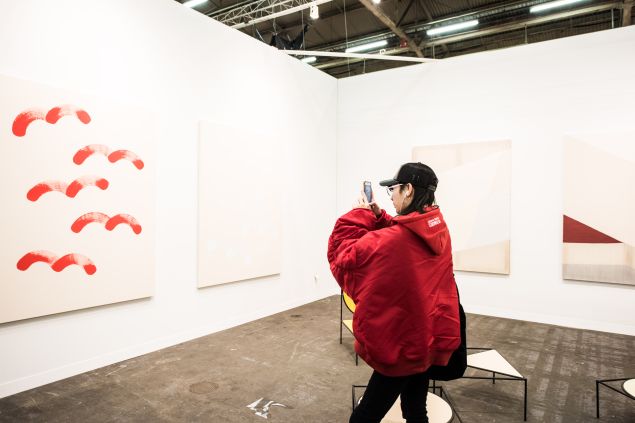 Being out and about can deplete you—and your phone if you're Googling directions, calling Ubers, and constantly Instagramming fair finds. Which is why Ambre Kelly and Andrew Gori, the co-founders behind the popular and politically charged Spring/Break Art Show, head into each day with multiple phone cords, spare batteries, and alternate forms of phone powering aplenty. But Gori guarding against the calamitous brain drain is a little more difficult.
"We have a five minute limit per person at events like these," Gori said. "Otherwise, you see someone you know, you start talking politics, they see someone they know, who you know, you all start talking politics, the fate of the world is crushing, you realize it's 70 minutes later and you're going to miss that pop-up show in that basement in Kensington if you don't get moving and you've already missed lunch and dinner and you're now somehow depressed. Or drunk."
To avoid gratuitous interpersonal exchanges that can zap energy reserves, Carolyn Ramo, the executive director of the grant-making organization Artadia—which will present an award in conjunction with NADA to be announced on March 8th—said she's a fan of the classic walking around with earbuds in trick to be left alone if she's sightseeing solo. Although it's not just the onslaught of people that can be draining, but also the mass amounts of art begging to be looked at. "My eyes get full after about an hour of art viewing at a fair," she said, noting that she blocks out time to take breaks, have lunch, or sip a beverage. And speaking of…
Have a Hangover Cure at the Ready
To be sure, it's easy to have a few drinks too many during a week stacked with easy excuses for day beers, cocktail events and parties that are inevitably followed by after parties. So it's only natural—if not very necessary—to trudge out your tried-and-true hangover solution at least once before the fairs shut down.
For Amanda Jirón-Murphy of Washington, D.C.'s Hamiltonian Gallery, who will be showing new work by photographer Kyle Tata at Volta NY, coconut is key. While coconut water has been proven as excellent source of hydration and electrolytes, Jirón-Murphy swears instead by swishing coconut oil around in her mouth for 20 minutes, a folk remedy otherwise known "pulling." "Vita Coco makes these handy travel packets of coconut oil that you can use when you're on the go," she said. "It might be a placebo effect, but I know that on mornings that I'm really suffering, if I pull some oil, I instantly feel a little better."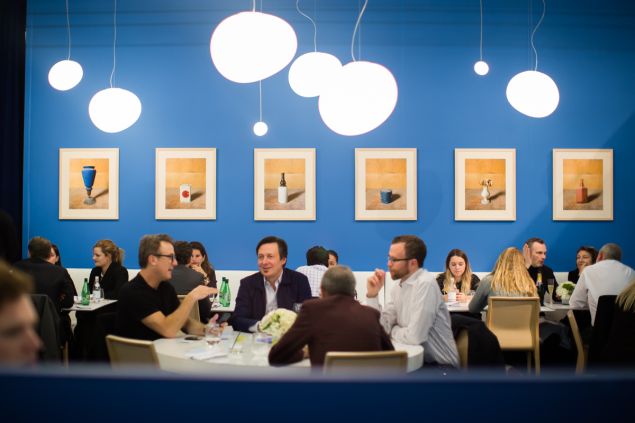 Spring/Break's Kelly opts for a little hair of the dog, instead, noting that her sure-fire remedy is a "super cold Miller High Life in the morning while listening to The Cure." Pym, too, stands by classic cures, namely the good ol' deli-bought bacon, egg, and cheese sandwich. "There's a degree of dealer-to-dealer mind games in the minutes before the fair opens each day," he explained. "Me, holding a bagel in crumpled foil dripping melted cheese and hot sauce does not outwardly suggest that I am in charge. But in fact, with my hoagie, I'm really in charge."
Eat Right
Yet deciding where to eat in a city like New York can be as overwhelming as getting stuck in a spiralling political conversation in front of yet another Yayoi Kusama pumpkin sculpture with five people you think you met at Art Basel Miami Beach last year. Which is why William Pym prefers to keep his dining low-key after a long day. The director of London's Josh Lilley gallery, which is presenting a group show including Kathleen Ryan and Peter Linde Busk in their Armory Show booth this year, told Observer you can often find him sitting at the end the bar watching basketball on T.V. at Walker's. "I always grab a burger there between visiting the great private collections down in Tribeca."
"I'm from New York, so when I'm back in town for Armory Week, I have to go to my favorite spots," said Alexis Rose, senior director of Los Angeles's Night Gallery, who will be showing Christine Wang and Grant Levy-Lucero at Independent New York, as well as Anne Libby and Claire Tabouret at the Armory Show. Among her all-time fave spots are Atla, Via Carota, Buvette, The Grill "for the most incredible martini."
But if you simply can't muster the energy to navigate elsewhere in the city after a long day of bouncing from booth to booth, Collective Design Fair founder Steven Lerner said he's content to dine in the fair's café designed by Reunion Goods and Services, with seating reminiscent of the 1970s mall, or he'll decamp to Giorgione, "the restaurant of one of the founders of Dean & Deluca is right around the corner and one of my favorites year round."
Exercise
Good food provides valuable fuel while sprinting from event to event, but Armory Week is a marathon that requires mental and physical fitness. Lerner swears by morning meditation and Ramo seeks mental stability through a Pilates session, a spin class, or Hot97 in the morning, no matter how little sleep she's on.
Rose, however, relies on fresh air to prepare for being booth bound all day. "I alternate between running along the West Side highway or in Central Park and taking an SLT class," she said. "Working out not only serves to prepare me mentally for the day but it also means I can sweat out the gluttonous wining and dining from the night before."
Plan Ahead
While art week events are largely clustered in West Chelsea and Lower Manhattan, having a good game plan in place in order to make it from one fair to another—and all the shows and events in between—is a must. Ramo swears by the See Saw art map app for planning gallery visits in between fair stops. "It's genius, and has allowed me to discover galleries I wouldn't have known and shows that were not 'on my list,'" she told Observer.
Spring/Break's Kelly and Gori prefer a more be-ready-for-anything approach to planning during the fair week. "Literally we keep a wardrobe of clothes in our office during the entire run of show," Kelly said, explaining that quick outfit changes are a must when you have to transition from comfy fair-ware to party attire at the drop of a hat.