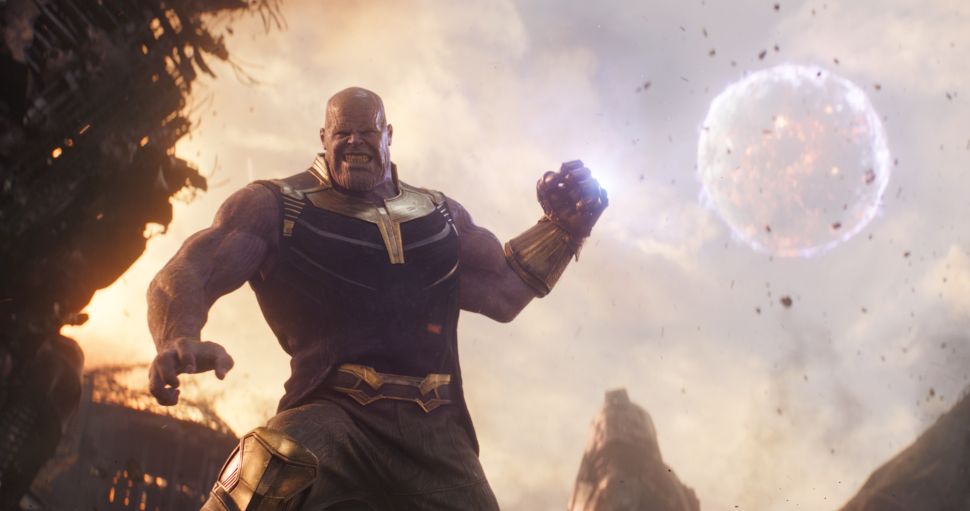 First things first, we know why you came here and it's not for our insightful box office projections. So here's the second official Avengers: Infinity War trailer, you vultures.
Now that that's out of the way, let's get to the box office breakdown.
Earlier this month, Disney moved up the release date of Avengers: Infinity War to April 27. This will be the first time the Mouse House unveils an Avengers film outside of the first weekend in May, traditionally viewed as the start of the summer blockbuster movie season. The move enables the studio to open the film across the globe at the same time, save for Russia and a few other countries.
Arguably more important is the additional breathing room it provides from Fox's Deadpool 2 (May 18) and Disney's Solo: A Star Wars Story (May 25). We explored the financial focus of the schedule switch when the news was first announced.
Given the film's immense pedigree and the worldwide demand for Marvel films, Disney must be eying The Fate of the Furious' records for worldwide opening weekend ($541.9 million) and overseas opening ($443.2 million), as well as Star Wars: The Force Awakens' domestic opening mark ($248 million). It's also reasonable to expect that they want to top the MCU worldwide high of 2012's The Avengers ($1.5 billion) to break into the top-five all time.
Can it be done?
Avengers: Infinity War is the culmination of a decade of careful planning on the part of Marvel Studios head honcho Kevin Feige. To say that it's the most anticipated film of the year is an understatement by about 10 years. Social media buzz has been off the charts since Marvel began rolling out its promotional campaign last year, and not even the looming continuation of Avengers 4 arriving next year has impeded audience excitement.
But given how little we know of the actual plot and with the expectation that several marquee heroes will die in Infinity War (although the main Avengers roster is contractually signed up for 2019's sequel), it's hard to project the film's legs.
If Chris Evans' Captain America or Robert Downey Jr.'s Tony Stark is killed off, will viewers be as likely to show up for repeat viewings? How frontloaded will the movie's ticket sales be?
Here's what we do know: The Avengers opened to $207 million and Avengers: Age of Ultron took in $191 million in its opening frame. Barring an unforeseen cataclysm, Infinity War will be the sixth film in history to top $200 million in its first weekend. The Force Awaken's all-time mark is likely out of reach, but Black Panther's $202 million should be considered the floor. Star Wars: The Last Jedi's $220 million is likely within reach as well.
It's worth noting that Disney and Marvel's tentpoles have consistently come in ahead of tracking expectations, so be on the lookout for those first numbers in the coming weeks.
Our best guess is a domestic opening weekend between $210 million and $235 million. Take a deep breath because we're about to throw a whole bunch of numbers at you.
If we average the domestic multipliers—the multiple of the film's final gross to its debut numbers—of Avengers (3.0x), Ultron (2.4x) and Captain America: Civil War (2.2x), which was essentially Avengers 2.5, we're looking at a U.S. total haul of between $525 million and $587.5 million. For what it's worth, Infinity War is not generally expected to outgross Black Panther (expected to cross $600 million soon) domestically, so let's call it $545 million for simplicity's sake.
Averaged together, Avengers, Ultron and Civil War took in 63 percent of their total gross from overseas markets. Applying that same figure to Infinity War, we get a foreign total of $928 million, which means Thanos' invasion of Earth could net Disney over/under $1.47 billion. That's more than Ultron, but less than the original Avengers.
As of right now, it's hard for us to believe Infinity War won't top the 2012 launch pad.
Again, the main stars are all signed up for Avengers 4 next year, but Infinity War is being marketed as a concluding chapter.
Even Feige has teased "a sense of finality" in the film. Audiences will always turn out in hoards for the endings of series and franchises they are devout followers of and only tangentially interested in.
The series finale of Breaking Bad totaled 10.3 million live viewers. No season finale in the show's run had ever topped 1.9 million live viewers before that. The Lord of the Rings (2001) took in $871 million worldwide and the trilogy-capping The Return of the King topped $1.1 billion just two years later. Harry Potter and the Deathly Hallows Part II is the highest-grossing film in the franchise by a wide margin.
People love endings.
These Infinity War numbers are all just conjectured at this point, but tracking projections and word-of-mouth will help focus predictions in the coming weeks. For now, a safe bet is to expect anywhere from $1.4 billion to $1.8 billion worldwide with an eye towards the higher.