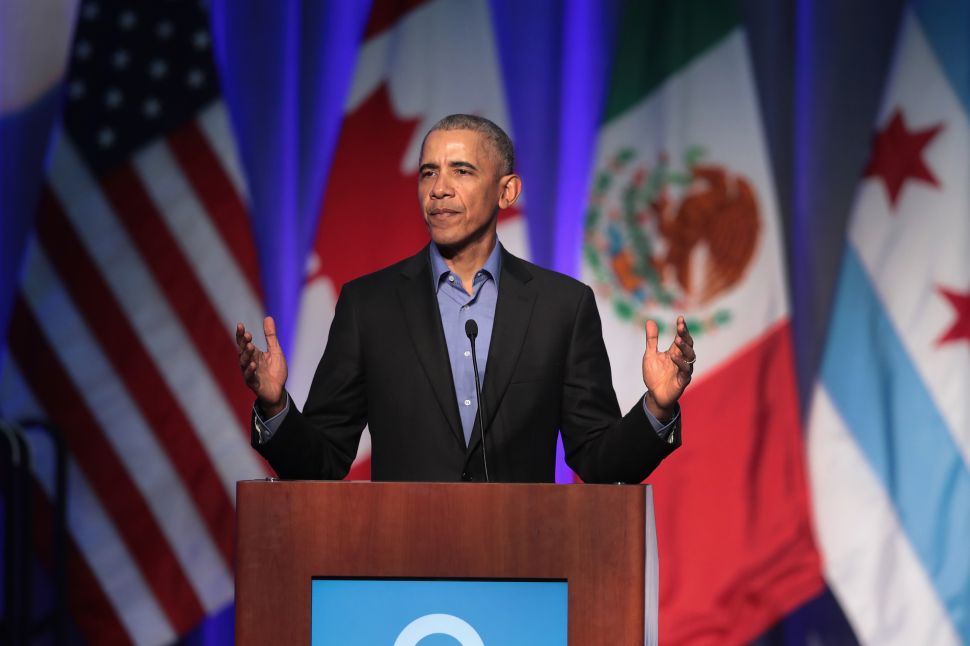 Shonda Rhimes, Ryan Murphy and… Barack Obama? What could those three possibly have in common? Well, in the near future, they all could be enjoying the lucrative benefits of production deals with Netflix.
Proven hit-makers Rhimes and Murphy have signed with the streamer for big bucks in recent months and now comes word from The New York Times that former President Obama is in talks with the company to produce an original series with his wife and former First Lady Michelle Obama. The report notes that no deal is final as of now.
Netflix has not yet responded to Observer's request for comment.
Obama appeared on David Letterman's new talk show with the streamer, and he and Michelle were rumored to be in negotiations for massive book deals last year (said to be worth between $60 million and $65 million), as is customary for former presidents. A move to Netflix would be unprecedented in White House history, the first of its kind. It would also be a major win for Netflix, which is expanding its programming beyond just scripted originals and backlog catalogs of old shows.
Under the reported deal, the Obamas would look to produce original series that "highlight inspirational stories," per the Times.
"President and Mrs. Obama have always believed in the power of storytelling to inspire," Eric Schultz, a senior adviser to the former president, said in a general statement to the Times. "Throughout their lives, they have lifted up stories of people whose efforts to make a difference are quietly changing the world for the better. As they consider their future personal plans, they continue to explore new ways to help others tell and share their stories."
The programming will reportedly not be connected to President Donald Trump or his policies as the Obamas have made an effort to avoid commenting on the current administration for the most part. This content is not meant to be a referendum on current headlines.
Streaming rivals Apple and Amazon are also said to have been courting the power couple.
Netflix is easily the most powerful streamer in the market and a growing threat to the infrastructure of traditional television with 118 million subscribers worldwide. Obama's social media reach includes 101 million Twitter followers and 55 million Facebook followers, giving the pair a massive direct-to-consumer path and audience.
"With media reports indicating that former President Barack Obama is in advanced negotiations with Netflix to produce a series of high profile shows, we would characterize this as a 'home run' deal for the company as they are aggressively looking to acquire high profile talent and original content to further feed the Netflix consumer machine," head of technology research Daniel Ives wrote in a note to clients Friday, per CNBC.
"We believe Netflix remains in a unique position of strength to grow its content and distribution tentacles over the next 12 to 18 months and thus further build out its massive content and streaming footprint with a potential Obama deal the latest 'feather in its cap,'" he wrote.