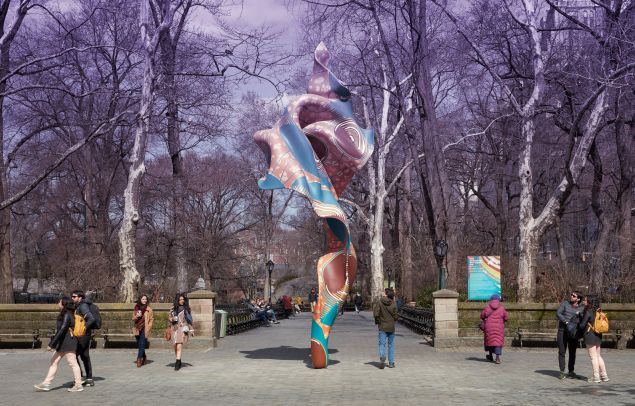 Whether you're looking for a free activity or just something fun to look at while you lunch in the sun, New York City delivers this spring. Here are the best public art works opening across the city, right in time for "outside season."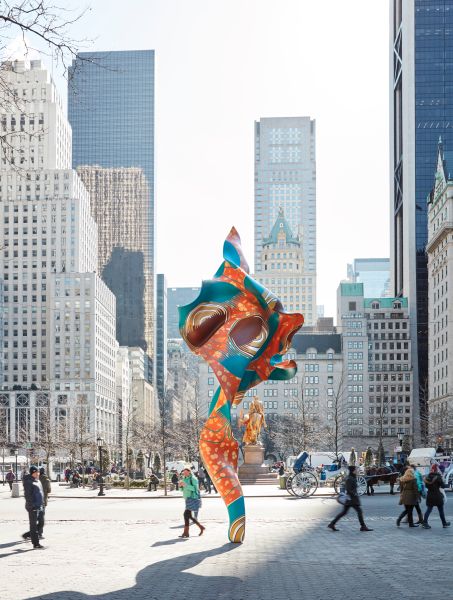 This 23-foot sculpture from British-Nigerian artist Yinka Shonibare is pretty hard to describe…and that's the point. Meant to look reminiscent of a ship's sail, its bright pattern, inspired by Dutch wax batik prints, obscures any easy interpretation.
Painted in a mix of teal, earthy brown, orange and sandy yellow, the artist cast his work in the bright colors he associates with the beaches of Lagos, where he spent his childhood. In doing so, Shonibare takes personal as well as universal points of reference to talk about how identity is formed on individual and cultural levels. The second in his Wind Sculpture series, Shonibare looks through the lens of colonialism to think about how one is hindered, benefitted, formed and informed by the cultural histories of the places from which one comes.
Phyllida Barlow's giant sculptures made from lumber, plaster and other traditional building materials gave the British artist a reputation, when she emerged on the 1960s art scene, as someone curiously able to straddle the movements of Arte Povera and American Pop. Often called "precarious," her giant, scrappy works do indeed often feel like they might fall on you. So installing her Prop (which debuted at the British Pavilion of the Venice Biennale in 2017) on a rail spur at the lofty High Line park should only heighten Barlow's ability to conjure that delicious feeling of danger. It's the first artwork to be presented on the Northern Spur Preserve of the park, accessed at 16th Street.
For Creative Time's latest mixing of politics with partying, the arts organization is taking over the decommissioned firehouse at 87 Lafayette Street and turning it into a club as a way to talk about the failings of the criminal justice system. Wait…it makes sense.
Tapping artist Phil Collins (the Turner-prize nominee, not the former Genesis member) who has worked with men incarcerated in Sing Sing prison, in collaboration with The Fortune Society, which supports successful reentry into society after incarceration, Creative Time is attempting to return to the time when underground house music venues also served as places of political engagement and brave personal liberation. Called "Bring Down the Walls," the project encompasses public programs that include everything from workshops, discussions, and classes on the jail system during the day, to a fully formed club scene at night.
Part schoolhouse, part dance venue, the third part of this project is an album, which matches up vocalists who have experienced incarceration with cutting-edge electronic musicians. These are the people you'll hear by day, talking about what can and should be done to reform our criminal justice system, as well as by night at the club, giving live performances their dynamic tunes. Why does the qualify as public? Because the best part of this is you don't have to worry about paying a cover; all events are free!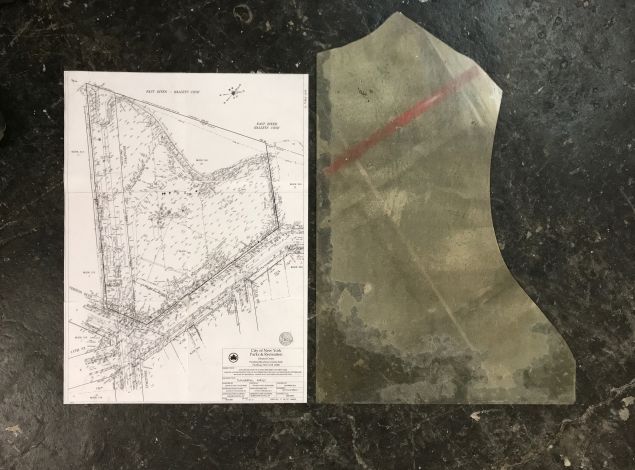 The consummate experimentalist, Virgina Overton takes on Socrates Sculpture Park this spring, presenting a park-wide installation of new works made from found items. An altered pickup truck, a water feature and a sculpture made from roof trusses are set to debut. Overton is known for creating each of her works through a process of trial and error rather than planning things out, and wants each piece to respond to the precise space in which it was placed. I.e., how the automobile, construction materials and waterworks will come together is anyone's guess until the works are unveiled in May.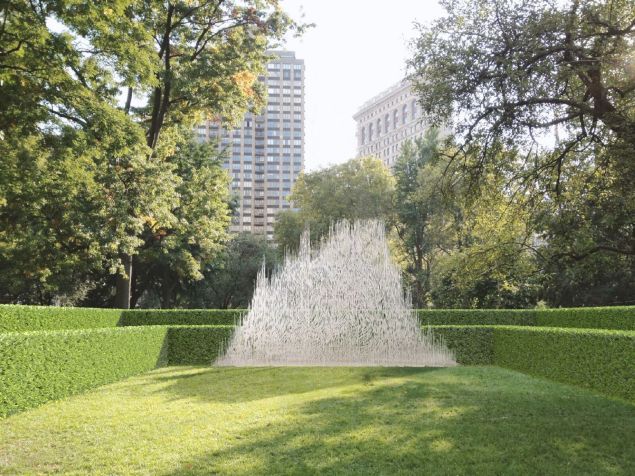 Six new sculptures by Diana Al-Hadid will debut on the lawns of Madison Square Park this May, the first outdoor work to be made by the Syrian-American artist. Depicting female busts, as well as large, wall-like sculptures seemingly made of drips, the poured polymer and fiberglass pieces will be surrounded with high hedgerows grown to give the space a room-like feeling, turning it into an outdoor gallery of sorts. The sculptures, some more abstract than others, are inspired by folklore and allegory. A wall work, Gravida, takes its name from a twentieth-century mythological female character from a novella by Wilhelm Jensen who bewitched a man by walking across hot lava.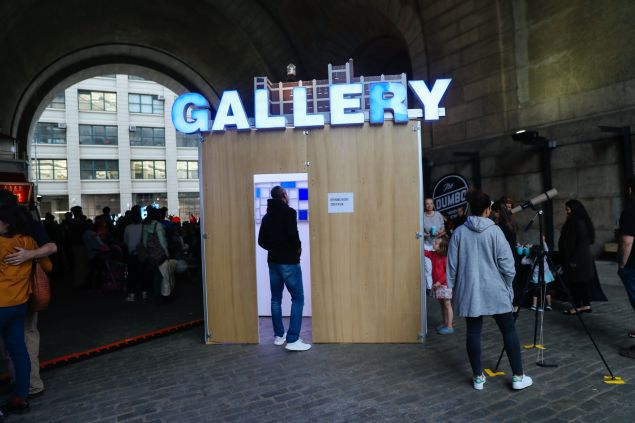 Dumbo's "Live at the Archway," series returns this year with its popular pop-up gallery taking up residence under the Manhattan Bridge every Thursday night beginning in June. Encompassing live components from week to week, visitors get to collaborate with Dumbo artists to make a work of art over the course of three hours. Dumbo Gallery This Friday or Next Friday are responsible for selecting the artists this year, under curatorial direction from Nathan Sinai Rayman.
Out of all of the public art coming to New York City this spring and early summer, Karla and James Murray's piece Mom-and-Pops of the L.E.S. might be the most fun to pose with (read: this is perfect for Instagram). The four-sided structure will recreate the facades of lost Lower East Side establishments, like the Cup & Saucer Luncheonette on Canal Street, Chung's Candy & Soda Stand in Chinatown and an East Village Bodega the artistic duo used to frequent.
Soon to be installed in Seward Park just off Essex Street, the piece was commissioned by the Parks Department and is just one of ten public works they are set to unveil in the city's green spaces in July. Check out the parks map to find what will be brightening up your favorite neighborhood lawn as the weather warms