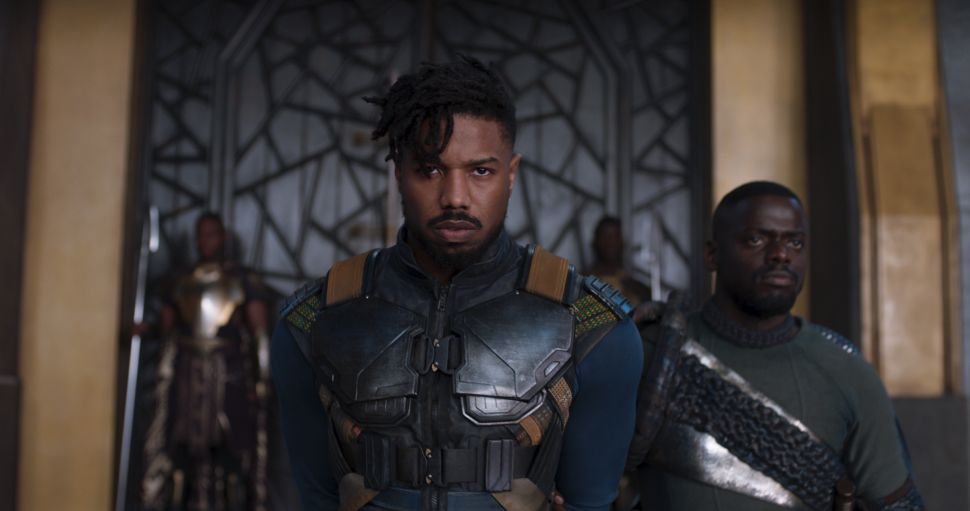 As of this writing, Disney (DIS)-Marvel's Black Panther has earned $501 million in the United States and $897 million worldwide. The Chadwick Boseman-led, Ryan Coogler-directed superhero feature will surpass $1 billion by next weekend with the upside for a lot more if it connects in China (where it will hit theaters on Friday). Its record-breaking grosses have given Marvel Studios a lot of options moving forward in a soon-to-be post-Avengers world.
Black Panther has also helped spur the month of February to a record-shattering $1 billion at the box office. That's right, billion with a B.
The film earned $428.8 million domestically in February, good for 43 percent of ticket sales. The massive totals have furthered the belief that there is no such thing as a non-blockbuster month on the calendar anymore. Studios can now drop a quality tentpole product at any time and watch as the money pours in.
Elsewhere, Universal's Fifty Shades Freed ($91.7 million) also helped push February to the top of the charts. Somehow, the Fifty Shades franchise has also now earned $1 billion worldwide combined. It's a sad day for film enthusiasts and box office trackers alike.
Sony Animation's Peter Rabbit ($73.4 million) and holiday holdovers such as Sony's Jumanji: Welcome to the Jungle ($47.6 million) and 20th Century Fox's The Greatest Showman ($32.7 million) have also contributed to the enormous totals. Never underestimate the power of Dwayne "The Rock" Johnson or a good power ballad show tune.
The 2017 year ended two percent lower than 2016 at the box office as ticket sales continued to decline. However, largely on the back of Black Panther, the January 1 to March 4 period is up 11 percent compared to last year with a grand total of $2.1 billion, per Deadline.
With massive franchise installments such as (deep breath) Avengers: Infinity War, Solo: A Star Wars Story, Deadpool 2, Ocean's Eight, The Incredibles 2, Jurassic World: Fallen Kingdom, Ant-Man and the Wasp, Mission: Impossible—Fallout, Venom, The Girl in the Spider's Web, X-Men: Dark Phoenix, Fantastic Beasts: The Crimes of Grindelwald, Creed 2 and Aquaman all set to release this year, the 2018 box office shows no signs of slowing down.
In fact, 2016's all-time record of $11.38 billion may very well be within reach. There are, after all, a handful of big-budget one-offs like A Wrinkle in Time and Mortal Engines that could catch on, not to mention buzzy Oscar potentials in The First Man.
It will be interesting to see if Hollywood can build on Black Panther's momentum throughout the rest of the year.