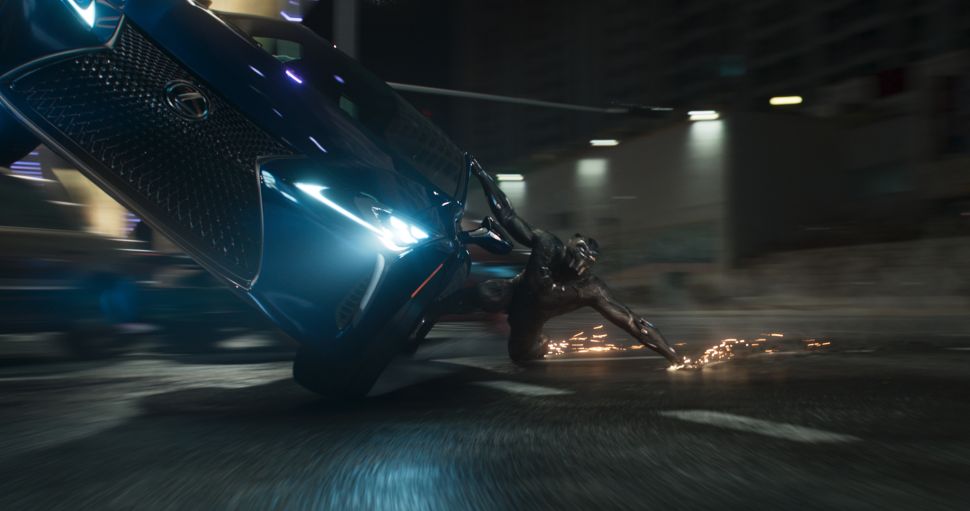 Black Panther has become the most tweeted about movie of all time, as announced by Twitter in a statement on Tuesday. The Ryan Coogler-directed movie has racked up 35 million tweets, surpassing Star Wars: The Force Awakens and Star Wars: The Last Jedi.
Unsurprisingly, Kendrick Lamar and Michelle Obama's tweets referencing the film are among the most retweeted of the bunch.
Lamar received over 240,000 retweets when he released the album cover and list of songs for Black Panther The Album, the record he produced for the movie. More than 139,000 people retweeted the former First Lady's virtual endorsement.
The most tweets hail from the U.S., followed by the U.K. and Thailand.
Topping the box office for five straight weekends, Black Panther has cemented itself as a cultural and financial achievement. The film has grossed over $600 million domestically and $1.2 billion worldwide.
The Twitter profiles of the close-knit group of actors rose dramatically after the movie hit theaters, and now all of the cast members don large followings. Chadwick Boseman (558K followers), Michael B. Jordan (841K followers) and Lupita Nyong'o (1.1M followers) have the most followers of the group, which shouldn't be a huge surprise.
Boseman has made his name in Hollywood by taking on iconic real-life figures such as Jackie Robinson and James Brown in several biopics. Jordan, who was rumored to have earned at least $1 million for his role, has been acting since he was a teenager, and Nyong'o won an Oscars in 2014 for her role in 12 Years a Slave.
But a handful of the more under-the-radar stars, such as Danai Gurira and Letita Wright, have become instant memes thanks to their well-received turns in the Marvel blockbuster.
The actors are now gearing up for their next big projects before returning for a sequel. President of Marvel Studios, Kevin Feige, recently told Entertainment Weekly, "Nothing specific to reveal, other than to say we absolutely will do that."
He assured fans that Marvel has, "a pretty solid direction on where we want to head with the second one."
Black Panther has also racked up some other notable achievements.
Lamar's album features over a dozen African-American artists and came in at No. 1 on Billboard's 200 chart for two weeks straight.
Ryan Coogler became Marvel's first black director and also the studio's youngest filmmaker at 31. The talented Black Panther cinematographer, Rachel Morrison, was the first female nominated for the Best Cinematography Oscar for her work on Netflix's Mudbound.
As Black Panther heads into its sixth weekend in theaters, Twitter might just be able to keep it at number one in the box office.