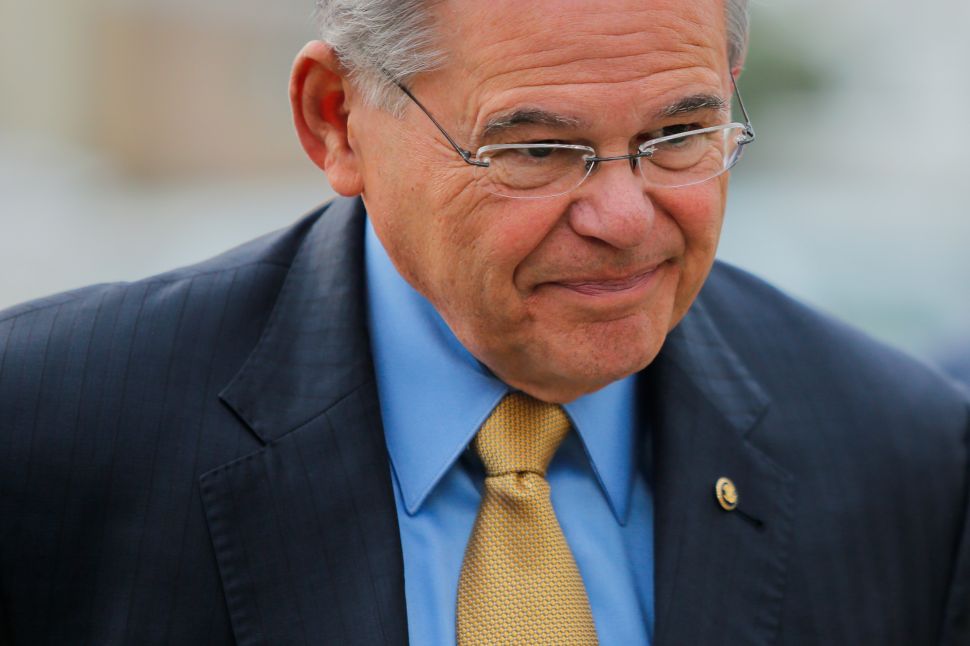 Four months after surviving his corruption trial, New Jersey Sen. Bob Menendez launched his reelection bid on Wednesday in his hometown's high school, highlighting his roots as a poor kid from Union City and taking aim at President Trump.
Menendez, a Democrat seeking a third term, told hundreds of students packed in a gymnasium about his humble beginnings as a son of immigrants. In a roughly 15-minute speech, he portrayed himself as a champion for the people of Union City, where his likely Republican opponent, Bob Hugin, also grew up.
"While some of you are not old enough to vote, I am not here to ask for your vote. I'm here because I am your vote in the United States Senate. Every time I cast a vote, I do it for you. I carry a piece of this place in my heart," Menendez said. "You are with me—and I'm with you—when I vote to make health care more affordable, and our gun laws more sensible, and our economy more equitable."
Menendez is favored to win in November, but he enters the race under an ethical cloud.
He was accused of taking official actions to benefit Salomon Melgen, a wealthy Florida eye doctor and the senator's top donor, in exchange for gifts, trips and campaign contributions. Prosecutors also charged Menendez with intentionally omitting Melgen's gifts from his Senate financial disclosure forms.
After a two-and-a-half month trial, his corruption case ended in November when a jury deadlocked on all charges against the senator and Melgen. Federal prosecutors declined to retry the co-defendants after a judge acquitted them on seven of the 18 counts they faced.
Republicans were already using the bribery charges against him, handing out "Get Out of Jail Free" Monopoly cards featuring Menendez's face outside the senator's campaign event on Wednesday. Hugin's communications director, Megan Piwowar, labeled Menendez a "corrupt career politician" who is "trying to stay one step ahead of the law."
"This campaign will come down to the story of two Bobs. We're confident that New Jersey voters will say enough with Menendez's failed, corrupt track record and elect a senator we can be proud of again, former Marine and business leader Bob Hugin who created thousands of New Jersey jobs," Piwowar said in a statement.
A Quinnipiac University poll released this month had Menendez with a 17-point lead over Hugin, a former pharmaceutical executive who is expected to spend millions of his own money on the race. Menendez could also benefit from a Democratic wave in the midterm elections. Trump is deeply unpopular in blue New Jersey, polls show.
Menendez didn't mention his trial or Hugin in his remarks, but he did target Trump. He blasted the president's positions on gun control, health care and taxes, among other issues.
"There is a president in Washington who spends his days dividing us and distracting us, but never delivering for us. Who believes that being wealthy is the same thing as being worthy," Menendez said. "This year, whether you care about the safety of our schools, or the health of our families, or the security of our nation, our votes have never mattered more. We cannot let the dark cloud cast by the president define us as a country. In these uncertain times, we must see the light in each other and together be the ray of hope that clears the way towards a brighter future."
Menendez was joined by New Jersey's most powerful Democrats —Sen. Cory Booker and Gov. Phil Murphy—who both delivered opening remarks before Menendez's speech. Menendez is also scheduled to campaign in South Jersey with Senate President Steve Sweeney later in the afternoon.
After the event, Booker said GOP attacks about Menendez's corruption trial won't work.
"To try to continue to throw this kind of mud at him, it's not going to stick. It didn't stick when the government tried to do it. It should not stick now," Booker said.