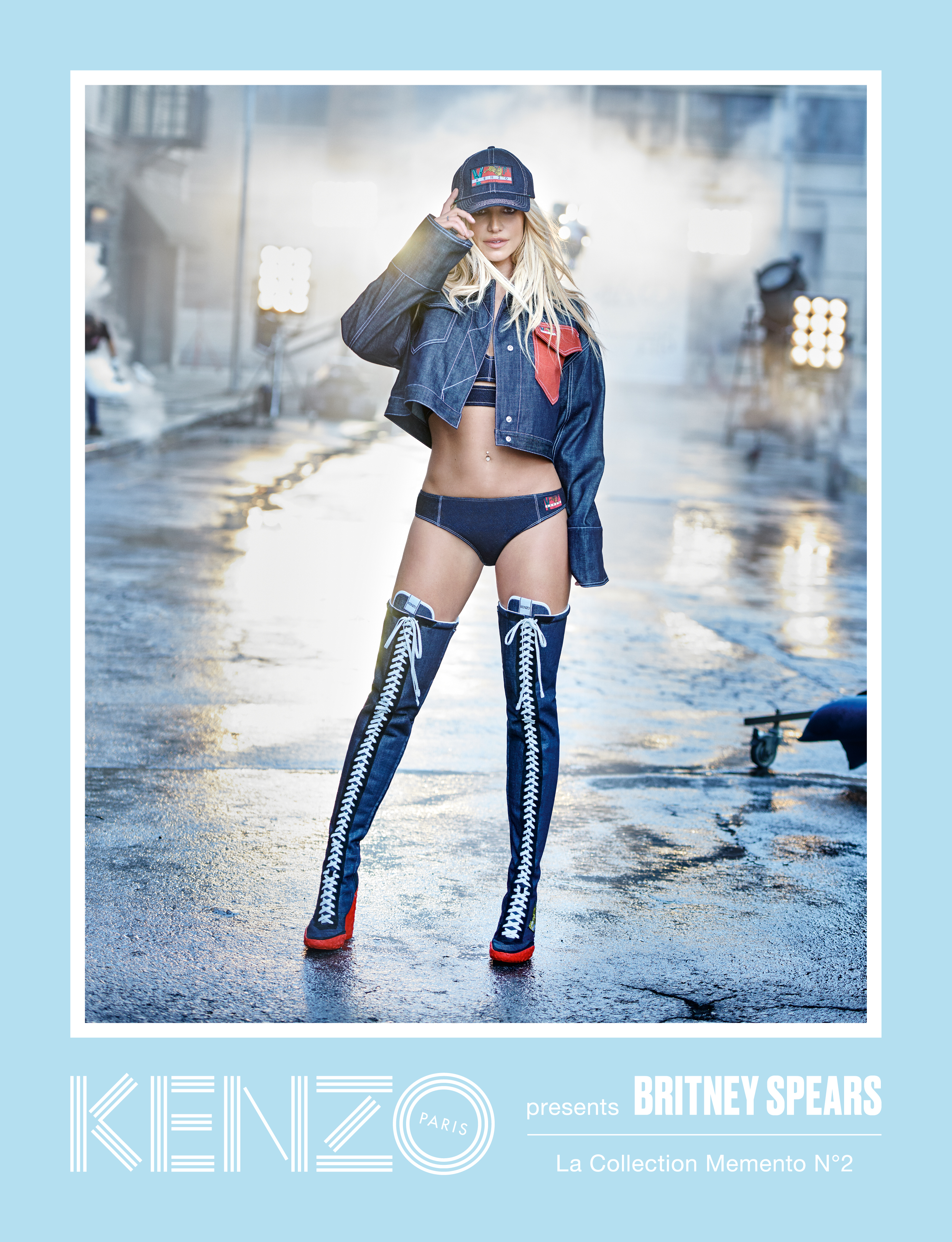 For the internet, Britney Spears wearing a denim dress with an ample train to the AMAs in 2001, while her then-boyfriend Justin Timberlake slipped into a true Canadian tuxedo—plus a matching cowboy hat—is a Major Moment. With two capital M's.
But to the pop star, it's just a mere memory, one she refers to casually in discussions about her absolute adoration for all things denim.
"I did lots of denim when I was a kid, and still do—it's really versatile and fun, and just goes with everything. Jeans and a tee shirt or a cute top are like my go-to outfit when I just want to be casual and comfy. And it can be dressy and cool too," she said in an interview with Kenzo, that accompanied her campaign images for the brand's La Collection Momento collection.
And then, she acknowledges, the Major Moment: "I once wore a denim dress to an awards show."
Yes, we know this—in fact, everyone knows. A search for "Britney Spears denim dress" results in 1.5 million hits on Google and provides some sad updates on the iconic, 17-year-old red carpet appearance. Like how Timberlake utterly regrets his decision to wear a suit made from jeans and how the original patchwork gown sold at auction for $7,199 in 2016.
But alas, this is Spears' first high fashion campaign and that is notable all on its own. It's about time the 36-year-old mother of two, who's currently on hiatus from her Vegas residency, gets some respect from the fashion industry. And no, that deal with Candie's doesn't count.
It appears Kenzo's designers, Humberto Leon and Carol Lim, did just that, by selecting Peter Lindbergh to shoot the campaign and giving Spears some creative input on the final product.
"I couldn't be happier with the campaign. It's very me," she told the brand.
Indeed, all the markings of the pop star we know and love are there: the very blonde California waves, a flash of her lower back tattoo and a look at her extremely tanned and toned midriff, decorated with a sparkling belly button ring. According to Lim, that really is all Spears. "That's a true shot, unretouched. Her body's amazing," Lim notes. "That is what her body looks like." Isn't she lucky?