Just when you thought overnight success stories were a thing of the past, along comes 24-year-old Charlie Stemp, sailing straight into the Shubert Theatre from London to become the new deputy clerk at Vandergelder's Hay and Feed, Barnaby Tucker, in Hello, Dolly!
Now that may not sound particularly starry or prestigious, and he is swapping top billing across the pond for fifth billing here—after Bernadette Peters, Victor Garber, Santino Fontana and Kate Baldwin. Nevertheless, he reasoned, "When somebody says 'Broadway,' you just say 'Yes.'" (It, apparently, is some kind of rule that he lives by.)
So how much did this ticket to Broadway cost him? Pittance! Or, more precisely, Half a Sixpence. Cameron Mackintosh's revival of the 1963 musical that made a star of Tommy Steele evidently worked similar wonders for Stemp in July 2016 when it premiered at the Chichester Festival Theatre. Coasting on critical cheers ("one of those fairy-tale performances that's the stuff of legend" said the Sunday Telegraph), he and the show hit West End's Noel Coward Theatre three months later.
They stayed there till September 2017, by which time he had received an Olivier nomination and the Broadway offer (sans audition, as befits a fairy-tale existence).
Actually, this free-pass luxury bothers him: "The experience of that process was so strange. I've never had not to audition before. When you audition for something, you feel that you've earned it. You feel that you're the best person in the room, or—not even the best person in the room—the right person, and I didn't feel that this time," he told Observer.
"So, as lovely as that is, it's also daunting. You think, 'I need to impress these people. What if they heard it wrong? What if someone came to a show when I did something I'd never done before that was good but was not me?' It was quite nerve-racking."
Happily, his soon-to-be coworkers made him feel right at home when he flew over to catch the show. He watched Donna Murphy for half a week, then Bette Midler for the other half. "It was amazing to see how the same role could be played so differently. I loved that," he said.
He also learned from the dear, departing Barnaby Tucker (Taylor Trensch, who was leaving the show for the graver pastures of Dear Evan Hansen). "I don't really like seeing other people do roles I'm going to do." (He has never seen Tommy Steele. In anything.) "But I thought Taylor did an absolutely beautiful job, and I learned a lot about Jerry Zak's directing style from it."
Before beginning his year in Dollyland, Stemp returned home for one last brush of Britishness. It was to play the titular role of Dick Whittington in last year's London Palladium pantomime, surrounded by the likes of Elaine Paige, Nigel Havers and Julian Clary. It was the first panto at the Palladium in 100 years ago, and it was last done there in 1969…by somebody named Tommy Steele. Stemp closed on Jan. 14, a Sunday, flew to the U.S. on Monday, started rehearsing Tuesday and went into previews with Peters and Garber on Jan. 20, a Saturday. That was the week that was!
Making her Broadway debut with him is Molly Griggs, his own Minnie Fay. They make beautiful comedy together. "And her sense of humor in real life is very similar to what it is on stage, which is great to see."
An attention-grabbing live-wire from birth, the strapping 6-foot-1 Brit grew up in places like Peckham and Blackheath. His rambunctiousness was properly channeled toward theater and dancing at Laine Theatre Arts in Epsom, and, on graduating, he went right into Wicked "as flying Monkey No. 3" at London's Apollo Victoria Theatre.
"I was 19, and it was an amazing time," he recalled. "I got to feel of how you need to be in a job—what you can do, what you can't do with your social life. You cannot go drinking till six in the morning if you have two shows the next day. I was lucky to be surrounded by people who were accepting, understanding and good at guiding me."
It was a great gig for grounding a young actor, but Stemp started developing acute wanderlust so he signed up to play the groom's best man for an international tour of Mamma Mia. "It was the perfect job for me: I could see the world and get paid for it."
After Luxemburg, Turkey, Italy, et al., he had four whole days of unemployment before going out for Half a Sixpence. It took him "only" 11 auditions to land the role.
Initially, he was to cover for Bryan Dick, who chose instead to do Hobson's Choice, but they never told Stemp and kept bringing him in to audition with others. He thought understudies did that. "I now know why they auditioned me so many times: They wanted to make sure they hadn't made a mistake. They'd decided, instead of finding someone else, they were going to give the role to me. It was a big decision."
And, of course, for him, too. "I went from never professionally singing on my own to starring in a show." In three shows, that's from ensemble member to poster boy.
Mackintosh brought in his theatrical fumigators who resuscitated and "Broadway-ized" Mary Poppins—George Stiles and Anthony Drewe on songs, Dowtown Abbey's Julian Fellowes on book—and Half a Sixpence emerged a millennial crowd-pleaser.
"I'd love to do Half a Sixpence again," Stemp said. "At the moment, there's nothing in the pipeline that I know of, but then, producers are always secretive, aren't they?
"I really need some time away from that show, though. I've never been in one that required my attention all the time. I was in 95 percent of it, and, of the 24 songs, I did 22. It was an amazing show, and I loved every second of it, but it took so much out of me."
In the end, Andy Karl of Groundhog Day beat him out for the Olivier. ("A lovely gentleman and very deserving.") In general, Stemp has a pretty healthy attitude about award competition. "Half of me finds a way to explain to myself why I should win, and the other half of me is that I don't need to win. I need recognition. The feeling everyone in my group was talented meant so much to me."
Meeting Lin-Manuel Miranda at the Oliviers was—for him—on a par with winning, and he'll whip out selfie proof of that moment with minimal coaxing.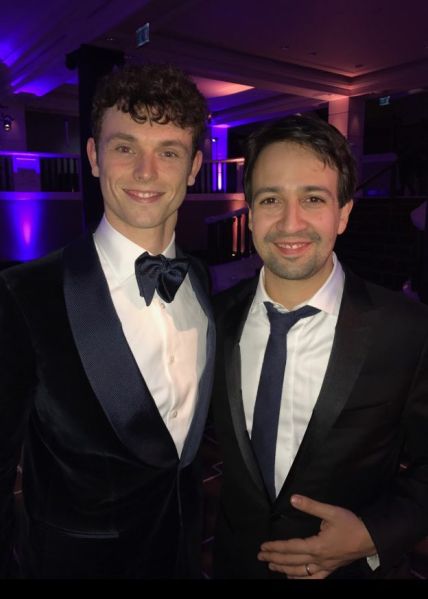 He got another bracing perspective on awards when he visited Gavin Creel's home and discovered on display a Tony for Hello, Dolly! and an Olivier for The Book of Mormon. "It was so cool! He asked me if I wanted to touch them, but I passed."
(Creel, who was Stemp's first Cornelius Hackl at the Hay and Feed, is on medical leave from the show and has been temporarily replaced by Fontana.)
Echoing the Cornelius-Barnaby relationship off-stage, before he was sidelined Creel had been dispensing some big-brotherly advice to his young deputy clerk. "Gavin explained, 'When you're the lead in a show, you're given the keys to the castle. It's so much fun because you're in this castle and you love it and you control it, but what you have to do—while everyone else is having a ball in the ballroom downstairs—you have to sit in the highest room in the tallest tower and watch them have fun.'
"And it's so true. You're still in the castle and having a great time, but you have to be sensible and show the rest of the people in the company that you are in control and leading it. That's why I think Bernadette is so amazing. She does it with such ease."
"She and Victor are both such pros. Sometimes, actors who have done so many shows just normally go into this tunnel vision of 'This is going to be a tough year—I'm going to get through.' They don't do that. They're so welcoming. It feels like, on top of holding up these incredible performances that they give, they also try to hold up other people's spirits. That's the true definition of a leading lady and a leading man, and it's wonderful to behold. I'm learning so much from them on stage and off."
This newly minted star from Britain, who surreptitiously slipped onto Broadway as a supporting player, has a real here-to-learn humility—and, with Dolly, he's fortunate that he's being taught by some authentic musical-theater masters. It all should come in very handy if he ever gets to spend his Half a Sixpence on Broadway.