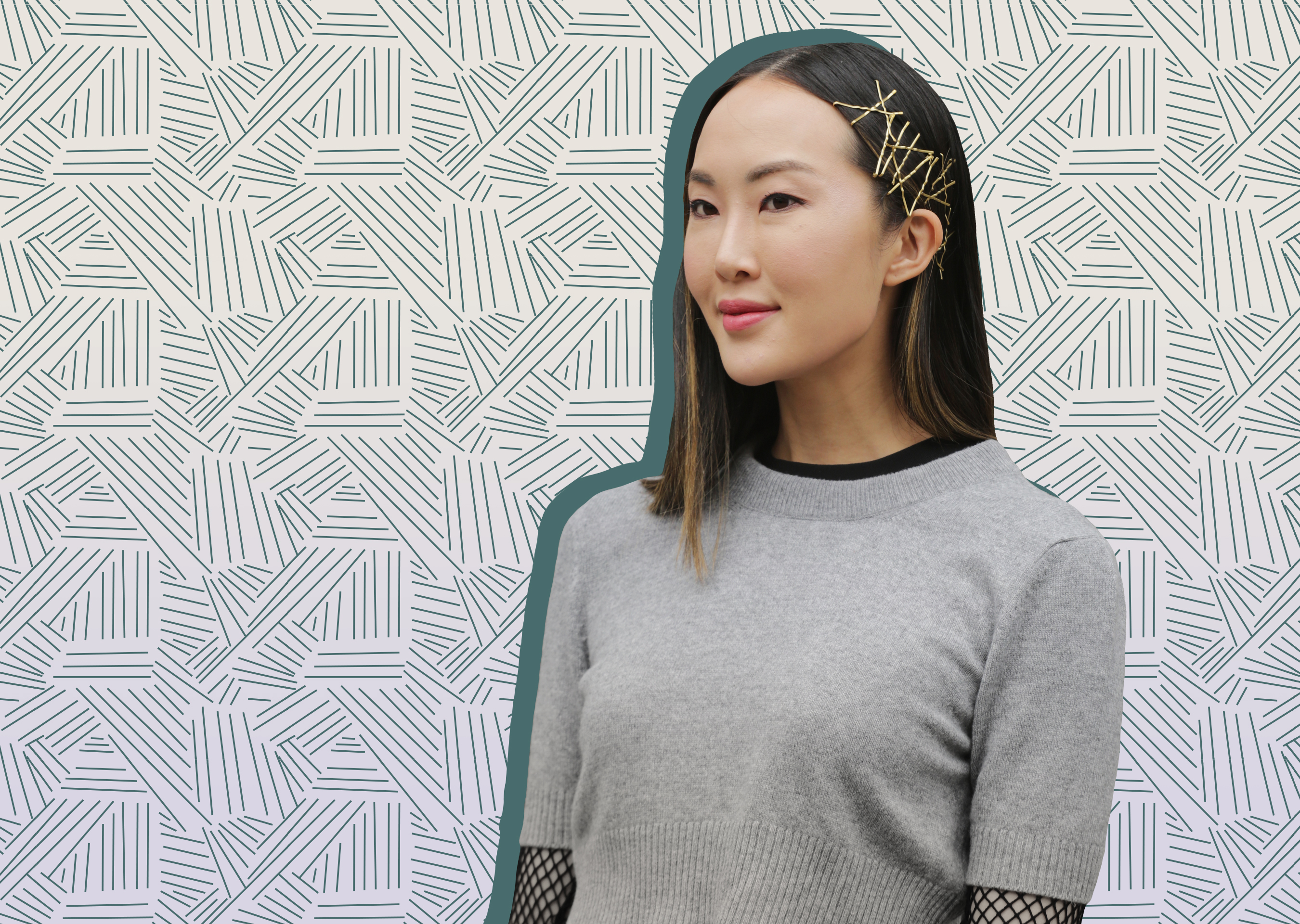 Eight years ago, Chriselle Lim wasn't world famous; she was just an editor at Genlux, a local luxury magazine based in Los Angeles. "I was on the traditional fashion editor path until I met Michelle Phan, who introduced me to the digital world," she says. "At that point, you were either on YouTube or you had a blog. I noticed that there really wasn't anyone doing fashion on YouTube, so I uploaded my first video and the response was insane—I had 500,000 views overnight!" To this day, simple, relatable style videos (like this one about how to style a basic white t-shirt) remain some of her most popular content, both on YouTube and on her blog, The Chriselle Factor.
Surely her legs for days and porcelain skin have somewhat helped this influencer secure a following of 2.5 million across various social channels (including 1 million just on Instagram), but Lim would not have achieved this level of notoriety and success if she didn't possess an even blend of creative juices and business savvy. 
"When I started in 2010, it was really focused on creating, produced content—tutorials, hauls—it was a very specific type of content," she notes. Flash forward nearly a decade, and there's an exploding arena of influencers and wannabe influencers, no doubt fueled by the fact that major companies have discovered that these individuals can actually sell products—and are now deeming them worthy as faces of campaigns, collaborators and recipients of six-figure paychecks.
Lim's millions of followers put her in a class populated by a few OGs in the blogging/influencing space, such as We Wore What's Danielle Bernstein, Something Navy's Arielle Charnas and Song of Style's Aimee Song. That does, indeed, warrant her designation as a "superinfluencer." According to Lim, growing and maintaining her followers has been a practice in flexibility.
"People are more interested in real life content. There are still tutorials that people come back for, and styling tips because of my background, but now people want to see moments with my family, people becoming more real and raw," she says
It wasn't a natural shift to make, Lim admits. "Back then I was able to be this person on camera and then turn that off, and it took me a while to transition and learn how to speak to my followers more how I speak to my friends." Now, Lim just steps on camera and acts as if she's talking to a close friend. 
Still, in spite of social media's new-found obsession with real life, Lim still believes that her role as an influencer is almost like being a teacher. "It's always been about education from the beginning. There has to be a reason why people want to follow me. If they're gonna spend five or 12 minutes, watching a video, I want them to take something away that they can apply to their real life. I don't want to waste people's time." 
Another facet of Lim's success lies in her refusal to sign any contracts that make her exclusive with one brand or category—WWD reported on a rejected million-dollar-deal in late 2017, having decided the company in question wasn't a good match for her own. "My freedom has allowed me to speak about a lot of different things. People know when you're advertising to them," she smartly points out. 
The outlook on her blog is similarly forward-thinking. The Chriselle Factor, which has new blog posts go live five days a week and YouTube videos every Sunday, is wholly controlled by Lim and her team. "For me, as a business person, you have to have your own platform that you have full control over." That is to say, if Instagram ever goes down unexpectedly, you can still count on your daily dose of Lim with a look and feel precisely designed by her.
Still, she notes: "I'm 32 and I know that when I turn 40, I'm not going to want to take outfit photos every single day—I don't imagine myself doing that. So, I knew that I had to create a platform where it was bigger than just my outfits," she says. Which led to CINC, Lim's production company that's staffed with 10 full-time employees. CINC is the perfect outlet for Lim's creativity and business-savvy—and doesn't always require her actual presence to be front and center, a fact that's not lost on her. Recent projects have included campaigns for brands like Valentino and essie, a campaign in which Lim's face does appear.
Today, she steps into the retail arena for the first time ever, with the release of Chriselle x J.O.A., a capsule collection available at 40 Nordstrom stores and online. If all goes as planned, Lim could also very well follow in the footsteps of Something Navy's entrepreneurial Charnas, whose own collaboration with Nordstrom is said to have accrued over $1 million in sales in a single day and has since morphed into a full-on brand.
The decision to partner with trend-forward, affordable brand J.O.A. was an easy one for Lim, who started shopping the brand herself in a unique effort to bring her own wardrobe back to the realm of normalcy. "Once you start getting gifted a lot of things and that's all you wear and that's all you talk about—I did that for a while, and I started to become out of touch with what I would actually spend my money on and wear and buy," she says. "I decided about two years ago that every single month and I am going to shop," which she acknowledges, is "not a bad problem to have", and made it a point to give herself a budget.
Lim's own life takes her to top fashion shows around the world, but she's insistent that her day-to-day life in Los Angeles is less jet-setter and more working mom than it may appear. If you follow Lim, perhaps you've seen her extraordinarily versatile looks; edgy Balmain babe one day, ultra-feminine in Valentino the next. But, when it comes to dressing on any given day, Lim swears by a simple uniform, something casual but polished that she can wear to drop her three-year-old daughter, Chloe, off at school and then rush to a meeting. The J.O.A. collection is a reflection of this versatility, with a touch of Italian charm.
The range is inspired by Roman Holiday, Lim's favorite movie, and a number of trips she took to Rome last year. Offered in the colors she saw in the city (rustic red, sage green, and marigold to name a few), the 23-piece range includes an airy, summer-ready blend of blazers, crop tops, and dresses. Lim personally tested the versatility of each piece by styling it with heels, sandals, and sneakers, proving that this superinfluencer is, indeed, working hard for that title.