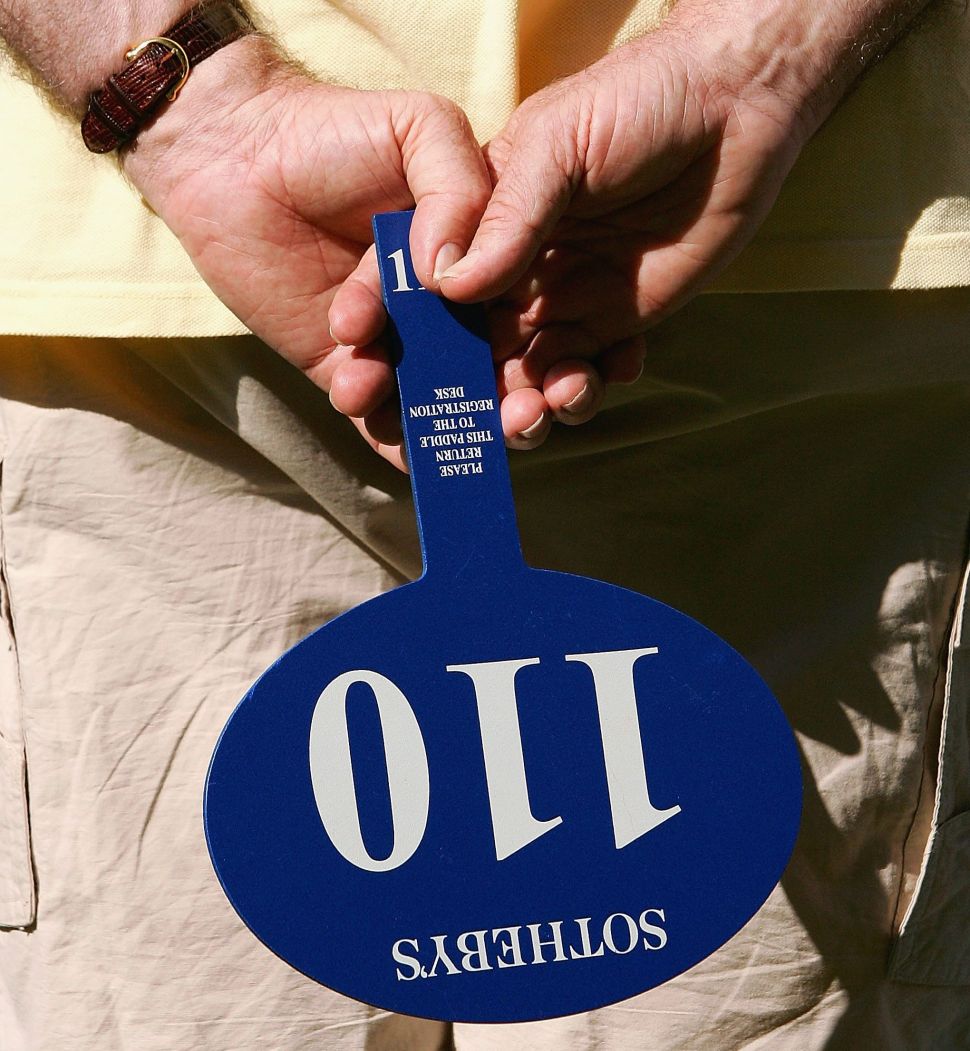 Every auction is filled with at least a little anxiety. Will the sale be a flop? Will you be outbid for the piece you have your heart set on? Or, worst of all, will you accidentally bid on something you don't want…maybe when inadvertently scratching your ear…as TV and movies lead us to believe happens all the time? (Looking at you Friends, Dick Van Dyck and The First Wives Club.)
In reality, this never happens at live events—an auctioneer always makes sure to receive affirmation of a bid before moving the proceedings on. But other accidents do happen. Often getting swept up in the pursuit of the sale, it's not uncommon for a buyer to want to back out after an item has been won.
If you realize quickly the error of your ways, the auction house is likely to let you out of it and go to the next highest bidder. But not necessarily. At a live auction, a bid represents a legal obligation. There's no going back. But clearly not all buyers are on the same page; nonpayment is an issue all houses have to reckon with. And in the online auction world, the issue of when you have to pay up, and how you can back out, is a whole lot murkier.
So what happens if you don't want something you won in an auction? It depends on the situation, but you could very likely get sued.
In February, Sotheby's served Anatole Shagalov with a lawsuit after the New York art dealer failed to pay $6.5 million that he had bid at a live auction for an untitled 1982 painting by Keith Haring. Sotheby's subsequently found another buyer for the artwork who paid $4.4 million, and the auction house's lawsuit seeks Shagalov to pay the $2.13 million difference between what he had bid and what they ultimately sold it for.
Back in 2008, the auction house sued internet entrepreneur Halsey Minor for refusing to pay $9.6 million for a painting by Edward Hicks, as well as two other artworks, and in 2003 they sued singer Michael Jackson for reneging on a winning bid of $1.6 million for two works by French painter Adolphe William Bouguereau.
Last year, Phillips auction house sued a Chinese businessman and collector Zhang Chang for his refusal to honor a guarantee of $24 million in a 2016 sale on a 1963 Gerhard Richter painting, Dusenjager, and in 2016, Christie's filed a $32 million lawsuit against collector Jose Mugrabi for not paying for a 1981 painting The Field Next to the Other Road by Jean-Michel Basquiat. Within days of filing its lawsuit Christie's released a statement saying they had settled out of court, as did Phillips and Zhang eventually—just last month.
The worst case scenario for refusing to pay? You can get banned from buying art. In 2010, a federal judge ruled against Minor and he was barred from bidding again at either Sotheby's or Christie's by the two auction houses.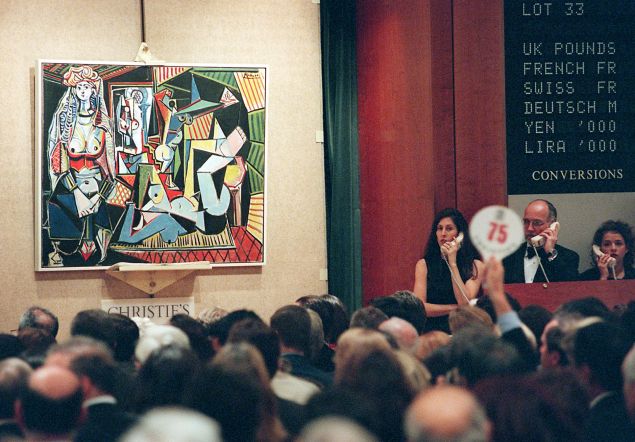 But Leslie Hindman, a Chicago auctioneer, wouldn't say that non-payment is on the rise. Her house only experiences a significant default on average "once every five years." Steve Ivy, chief executive officer of the Dallas-based Heritage Auctions agreed. "The problem with nonpayment is minimal, well less than one percent," he said.
Auction houses gives themselves maximum latitude when a buyer defaults on a purchase. In the "Terms and Conditions" section of every Sotheby's catalogue, it is written that the auction house is "under no obligation to enforce payment by any 'buyer' nor to undertake legal proceedings to recover such payment." However, if payment is not promptly forthcoming, Sotheby's also claims the right to cancel the sale, resell the item, charge the defaulting buyer legal and administrative costs, blackball the individual and "commence proceedings" against the individual "for breach of contract."
In other words, what they do to you if you don't come up with thee cash depends on the situation.
"Auction houses often don't pursue defaulting buyers," said Peter Stern, an art lawyer in New York City who claimed to have represented between eight and 10 clients who defaulted on purchases from one of the major auction houses over the past 25 years. "They have to decide if it is worthwhile to pursue a case." Among the considerations may be the cost of litigation compared to the potential judgment, or "the defaulting buyer may be more important than the consignor, and they would prefer not to antagonize" someone who is otherwise a good customer. Or, the consignor may be important "and puts pressure on the auction house to pursue" the defaulting buyer through legal means.
Robin Starr, vice-president of Skinner auction house in Boston, attributed the growth in defaults that they've been seeing to online bidding, noting that embarrassed bidders blame a child in their home for making a bid by accident, or the family cat jumping on the computer mouse."Yes, we've actually been told that," said Starr. Usually though, it's that they couldn't see the screen clearly: "They think they are bidding on a Redon but it's a Rodin." Had they looked at an artwork in person, they might have "realized that the work was too large to fit in their living room."
Third-party bidding platforms also do not do a good job of vetting prospective bidders during the registration process, she noted. At one point, "we used an outside bidding platform that would not give us the full information of potential bidders so we couldn't vet them carefully enough. Nonpayment from online bidders grew into enough of a problem that we developed our proprietary SkinnerLive! platform so we control the vetting and could drop the services who wouldn't allow us to vet. This drastically reduced the problem for us."
Auction houses check the creditworthiness of prospective bidders at their important sales, requiring a government-issued proof of identity, such as a driver's license or passport, and a bank reference may also be required when the likely sale prices are going to be at a high level. However, not every circumstance can be known in advance. There are many reasons that successful auction buyers look to back out on a purchase. Say, one spouse buys something at auction as a surprise gift for the other spouse, but that person hates it. On occasion, an inconvenient turn of events transpires, such as a bankruptcy, being served divorce papers or someone dying between the date of the sale and when payment is due.
"Sometimes, bidders that appear creditworthy suffer an unexpected lack of liquidity, or they may experience buyer's remorse," said Daniel Weiner, a New York art lawyer. Auctions can get the adrenaline pumping, and buyers may be caught up in the excitement, putting up a bid that is beyond what they want to pay. ("Collectors can get caught up in the excitement of a sale and bid too much," said Henrik Hanstein, director of the Cologne, Germany-based Lempertz.) Additionally, Weiner added, shortly after the auction concludes, some decide "that the work they bargained for is not as represented by the auction house."
Peter Stern noted that occasionally a buyer—specifically, a dealer—may default, because that person believed he had a "buyer to whom he could immediately resell the work, but that buyer reneged." An example of this took place in 2014, when Sotheby's brought a lawsuit against London-based Willstone Management art advisor Olyvia Kwok for failing to pay for two paintings—Jean-Michel Basquiat's 1984 Water-Worshipper and Cy Twombly's 1976 Idilli—on which she had bid £2,490,500 and £386,500, respectively, at a London auction. Kwok claimed that she was purchasing these artworks for a European client based in Hong Kong, Andrew Crawford Norman Fleming, who turned out to be unable to pay for them. Unable to pressure the Hong Kong client to pay up, the auction house sued the art advisor.
It all turned out O.K. since, within a few weeks of bringing the legal action against Kwok, the lawsuit was withdrawn after the art advisor agreed to purchase the Basquiat for her own collection, as well as offset the value of the Twombly by consigning other artworks in her possession to Sotheby's for sale at a later time.
Other options available to auction houses include contacting underbidders for the particular item at the sale to see if they are still interested in purchasing it privately and putting the artwork back up for sale in a later auction. Even after a private sale has taken place, as with the Keith Haring that Sotheby's first tried to sell in 2016, auction houses may require the defaulting buyer to pay the deficiency between the original bid and final sale price.
Sometimes, too, things just happen. Stern noted that he once was bidding at an eBay auction for an artwork and "inadvertently added an extra zero. I was looking to pay $75 and accidentally bid $750." Fortunately, he noted, "the seller was understanding and reauctioned the work."