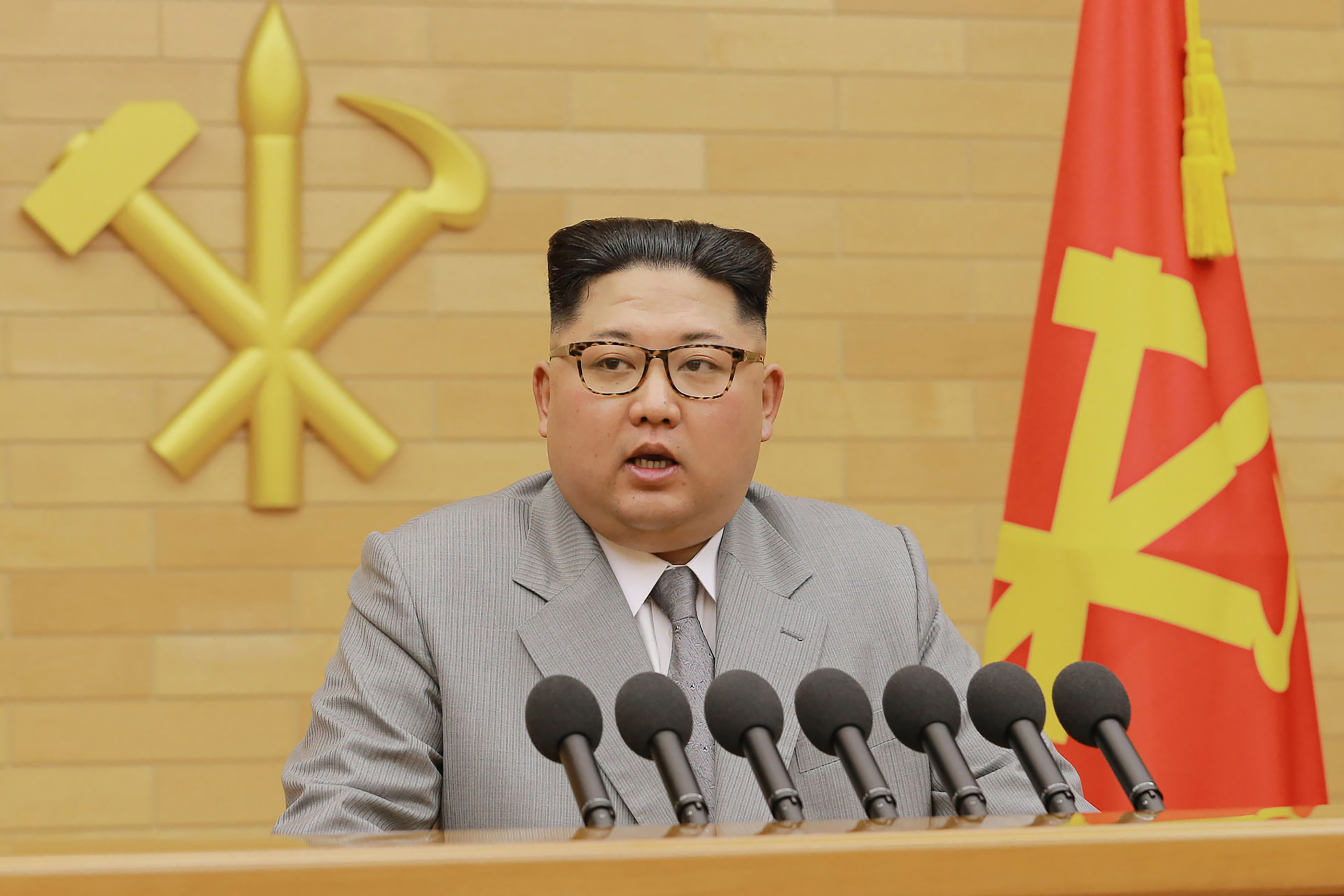 Following a year of escalating tensions with President Donald Trump, North Korean leader Kim Jong-un indicated he was ready to discuss abandoning his nuclear weapons program, according to South Korean officials on Tuesday.
Going even further, Kim also said he would halt all missile and nuclear tests while such negotiations commenced, according to The Korea Herald.
The top security advisor to South Korean President Moon Jae-in, Chung Eui-yong, told reporters during a meeting of leaders from both nations in Pyongyang, the North Korean capital, that Kim and Moon would sit down together in late April to discuss the particulars of the deal.
"The North expressed its willingness to hold a heartfelt dialogue with the United States on the issues of denuclearization and normalizing relations with the United States," a South Korean statement read, according to the state-run news agency of the South Korean government, Yonhap. "It made it clear that while dialogue is continuing, it will not attempt any strategic provocations, such as nuclear and ballistic missile tests."
Trump, who has publicly traded jabs with Kim in the last year, took to Twitter on Tuesday to comment on the developments.
"Possible progress being made in talks with North Korea," he wrote. "For the first time in many years, a serious effort is being made by all parties concerned. The World is watching and waiting! May be false hope, but the U.S. is ready to go hard in either direction!"
It's that kind of heightened rhetoric that's had North Korea—and South Korea—on high alert since the conflict ended in 1953. No North Korean leader has set foot on South Korean soil since the end of that war, which claimed nearly 37,000 American lives.
Kim noted to the South Koreans that were it not for fear of an attack, he wouldn't have any use for the nuclear program in the first place, according to Abraham M. Denmark, director of the Asia Program at the Woodrow Wilson International Center for Scholars.
"There are some important caveats in the ROK's announcement: 'The North also made clear that there is no reason for them to possess nuclear weapons as long as military threats to the North are eliminated and the regime's security is guaranteed,'" Denmark told Observer. "In past negotiations, this has meant that North Korea will only denuclearize if the U.S. and ROK were to end their alliance and the U.S. would remove its military presence on the peninsula. It remains to be seen if this is still their position."
So, does this mean we should be skeptical about the announcement and brace ourselves for an expected devolution? Anything is possible, especially considering what Kim said, Denmark argued.
"Also interesting is that North Korea says it will refrain from missile and [nuclear] tests so long as talks with the U.S. continue," he noted. "The implied threat suggests that North Korea wants to keep us talking as it engages Seoul. And presumably continuing to perfect its missile and [nuclear technology] all the while.
"It strikes me that the U.S. has little choice but to agree to talks. This is the best opportunity we've had to engage [Kim Jong Un] since he came to power. To do otherwise would severely damage relations with Seoul and would likely jeopardize cooperation on pressure from Beijing and Moscow," he concluded.
But the South is now on good terms with the North following a rare warming of relations just prior to and during the Winter Olympics, held in South Korea. The two countries fielded a joint women's hockey team, and Kim's older sister, Kim Yo-jong, had the international media by the tail—they fawned over her while she was in the South during the Olympics, and she even outshone the appearance of Vice President Mike Pence.
On Monday, she accompanied her brother to the meeting in Pyongyang with South Korean officials.
That somewhat thawed the thick ice that had built up over the decades. Some think Kim is snowballing that good public relations decision into talks with South Korea and the United States.
If Kim is bluffing, he's making a good show of it. If he isn't, he'll completely turn his image—and that of his country—around.