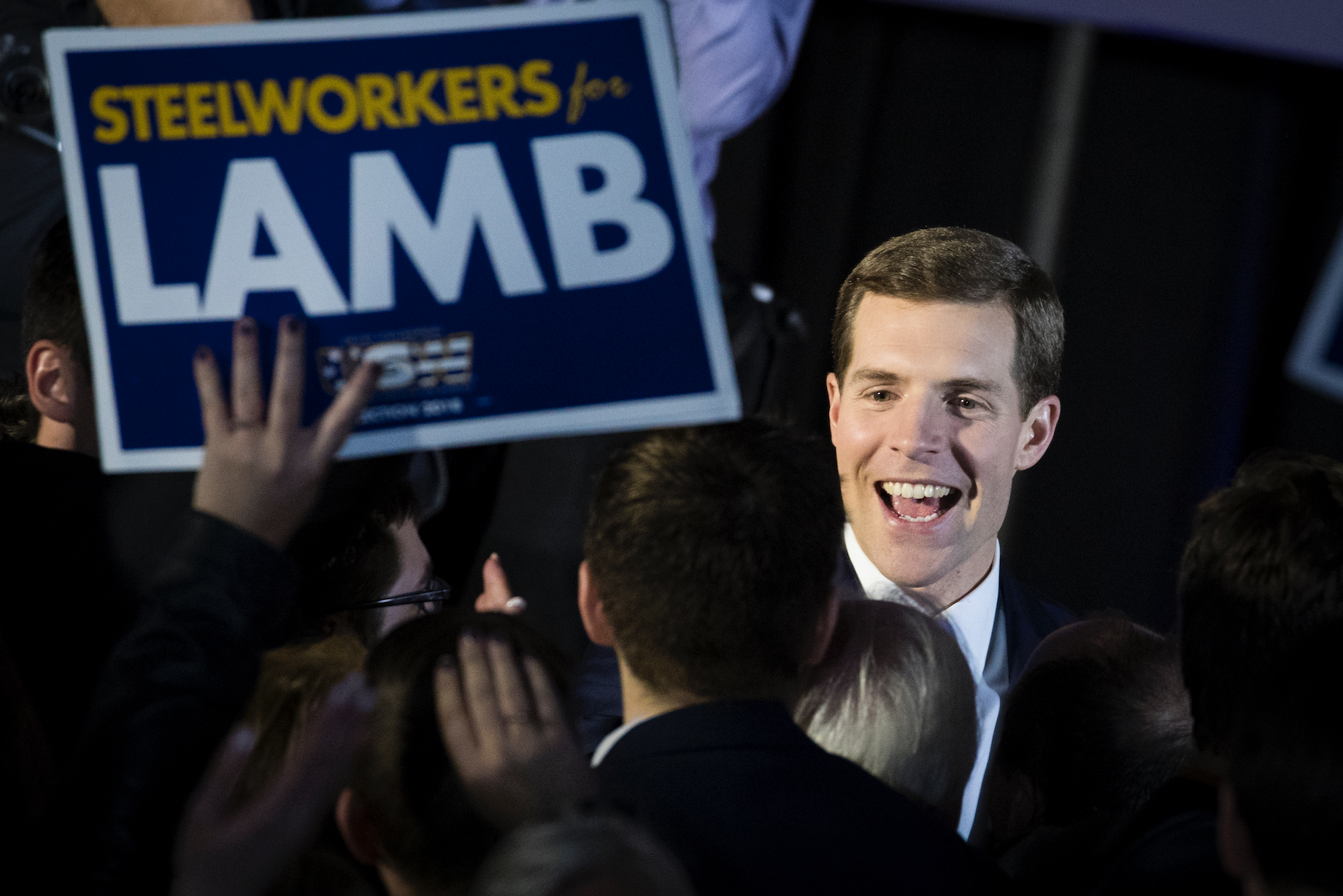 The term "canary in a coal mine," refers to the practice of miners sending canaries into coal mines; if a canary died, it meant methane gas was present and the miners would have to flee. The term now also refers to a warning that disaster is about to strike. And that's just what the Republican Party faces after Pennsylvania's special election, as evidence shows they could lose more than 50 seats in the House of Representatives if such trends continue.
Millions of tons of coal were produced in Allegheny County and other parts of Southwest Pennsylvania, where Tuesday's special election took place. But those mines are now largely abandoned, a casualty of the Great Depression that seemed to strike without warning. It's not too different for Republicans in the same place today, who were caught flat-footed by a stunning loss in a district that went for Donald Trump by double-digits and where outgoing Republican Rep. Tim Murphy was so popular that he didn't even face an opponent in 2014 and 2016.
Even though the Pennsylvania GOP chairman blew off the results coming from what he falsely called a "Democratic district," there are several reasons why Democrats' victory in PA-18 will duplicate itself in other districts throughout the nation in November 2018, unless Republicans quickly learn from their mistakes.
First, Democrats aren't far from Republicans in their bid to take over the House. The Cook Political Report reveals that there are about 50 seats where the Republican Party has a six-point lead over Democrats (R+6), in terms of party support. This is only half of the advantage the GOP should have enjoyed in PA-18, which was R+11. There are an additional 56 seats that have a GOP advantage of seven to 11 points, the advantage Republican candidate Rick Saccone had over Democratic candidate Conor Lamb). That would put just under half of all House Republican seats (R+11 or less) up for grabs.
Second, the 2018 midterms will not be a referendum on Donald Trump any more than this district was. A Gravis poll found that Trump had a net favorability rating in PA-18 of +7 (49 percent approval, 42 percent disapproval, which is higher than his 40.9 average approval rating nationwide). He even visited the district in a campaign stop. But voters still chose the Democrat, which means that Trump's popularity did not help the Republican candidate.
Third, for social conservatives, actions speak louder than words. Voters will punish the party in power for indiscretions of their candidates, either by staying home or voting for the other party. After all, the whole reason there was a special election was that Murphy resigned in disgrace after it was revealed that he tried to pressure his mistress into having an abortion.
With 18 percent of people nationwide calling for full restrictions on abortion and more than 50 percent saying it should be restricted in some cases, the issue should play to the GOP. But Murphy's hypocrisy, as well as the sex shenanigans of Arizona Rep. Trent Franks and Tennessee Rep. Scott DesJarlais, have some wondering where Republicans really stand on such issues. And Alabama Senate candidate Roy Moore's intolerable actions toward minors sharply contrasted with the hard core religious positions that he touted on the campaign trail.
Fourth, Republicans can't rely on the "insider approach" in 2018, as they tried to in Pennsylvania. Voters were simply not enthused by 60-year-old Pennsylvania state legislator Rick Saccone. As this election showed, experience isn't everything. Former Trump campaign aide Jeff Miller pointed out that Saccone came across as "an establishment candidate." On CNN, Miller said "He's in the Statehouse. He very much sounds like he's already part of Washington. You flip on the TV there…and a lot of it looks really cookie-cutter, like, we're Washington, and we're here to help."
Democrats are winning some very competitive races with outsider candidates that have a lot of energy and enthusiasm, a sharp contrast from Republican incumbents and politicians like Saccone. Lamb, a 33-year-old ex-Marine, is now one of several millennials in Congress, and more are likely to run in 2018 and 2020.
Because of this factor, all of those Republican retirements might be a blessing in disguise for the party. Voters are looking for new blood, not established politicians. Some of these retirements may clear the way for newcomers with conservative beliefs.
Fifth, money still matters. Lamb brought in more than $3.3 million, and Saccone couldn't raise even one-third of that, even with President Donald Trump and Vice President Mike Pence visiting the district.
Sixth, Republicans cannot always effectively align House Minority Leader Nancy Pelosi to Democratic candidates. Republicans tried to make the case that Lamb would be a yes vote for her. Only 20 percent of PA-18 voters approved of her in an Emerson poll, but Lamb won anyway. Capitalizing on Pelosi's unpopularity might not be a winning strategy for GOP candidates.
Republicans will undoubtedly want to ignore the results of this election. After all, the district will soon be redrawn anyway, so why should anyone care? But that apathetic mentality could cost Republicans as well.
Republicans need to find a better crop of candidates—not simply settle for those who look good enough. They need proven fundraisers, smart campaigners who can inspire, and candidates who fit the district they are in. All across America, there are districts that voted for Trump by double-digits that have young, energetic liberal candidates gunning for congressional bids. Many have incumbents who may be as out-of-touch as Murphy was on social conservative issues, or as inept at Saccone was. If the GOP wants to stave off disaster, they'll study the lessons of PA-18 instead of ignoring them.