It's Sunday afternoon at (Le) Poisson Rouge and an audience of young women are squealing after a surprisingly heartfelt rendition of Goo Goo Dolls' "Iris."
The solo was the climax of the Cruel Intentions musical, and the raucous atmosphere was, no doubt, aided by the venue's two-item purchase requirement—which meant a steady flow of cocktails for many at the 3 p.m. matinée. Musicals are experiencing something of a nostalgic moment, from Mean Girls to SpongeBob SquarePants, and now, cult classic Cruel Intentions is getting into the action with a downtown show, complete with jaded teenagers and a (literally) killer '90s soundtrack.
For those who somehow missed the 1999 film that boosted the careers of Sarah Michelle Gellar and Reese Witherspoon, it's a twisted, depraved look at Upper East Side teens, modeled after Les Liaisons Dangereuses, Pierre Choderlos de Laclos's four-volume tome published in the 18th century.
[youtube https://www.youtube.com/watch?v=gKALfxFRSKA&w=560&h=315]
While it might be a version of dinner (or cocktail) theatre, where the audience sings along and screams for their favorite songs, Constantine Rousouli—who plays Valmont and croons the Goo Goo Dolls number—thinks the atmosphere only adds to the performance. After all, (Le) Poisson Rouge is best known for '80s and '90s themed dance nights that are rife with nostalgia. "Being in an immersive space at a nightlife venue creates a really cool energy, that the actors and audience are on this wild ride together," he said, pointing out that Natalie Imbruglia's "Torn" and Counting Crows' "Colorblind" are crowd favorites for sing-alongs.
Co-creators Jordan Ross and Lindsay Rosin, developed the concept for this musical in Los Angeles, where it debuted in April 2015, before moving on to New York. The often sold-out show opened at (Le) Poisson Rouge in December 2017 and will be running through April; soon, Ariana Grande's brother Frankie will join the cast. Co-creator, Lindsay Rosin credits the musical's success to what she called "the sweet spot" of timing. "We're far enough away from that era to feel nostalgia towards it, but at the same time, not too far away that we can't remember it," she told Observer.
The show has even received a stamp of approval from its original stars. Witherspoon, Gellar and Selma Blair went to see it when it was playing as a parody in LA in 2015; Gellar liked it so much she returned in December. Rousouli's most nerve-wracking moment happened when Phillippe stopped by. Luckily, he gave him a standing ovation for "Iris." Backstage he told Rousouli, "Way to keep the Valmont name alive, brother!"
The late '90s and early aughts were a particularly potent time for teen movies. Clueless, She's All That, Never Been Kissed and 10 Things About You all have cult followings. But something about the much darker Cruel Intentions has remained among the most memorable films of that time, thanks to raunchy one-liners and (spoiler alert!) an unexpected death. Carrie St. Louis, who stars as Annette, the character originally played by Witherspoon, remembers watching Cruel Intentions for the first time and "thinking it was so risqué, which made me feel even cooler watching it."
While the story of step-siblings engaging in a relationship is still controversial, there's now an entire sub-genre of romance novels built around the trope. The taboo endures, which has ultimately led to its success. "Let's be honest, it was controversial in 1988 when it was Dangerous Liaisons, and in 1782 when Choderlos de Laclos first put pen to paper," Rosin noted.
Beyond just nostalgia and shock, the film is memorable for another reason: "Many millennials and Gen X-ers had their first moments of sexual awakening watching Cruel Intentions. Gay, straight, bi–there's something for everyone," Ross pointed out.
In terms of music, Ross and Rosin focused lyrics that would drive the narrative forward, instead of interrupting the dialogue. Some original songs from the film's soundtrack didn't make the cut for this musical, including Green Day's "Basket Case," The Pixies' "Where Is My Mind?" and Vertical Horizon's "Everything You Want." So they filled in the blanks with late '90s classics that anyone can appreciate.
"Since day one, the Cruel Intentions musical was intended to be a love letter to film's legacy, and you can't talk about the film's legacy without mentioning its iconic soundtrack. You can't hear 'Bitter Sweet Symphony' and not think of Kathryn and her world crumbling, as she's exposed on the steps of Manchester Prep," Rosin explained.
Kathryn, Sebastian's step-sister who keeps her drugs in a crucifix necklace, is played by Lauren Zakrin, who tackles some of the performance's best alt-rock numbers. She brings her own spin to Garbage's "Only Happy When It Rains," No Doubt's "Sunday Morning" and Melissa Etheridge's showstopper "I'm the Only One."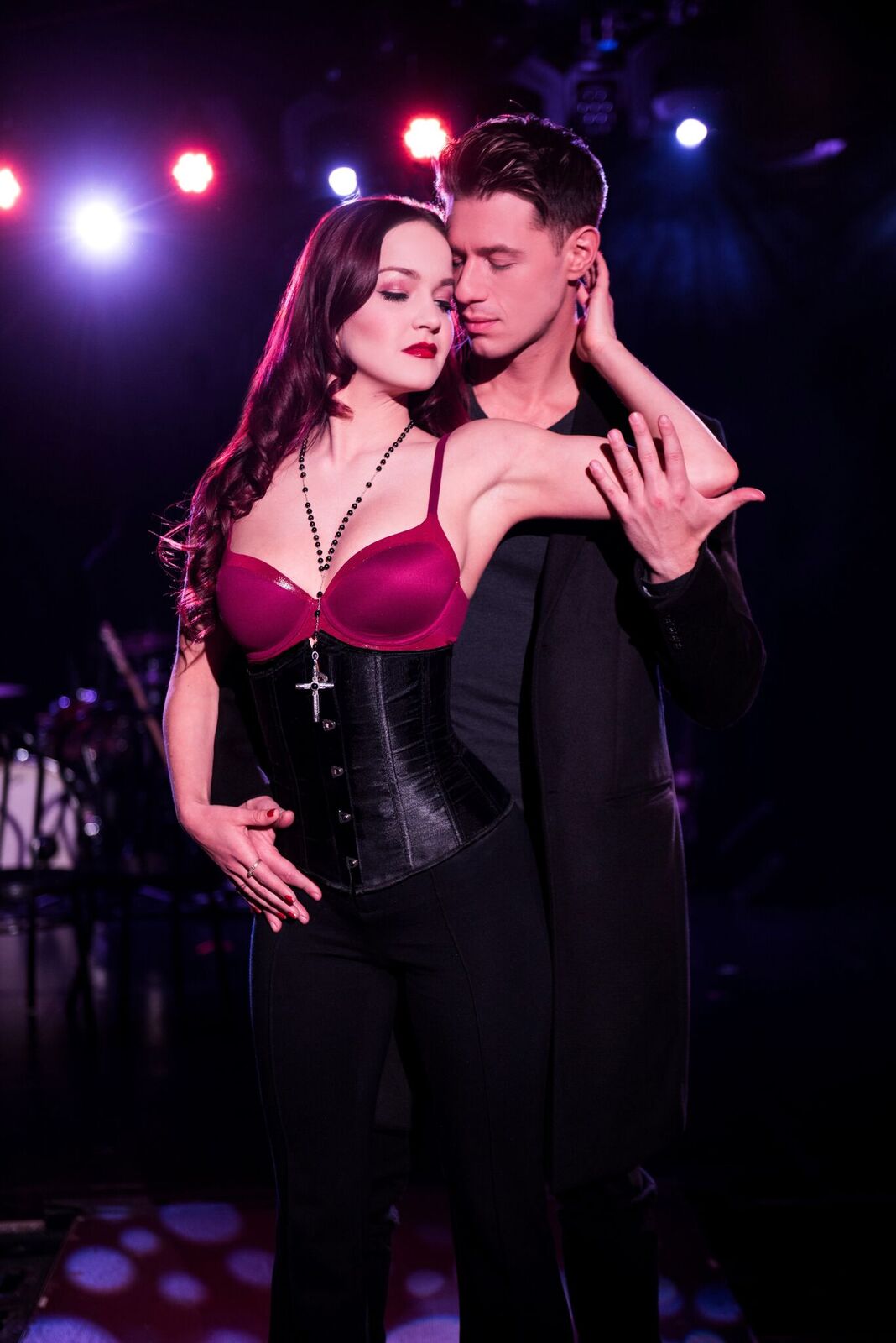 "I try to throw away everything about the way each song was traditionally vocally performed. Because these nostalgic hits are all so familiar, they don't need imitations," Zakrin explained. One crowd favorite is her rendition of Christina Aguilera's "Genie in a Bottle."
"It definitely gets a big hoot and holler from the crowd when we first dive into it," she confirmed. "You realize that we aren't taking ourselves quite so seriously and that we're sending our own little wink to the audience." Even the Baby Boomers at my table were hollering for that one, proving that the hype behind the Cruel Intentions revival isn't just tailored to the Instagram set.
While nostalgia might be a hot topic right now, sexual awakenings are truly unforgettable. There were plenty of '90s movies offering beautiful young casts playing rebellious high schoolers, but few presented a not-fit-for-TV same-sex kiss and filthy one-liners. Turns out, taboos are timeless.