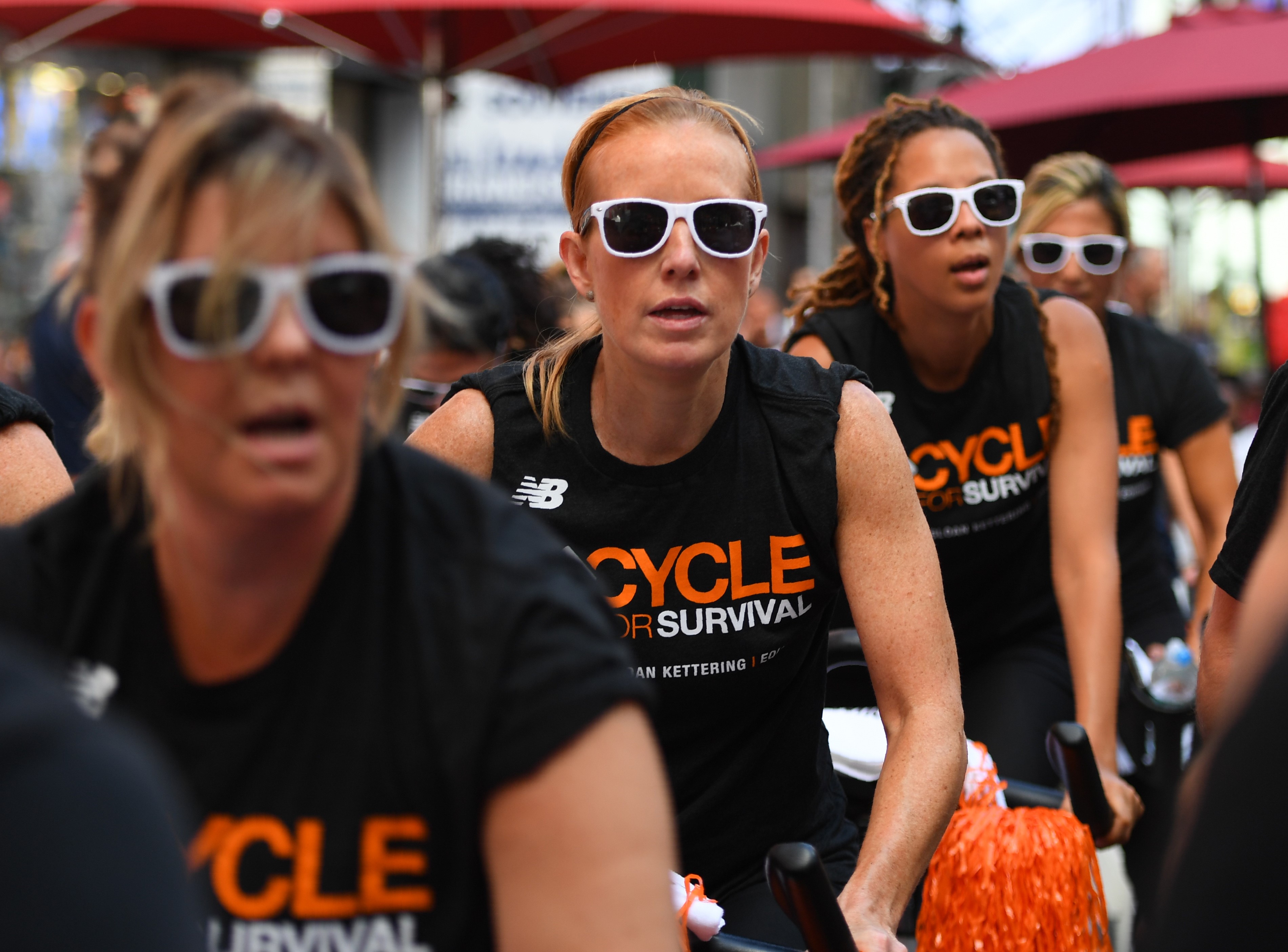 Anyone who's ever struggled to get into a SoulCycle class on a weekday morning knows that half the battle is just getting in the door. If you do get a seat in the class, you'll find yourself pressed against a wall, battling Birkin swinging housewives checking each other out in Lululemon and Outdoor Voices leggings. It really leaves you wishing for a more inspiring and motivated spin experience.
That's exactly what Cycle for Survival is.
On Sunday, 3,500 riders clipped in for the charity's latest fundraiser, held at Equinox clubs across New York City. Cycle for Survival riders don't show up to see and be seen or to elbow their way into the ultra-exclusive front row of bikes. Sure, there were celebrity fitness instructors, including Coco Cohen, Keith Irace, Brian McFarland and Angela Leigh, but there were also riders of every age, fitness level and background, wearing goofy plastic sunglasses and waving orange pompoms while their friends and family cheered from the edges of the room. This was not about "going within," or "feeling the burn." This fitness fundraiser, which is held at Equinox locations all across the country during January, February and March, is all about coming together and raising money to battle cancer.
One of the stars of Sunday's event at the Equinox on East 61st Street was cancer survivor Martha Glass, who habitually rides for The Society of Memorial Sloan Kettering's team.
"This is my fifth year and I just love it," Glass told Observer. "My enthusiasm of being part of Cycle remains with me for days afterward. To be part of this, and see hundreds of people riding, dancing and cheering for cancer research, is incredibly inspiring."
Cycle for Survival was founded in 2007 by Jennifer Goodman Linn, a passionate spinner who received cancer treatment at Memorial Sloan Kettering. She was only 32 and a newlywed in 2003 when she was diagnosed with sarcoma, specifically, metastatic malignant fibrous histiocytoma (MFH), a rare form of cancer that affects only 13,000 people annually.
Linn started her first rounds of chemo in August 2005 and for the next six years, bravely endured over 20 additional rounds and six invasive surgeries to remove recurrent tumors. Throughout treatment she continued attending spin classes at Equinox. Some days she was tired, but she kept at it. The phrase now used by Cycle to encourage everyone to participate—"pedal hard or hardly pedal"—came from watching Linn keep at it, day after day. Her positive attitude was inspiring to everyone who knew her.
Like other "orphan" or rare cancers, sarcoma receives little funding for research, because the number of people who have the disease is so small. Surprisingly, pediatric, brain, thyroid and stomach cancers are also considered to be "rare," even though 50 percent of all cancer diagnoses comprise this group. Linn saw an opportunity to make a difference and started Cycle for Survival with 50 bikes and over 200 eager participants at her local gym.
Sadly, Linn succumbed to cancer in 2011, but her husband, David Linn pressed on with Cycle for Survival. Now the organization attracts 34,000 riders annually and has, to date, raised over $175 million. Every dollar raised goes towards funding pioneering rare cancer research at New York's Memorial Sloan Kettering Cancer Center, which owns and operates Cycle for Survival.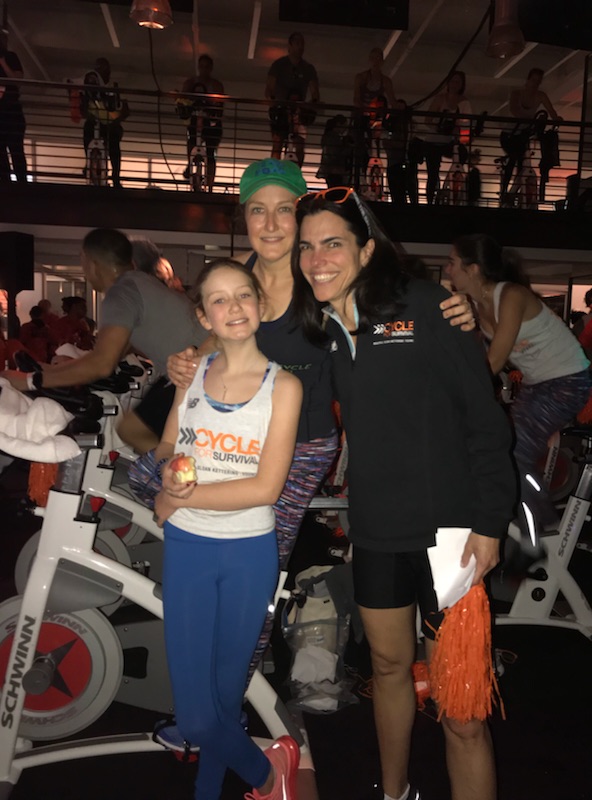 Another one of the powerhouse spinners on Sunday was the indefatigable Jennifer James, who rode alongside her husband Robert and their 11-year-old daughter, Scarlett. Jennifer has run eight marathons and would fit right in at Stacey's SoulCycle class. However, she has decided instead to channel her competitive spirit into fundraising and advocacy. The James' team, Team Roar, was one of the highest grossing team in New York, Dallas and Boston this year, earning over $163,000 in NYC alone.
Scarlett was diagnosed with T Cell lymphoma in 2013. Her cancer was aggressive and fast moving; she and her family basically lived in the hospital for two years. "I'd spend the night with Scarlett, my husband would come and relieve me, and I'd take my son to school," Jennifer detailed. "It was like that, day in and day out, for months." After countless rounds of brutal treatments, including 35 spinal taps, Scarlett is now in remission; she's back at school and has resumed riding her pony and gymnastics classes.
Jennifer and her husband launched The Scarlett Fund in 2013, which has raised nearly $2 million dollars to fund clinical trial research initiatives for less toxic treatments. Nearly 75 percent of children who go through cancer treatments have a range of severe long-term side effects, including infertility, growth challenges and cognitive issues. Some treatments are so toxic that kids sometimes go on develop leukemia. Jennifer has made it her mission to find treatments that are just as effective, but far less harmful.
She was introduced to Cycle for Survival in 2014 and found it to be much more than just an uplifting workout—it was also something of a support group. "I was completely overwhelmed with what was happening in the room," she told Observer. "My daughter was sick, and I saw hundreds of people riding to raise money to help her and other children get well. I think people who participate may not even realize the profound impact they have."
While the Equinox instructors led the classes with a careful collection of motivational phrases, most of the day's inspiration came from the doctors, patients and family members who spoke between each of the 45-minute rides. One of those impactful speakers was Sophie Beckerman Lee, a member of Team Roar. "I won't stop arriving until there is a cure for cancer!" she promised to the appreciative crowd.
Beckerman Lee was diagnosed with Unilateral Retinoblastoma, also known as cancer of the retina, when she was only 21 months old. After two months of chemotherapy, her doctors discovered that the tumor had fragmented, limiting treatment options to radiation or enucleation (removing the eye); at the age of two, she lost her right eye to the disease. Today, she is a beautiful, healthy, 21-year-old who shares her story to inspire others and raise awareness. This was her second year participating in Cycle for Survival—and her 20th year being cancer free.
In her moving speech, Beckerman Lee shared her desire to give back to the hospital that saved her life.
"When I was two and treated at Sloan, Dr. David Abramson told my parents that the only true cure for Retinoblastoma is the one that's been around for centuries, removing the eye," Berman Lee said. "But 20 years later, Dr. Abramson and his team have developed several effective treatments for Retinoblastoma that are saving both children's lives and often, their eyes. The money raised here truly is saving lives and making a huge difference in long-term outcomes."
Money aside, even the energy of these events has the power to uplift and strengthen cancer patients. "For Scarlett to come to Cycle for Survival and see all those people again, including Sophie, in the same room, but happy, dancing and having fun, was just amazing and life-affirming, for her and for us," Jennifer explained.
As the day wound down, riders shared hugs and the crowd freely dispersed high-fives. Everyone was smiling. "It's SoulCycle, with a purpose," one woman affirmed. That Sunday, it was impossible to leave Equinox without feeling inspired, grateful, hopeful, and yes, like we'd gotten a truly unforgettable workout.