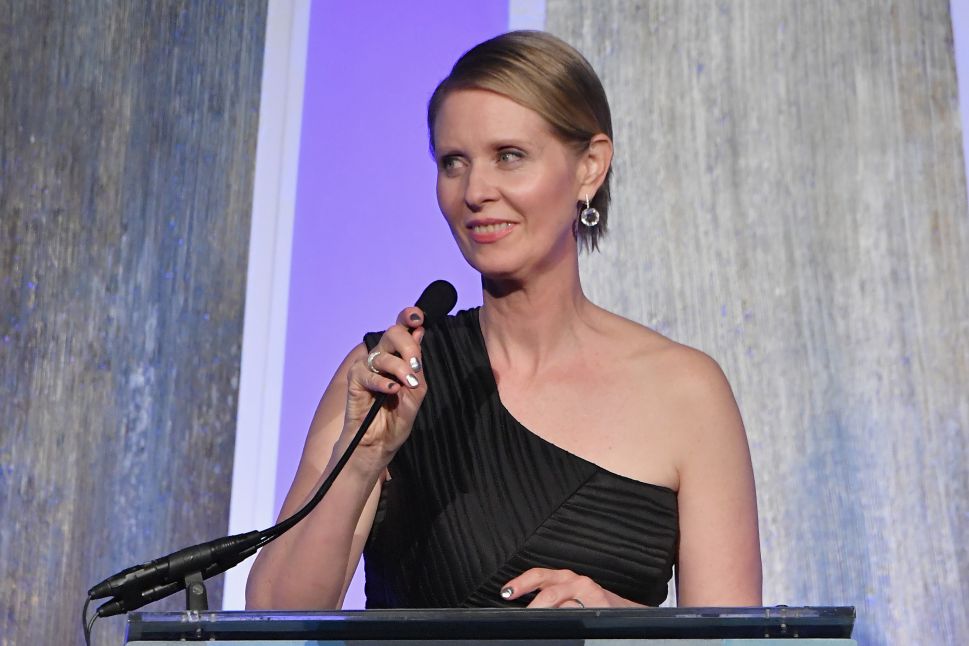 Actress and education activist Cynthia Nixon has put together a staff of operatives who worked on Mayor Bill de Blasio's first campaign for mayor—a sign she is inching closer to formally launching a Democratic bid against New York Gov. Andrew Cuomo.
Nixon has selected Rebecca Katz, who served as a special advisor to de Blasio, and Bill Hyers, who served as campaign manager for de Blasio's successful first campaign—both of whom are likely to be key figures in her potential bid for governor, according to NY1's Zack Fink.
Nixon is a staunch ally of de Blasio, who often feuds with the governor on various issues, including the city's struggling subway system and the plan to close the Rikers Island jail complex.
The Sex and the City actress has not yet formally declared that she is running for governor. The primary is in September.
"Many concerned New Yorkers have been encouraging Cynthia to run for office, and as she has said previously, she will continue to explore it. If and when such a decision is made, Cynthia will be sure to make her plans public," Rebecca Capellan, a spokeswoman for Nixon told Observer in a statement.
Nixon's publicist, her manager, Katz and Hyers did not immediately respond to requests for comment on Tuesday.
Eric Phillips, de Blasio's press secretary, told Observer the mayor is not involved in Nixon's potential bid.
"This has nothing to deal with Bill de Blasio," Phillips said in a statement. "The Mayor and our staff aren't involved in it."
Nixon has been making moves recently.
In January, she said "maybe" when asked about joining the governor's race by NY1 at a fundraiser she was co-hosting with a feminist collective whose directors include de Blasio's finance director and the communications director for his reelection campaign.
And earlier this month, Nixon—who is known for her advocacy on education issues—argued that New York needs "bluer Democrats" at the Human Rights Campaign's Greater New York gala.
She did not mention Cuomo by name but seemed to be offering her take on his performance. She also appeared to be criticizing the state Senate's Independent Democratic Conference, a group of Democrats in a power-sharing arrangement with the Senate GOP.
During that speech, she lamented a lack of progress on passage of a bipartisan DREAM Act in Congress and legislation that bans discrimination based on gender identity or expression. She also pointed to the subway crisis and insufficient criminal justice reform as other issues plaguing the state.
Cuomo seemed unfazed by the latest development.
"And on people who may or may not run for governor on both sides of the aisle, that's up to them, and we'll deal with it as the campaign progresses," he said during an unrelated conference call on Tuesday.
And when asked about the fact that two de Blasio operatives are working with Nixon, the governor maintained that it does not bother him.
"You can't let these things bother you," he continued.
Former Syracuse Mayor Stephanie Miner is another Democrat currently mulling a bid against Cuomo. Former State Senator Terry Gipson, a Democrat, has already declared his candidacy.
Fordham University law professor Zephyr Teachout launched an unexpectedly strong Democratic primary challenge against him in 2014. She stunned observers when she ended up capturing more than a third of the vote.
Since then, progressive Democrats, activists and groups have been looking to find someone to challenge Cuomo. Brooklyn Councilman Jumaane Williams, a frequent critic of Cuomo, is running against Cuomo's running mate, Lieutenant Gov. Kathy Hochul.
On the Republican side, Cuomo is facing challenges from state Senator John DeFrancisco, Erie County executive Joel Giambra and Joseph Holland, who served as housing commissioner under former Gov. George Pataki.
This story has been updated to include a comment from the mayor's office.