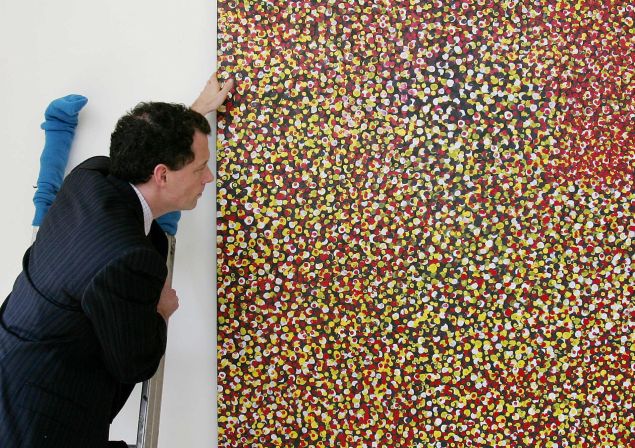 Lots of art looks (and sounds and reads) like other art, which is why fine artists and musicians and authors periodically lob accusations of "stealing" at one another. Sometimes, the connections between one person's work and another's are too close. Sam Smith's 2014 song "Stay With Me" was deemed so close to Tom Petty and Jeff Lynne's 1989 hit "I Won't Back Down" that he agreed to share songwriting royalties with the two older musicians. ("A complete coincidence," Smith's spokespeople said at the time.)
Damien Hirst isn't likely to be sharing his sales proceeds with any other artists any time soon, but claims have been made that his most recent artworks—a series of pictures known as the "Veil Paintings" (currently on view through April 14 at Gagosian Gallery's Beverly Hills location)—are strikingly similar to those of a group of Australian aboriginal artists. "When I saw the 'Veil Paintings, the first thing I thought was that they looked incredibly like the work of Kathy Maringka," said Emerald Gruin, director of Olsen Gruin Gallery on Manhattan's Lower East Side, referring to the work of a 63 year-old south Australian abstract painter whose works they exhibited last summer.
Information about the artist on the gallery's Web site noted that Maringka's "use of strong color and abstract imagery creates a contemporary interpretation of the vast, energetic, and vibrant landscape." About his own "Veil Paintings," Hirst claimed his source material was the School of Paris, rather than contemporary Australian artwork, posting on January 31st on Instagram "I've always loved Bonnard and his colour, i went to see a show at the Pompidou in Paris of de Kooning and Bonnard when I was a student and both artists blew me away. These paintings I've made, which i'm calling the Veil paintings….They're like big abstract Bonnard paintings, I've been playing with the scale and the big ones feel perfect. how can you not love colour? Sunlight on flowers, fuck everything else."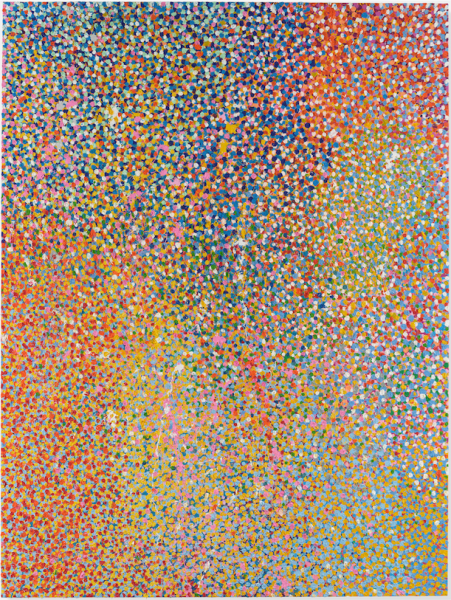 Elders from Utopia in Australia's central desert, one of the first communities to receive notoriety for its artistic output, told ABC News Australia that the similarities were apparent to them, too. Painter Barbara Weir drew strong comparisons to Polly Ngale and Emily Kngwarreye, one of Australia's most well-known indigenous painters, whose work has sold for as much as $1.6 million—the current record for a female Australian artist.
Gruin noted that she had already been preparing a "response" exhibition to Hirst's "Veil Paintings," which will take place from May 16 through June 17 and include the work of Maringka, Gabriella Possum Nungurrayi and Polly Ngale, each of whom works in an abstract painterly style and whose works look similar to that of the 52 year-old British Hirst. It will be curated by Adam Knight, the president of the Aboriginal Art Association of Australia. "I do think there is an unmistakable similarity between Maringka and Hirst's work" said Gruin. It's also notable that all the artists—whom Hirst claims no knowledge of—are women.
Hirst has not responded to the charges of copying, but a spokesperson for him issued a statement: "The Veil Paintings are a development of a series Damien made in 1993–1995 called 'Visual Candy' and are inspired by Pointillist techniques and Impressionist and post-Impressionist painters such as Bonnard and Seurat. Damien was unaware of the work or artist in question but he has huge respect for the importance of the value of art in all cultures."
It is not likely that suspicions of copying will lead to any legal action. In order to prove copyright infringement, two elements need to be demonstrated: The first is that the individual bringing the complaint is the owner of a valid copyright, which could be established by registration of the image with the U.S. Copyright Office; the second is either direct evidence of copying, which is usually not available, or substantial similarity as determined by an "ordinary observer" in a court of law. Two or more works of art may have the same title—think of all the "Madonna and Child" paintings that have been done—without breaking a law, except if the title is particularly unusual and the duplication could be shown to be confusing to the public.
And there are other reasons why taking legal action might be unwise—not necessarily from a personal standpoint, but for the sake of artistic progress. "It would be dangerous to limit an artist's right to adopt a style or technique," Paul Rapp, a lawyer in Housatonic, Massachusetts who has represented a variety of artists told Observer. "Art builds on itself; if artists start to claim a proprietary interest in their artwork, the advance of art gets stopped in its tracks."
But that's cold comfort for any artist who feels they've been ripped off by the man who, in 2008, set a record for a single artist sale at auction, offering approximately 200 pieces at Sotheby's that raked in a cool $189 million.