Mayor Bill de Blasio is not formally endorsing Sex and the City actress Cynthia Nixon, one of his allies, for governor just yet, insisting that "it's her own choice." But he says she will always be "politically active" and seems to share her view that Gov. Andrew Cuomo is not acting like a "real Democrat."
On Tuesday, NY1's Zack Fink reported that Nixon selected Rebecca Katz, who served as a special advisor to de Blasio, and Bill Hyers, the campaign manager for his first campaign, to play key roles in her potential bid for governor.
Nixon, an education activist, is a loyal ally of de Blasio, who often clashes with Cuomo on a variety of issues, including funding for the city's beleaguered subway system. And her wife, Christine Marinoni, works as a special adviser for community partnerships in the city's Department of Education.
The Sex and the City actress has not yet formalized her candidacy. Although, she recently generated buzz when she told NY1 "maybe" when asked whether she's running. The primary is in September.
"Let me be really clear about this: I have a long, wonderful relationship with Cynthia Nixon," de Blasio told reporters at the NYPD headquarters in Manhattan on Wednesday afternoon. "I have tremendous respect for her. I got to know her as an education activist. She's been one of the strongest voices in the state standing up for the rights of children all over the city, all over the state because she's advocated for the Campaign for Fiscal Equity."
He said he has gotten to know Nixon "better over the years" and that she is "extraordinary" and has "achieved great things" throughout her career. And while he would not formally endorse her, he seemed to imply that they have discussed it—and said she will remain on the political scene regardless.
"She's a strong, independent woman who makes her own decisions," the mayor continued. "So this is something you'll have to ask her, what her choice is. Whatever she does, it's her own choice. It's as simple as that. And I haven't spoken to her in a while. I'm not going to go into private conversations with a friend, obviously. But whatever she does, she's going to be a politically active person. She always has been."
When asked whether he is indicating an openness to endorsing her, he refused to elaborate. He also said that he will get into the 2018 state elections at some point "but I'm not gonna talk to 'em now."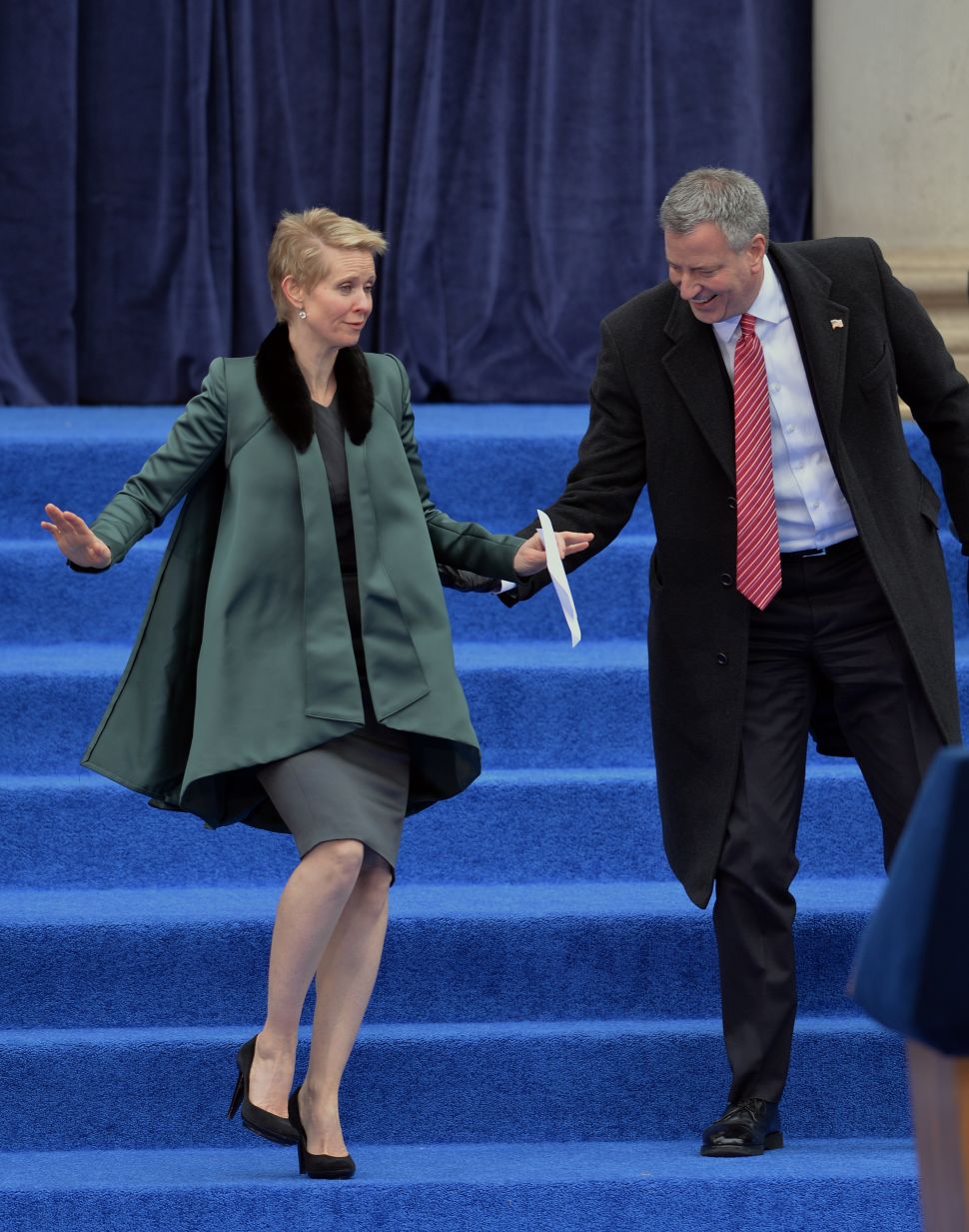 "Again, I'm not gonna talk about private conversations with a friend," de Blasio added.
Still, de Blasio seemed to be in agreement with Nixon's recent assertion that New York State needs "bluer Democrats."
At the time, she seemed to be criticizing Cuomo and the state Senate's Independent Democratic Conference (IDC), a group of Democrats in a power-sharing agreement with the Senate GOP—though she did not outright name either during the 12-minute speech.
The mayor recently told The Young Turks' Nomiki Konst that he anticipates Cuomo will face a "spirited" primary. He pointed to a national phenomenon in which Democrats and progressives are "rising up and want change."
"The erstwhile New York Times newspaper front page—above the fold, upper right corner—earlier in the week talked about challenges that are happening to incumbent Democrats all over the country because the progressives in the party are assembling and wanna see a Democratic Party that is true to its original values," he said. "So I'm just not surprised by it."
When asked whether he sees Cuomo as a progressive, de Blasio appeared to indicate that he has his doubts.
"Look, I obviously have real political differences with the governor, and I'm very uncomfortable with how he handled the Republican state Senate and the IDC, for example, and I've made that clear before," de Blasio continued, also saying that he wants to see "real Democrats."
But does he think Cuomo is a "real Democrat"? He would not weigh in.
"Again, I just made a statement about what I view, what I believe," he added.
As to whether he plans to endorse Senate Democratic candidates challenging IDC members—who recently received endorsements from the Working Families Party (WFP)—de Blasio told Observer he would "consider that."
When Observer asked him whether he would help Cuomo get the WFP endorsement this year as he did in 2014, he laughed but would not answer the question.
"You are a creative thinker," he said.
Upon learning of the news that Nixon tapped de Blasio campaign veterans to help her with a possible bid, Cuomo said he would "deal with it as the campaign progresses" and that he was not bothered by the fact that she is working with de Blasio operatives.
On Wednesday morning, he jokingly suggested that anyone could have put her up to challenging him—even Russian President Vladimir Putin.
"I think it was probably either the mayor of New York or Vladimir Putin," he said during an unrelated winter storm update conference call, according to POLITICO. "I'm going to leave it to you great investigative reporters to follow the facts and ferret out the truth."
De Blasio, for his part, told reporters jokingly that "it's very important you call Vladimir Putin directly to ask him."
During the call, Cuomo also seemed to suggest that Nixon does not have that much name recognition in the political world.
"Normally, name recognition is relevant when it has some connection to the endeavor," the governor continued. "But if it's just about name recognition, I'm hoping that Brad Pitt, Angelina Jolie and Billy Joel don't get into the race. If it's just about name recognition, that would really be a problem."
And while he was scheduled to discuss the storm during a call with NY1 on Wednesday afternoon, he ended up taking jabs at de Blasio, blasting his record, particularly taking aim at the mayor's proposed 10-year timeline for closing the Rikers Island jail complex.
"There's no doubt that the mayor and I have political differences," he added. "We just view progressive politics differently. I don't think progressive politics is a function of rhetoric and words; I think it's a function of results."