In recent years, young Los Angelenos seeking an urban lifestyle have been beelining to Downtown Los Angeles. Perhaps they miss the buzz of New York. Or maybe they're thirsty for airy open offices in refurbished warehouses, bumping rooftop bars atop trendy hotels, and eateries described as "lofty" and "vintage-inspired."
A real estate boom is in full swing in Los Angeles—especially on the luxury end of things—and a handful of penthouses have set a new standard in a city that once praised a singular high-end beacon, The Ritz-Carlton Residences at LA Live…which opened almost a decade ago.
"It signals not just a desire for high-luxury [and] brand new construction, but for someone who's looking for it long-term," says Kerry Marsico, agent for the LEVEL penthouse, a $100k-per-month duplex that's lingered on the market since February.
The broker babble for that unit reads like a Malibu beachfront or Bel-Air mansion listing. The 18,000-square-foot penthouse boasts four bedrooms, 10 bathrooms, a private 50-foot rooftop pool, two temperature-controlled wine cellars ensconced behind 10-foot glass walls—and 8,000 square feet of outdoor living space with sweeping 360-degree views of Los Angeles.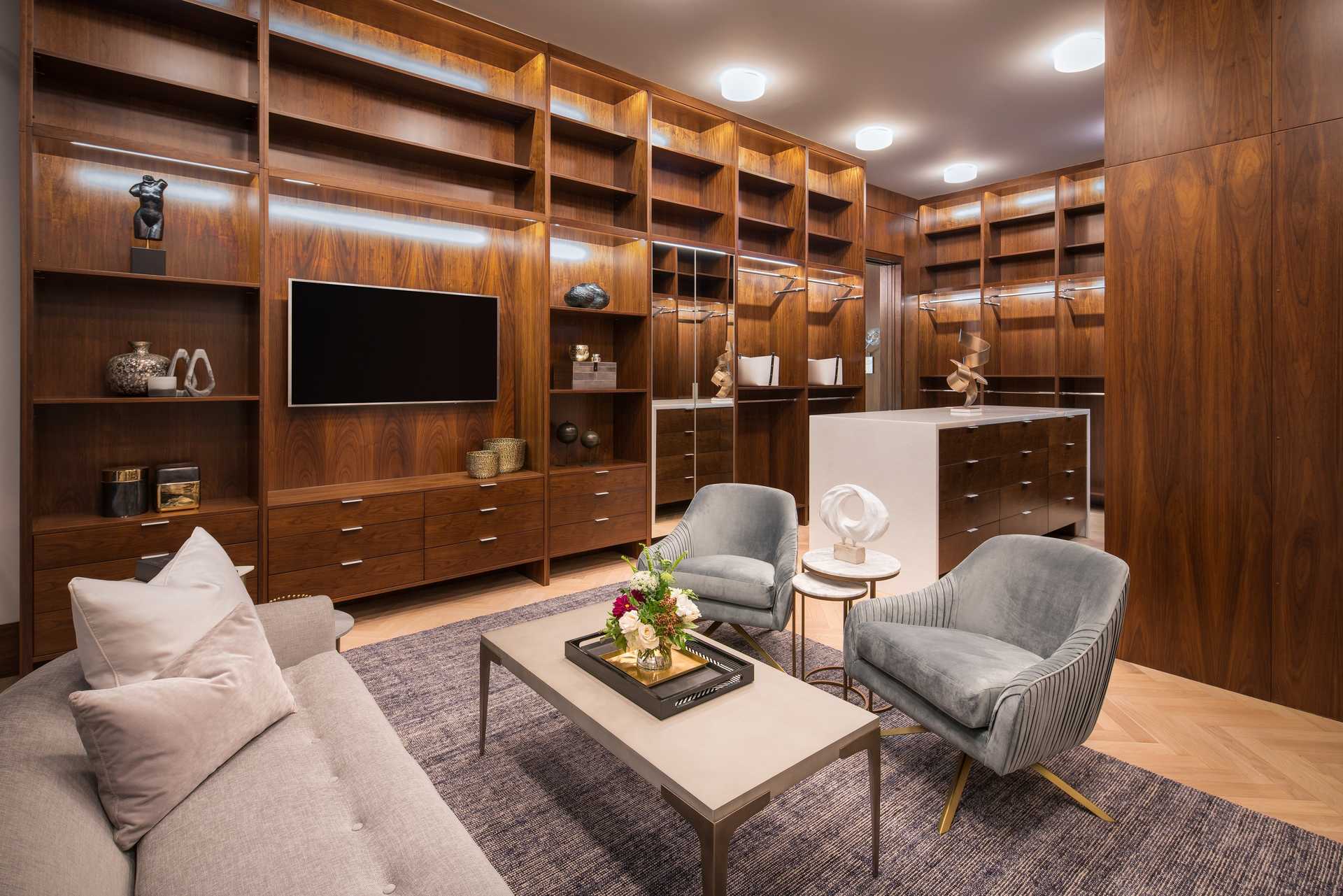 "The Downtown market used to be artsy, with lofts and retrofitted buildings," adds Mike Leipart, who works for the same agency as Marsico. "It's become a very compelling lifestyle."
Yes, a 480-square-foot walk-in closet is alluring.
Leipart is responsible for the eight-unit Penthouse Collection at Metropolis, a four-tower complex along the east side of the 110 Freeway that divides the glitzy up-and-coming Downtown area from the grittier Pico-Union neighborhood. Like other developments in the area, Metropolis hopes to appeal to young professionals (who have between $3.5 and $6.9 million to spend) with a communal, resort-style pool, cabanas, a dog park, fitness center and screening room.
The Penthouses mirror the upscale condos in Manhattan. They've got solid oak floors, Caesarstone counters, and soba, poke and Italian food all within walking distance—of course, there's a valet, should strolling a few hundred feet feel arduous.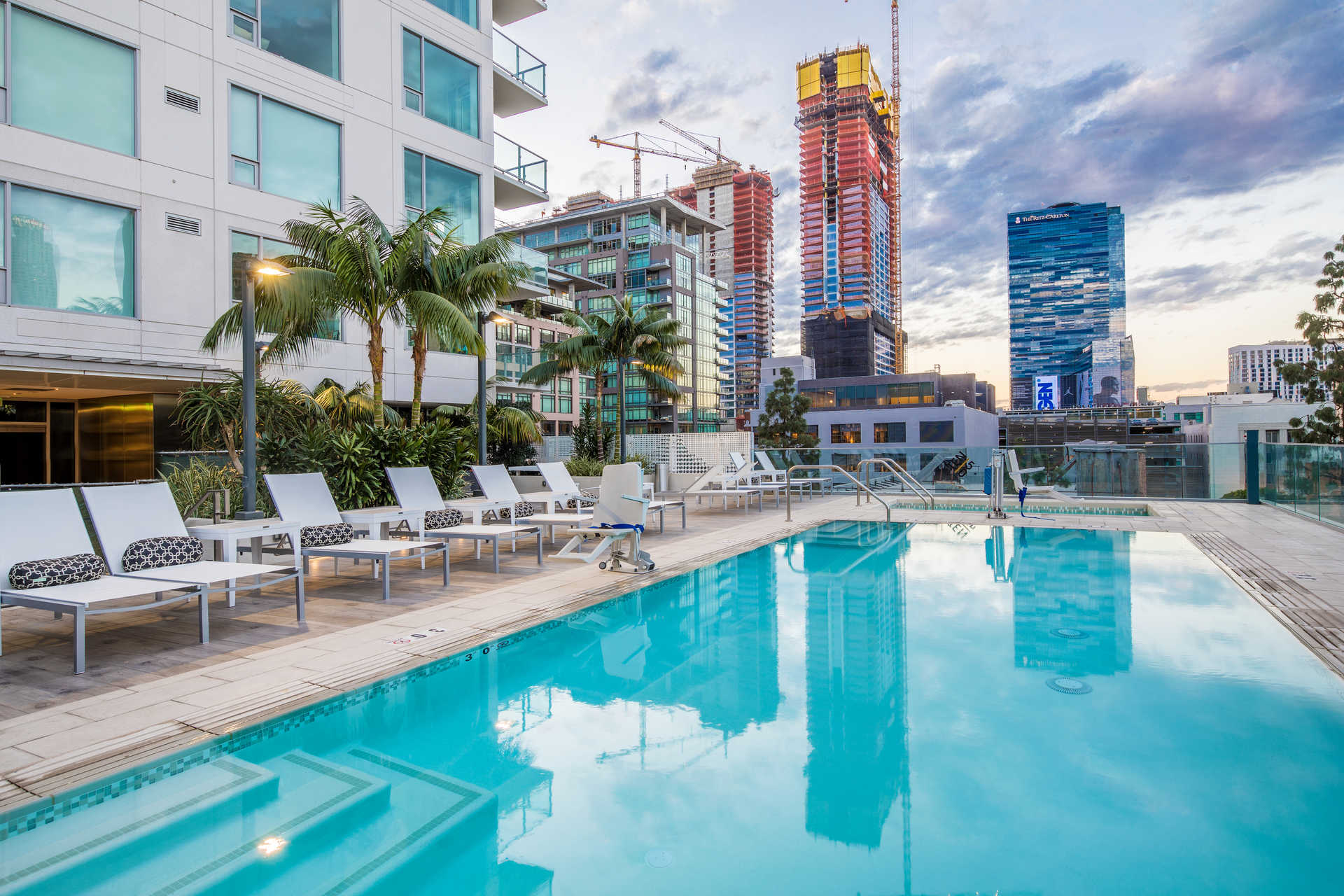 Yet for all its amenities and attractions, many Downtown LA residents still say the neighborhood has a way to go. According to the 2018 Downtown Center Business Improvement District Survey, 63 percent of respondents want to see at least one more supermarket in the area—Ralph's and Whole Foods apparently aren't cutting it. Another 53 percent said they'd like more clothing stores—probably higher-end options than the Gap Outlet, Macy's, Urban Outfitters and Ross.
But these figures seem downright frivolous in light of Los Angeles' most staggering problem: the county has over 57,000 people who are homeless, deemed "a national disgrace" by the LA Times. The crisis stands in stark contrast with the white-collar workers flooding Downtown LA to sip craft cocktails at weekday happy hours. It's an issue that has been compacted as multi-million dollar restaurants, co-working spaces and hotels crop up at record speed—including DTLA's most recent openings, the NoMad and the Freehand. High-end organic market Erewhon, known for having a cult following among West Coast health nuts, is coming to 9th and Hill. Despite being around since the '60s, this hippie-chic grocery store has been very slow to expand and currently only has four locations across the LA area.
On the south side of DTLA at 10th and Grand, the Ten50 Condos were a tone-setter as the first high-rise to be built and sold in the neighborhood in the last decade.
Westside Estate Agency's Carl Gambino is co-listing the last two penthouses with Kevin Dees at The Agency. Their strategy is to promote the features that clients seek along more traditional stretches of the city's private hills and streets—like 24-hour security and gated entrances that afford higher-profile residents a certain peace of mind.
"Celebrities are looking for privacy and security," Gambino tells us. "That exists here." Indeed, Emily Ratajkowski, Diane Keaton and Vincent Gallo are among DTLA's most famous residents.
Topping out at $3 million, Ten50's units are a considerable bargain when factoring in amenities like a "therapeutic yoga garden."
"There's a depth to this market that doesn't exist in many other parts of LA," Leipart says.
Depth? In Los Angeles? Now that's something we haven't heard before.