Eva Longoria isn't finished adjusting her portfolio of Los Angeles homes just yet. The former Desperate Housewives actress just listed another one of her West Coast homes, this one in the Hollywood Dell area.
Longoria purchased the 8,603-square-foot three-story home for $3.6 million in 2006.
The contemporary Mediterranean house is a mix of dark hardwood, tile floors and arched windows. It's made up of six bedrooms, all of which have fireplaces and private bathrooms, per the $3.8 million listing held by Coldwell Banker broker Loren Judd.
The master suite is fitted with two large walk-in closets with plenty of built-ins, a vanity area and a sitting space, while the bathroom contains its own gas fireplace, a glass shower and a separate bathtub.
The eat-in kitchen has granite countertops and a breakfast area and is open to the living room. Downstairs, there's a full screening room and the listing's note that this is a "celebrity owned" dream home comes further into play, as the walls of the theater are plastered with posters from the films and television series that Longoria has appeared in. Yes, that includes a few different seasons of Desperate Housewives.
Outside, there's a secluded pool, surrounded by a deck with its own dining and entertaining area. The cozy lounge/family room downstairs actually appears to be below ground, as it has windows that look directly into the aforementioned swimming pool.
This isn't the only house that Longoria, who is currently expecting her first child with husband,  Jose Antonio Bastón, is trying to part with at the moment. She's also attempting to offload the massive Hollywood Hills compound she bought from Tom Cruise back in 2015; she listed it for $11.4 million in November 2017, although no one has scooped it up just yet.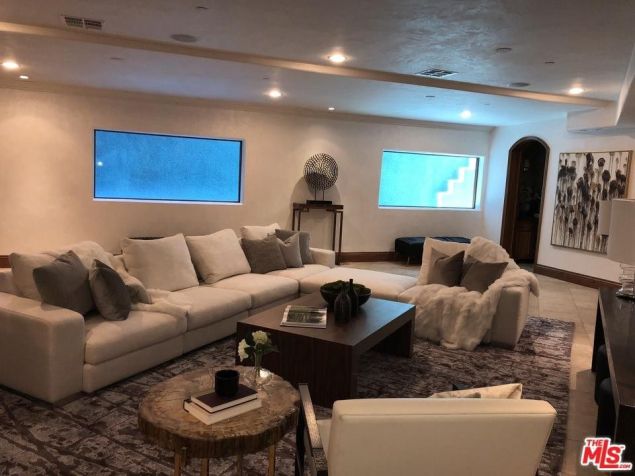 However, we already know where Longoria and Baston are moving next. Right around the time she listed Cruise's former Laurel Canyon abode, Longoria paid a staggering $13.5 million for a beautifully remodeled eight-bedroom Beverly Hills mansion, in the Beverly Crest section.