The recently rehabbed Veterans Room of New York's historic Park Avenue Armory is a bit like the Room of Requirement in J.K. Rowling's Harry Potter books—you never know what you're going to find, but whatever presents itself once you're in there is useful…maybe even a little bit magical. So was the case on Wednesday night, when composer Alvin Curran kicked off the Armory's 2018 Artist's Studio series with back-to-back performances in which he interspersed electronic sounds, casual piano key strikes, and long bellows blown through a ram's horn to create an eclectic audio experience.
Once again curated by jazz pianist, composer, and MacArthur fellow Jason Moran, this year's studio series, which runs through October 10, presents four evening events by creatives working on the interdisciplinary fringes of music, sound art, installation and performance including Curran, saxophonist and mixed media artist Matana Roberts, experimental music pioneer Charlemagne Palestine, and DJ and artist Juliana Huxtable. Moran has invited the performers to respond to the Veterans Room, completed in 1881 by Louis Comfort Tiffany, Stanford White, Candace Wheeler and Samuel Colman and restored in 2016 by renowned Swiss architecture firm Herzog & de Meuron.
"I think of these artists stepping into the oath of the Veterans Room, allowing it to reflect on itself as a space for artists. And each of these artists will locate a specific attribute in the room to help reveal another layer," Moran told Observer just before the opening performance.
The room itself is indeed the definition of eclecticism, which made Curran's performances a perfect fit. The dark, dramatic, and intimate spaces boasts bits of Greek and Islamic architecture, Celtic and Egyptian symbolism, Chinese wood carving, Persian tilework, and an unspecified mix of European and American Gothic traditions. Likewise, for his performance in the Veterans Room, Curran—who said he doesn't write songs but composes "unpopular music"—blended the ancient tradition of horn blowing with traditional riffs of piano music and a frenetic contemporary digital soundscape that had little logic to it. It was at once jarring but also timeless. Even fun. At almost precisely the one-hour mark, he abruptly stopped. "I think that's enough," he told the crowd before taking his bow to much applause.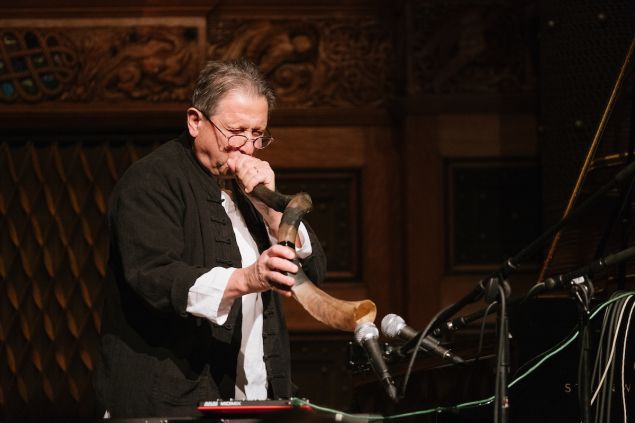 The artists slated for the 2018 series are all exceptionally unique and leaders of the avant-garde in their chosen fields; their modes of expression are as varied as Curran's sound palette. "For the current season, each artist has multiple ways they occupy their practice," explains Moran. "From DJ, to activist, to sonic meditation, each of these artists could head in any direction for their 'show' and that is what I love about them."
It's difficult to predict what shape the next performances will take but Moran said the goal of the studio series is ultimately to deepen the audience's love of listening. "I needed to learn about how to listen again," he said, "and each artist has us reconnect to the act of listening in the room." If Curran's show is any indication, the next events will be tinged with the unexpected. So long as concert-goers arrive with an open mind, they'll find plenty to open both their eyes and their ears.