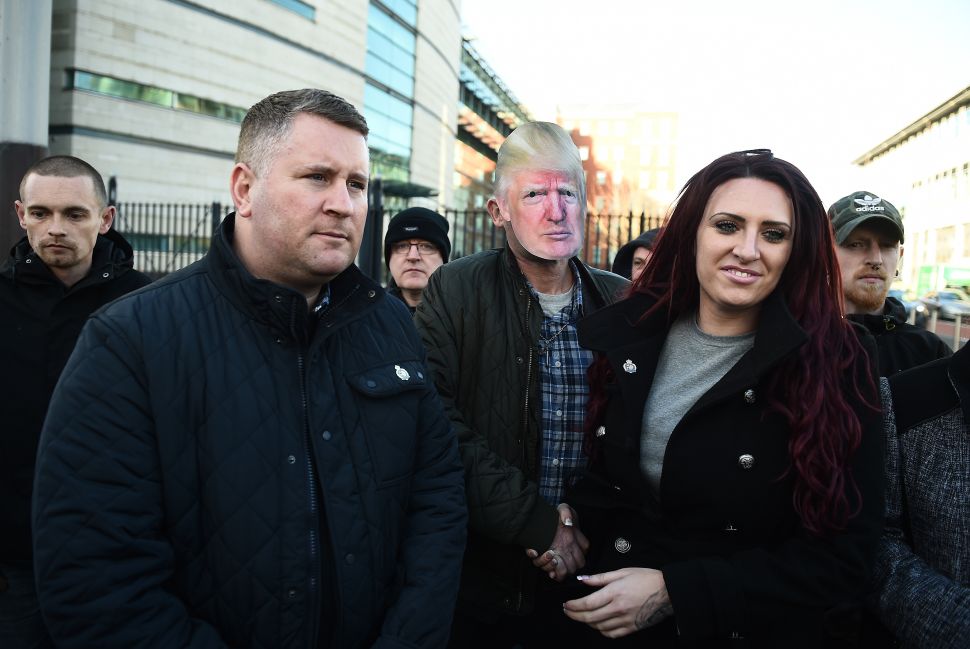 Facebook is continuing to crack down on hate speech—no matter how many likes it gets.
This morning the social network announced that it had removed the page of British far-right group Britain First from its platform. Facebook also banned two of the party's leaders, Paul Golding and Jayda Fransen. Both the group and individual members are also barred from creating new Facebook pages.
The Britain First Facebook page had over two million likes. That made it the second most liked Facebook page in British politics and society—only the royal family (which has over four million likes) is more popular.
While Facebook often takes action against dishonest or hateful ads, it's rare for the site to remove a group or individual's page over incendiary content.
But in its post, Facebook made it clear that there was a fine line between expressing controversial political views and expressing hate.
"People can express robust and controversial opinions without needing to denigrate others on the basis of who they are," Facebook's statement read. "Political parties, like individuals and all other organizations on Facebook, must abide by these standards and where a Page or person repeatedly breaks our Community Standards we remove them."
Britain First was apparently given multiple warnings about its content but ignored them.
"They have repeatedly posted content designed to incite animosity and hatred against minority groups, which disqualifies the Pages from our service," Facebook said.
Britain First focused mostly on anti-Muslim rhetoric.
Facebook said the posts which got it kicked off the platform included a graphic comparing Muslim immigrants to animals, a photo of Golding and Fransen with the caption "Islamophobic and proud" and video of ISIS beheadings.
Golding and Fransen are actually currently serving jail sentences over their rhetoric—18 weeks for Golding and 36 for Fransen. Fransen allegedly banged on the windows and doors of Muslim-owned shops in Kent, yelling "pedophile" and "foreigner."
In light of these actions, both British Prime Minister Theresa May and London Mayor Sadiq Khan (a Muslim) welcomed Facebook's action.
"Britain First is a vile and hate-fueled group," Khan said in a statement. "Their sick intentions to incite hatred within our society via social media are reprehensible, and Facebook's decision to remove their content is welcome."
Britain First had nearly twice as many Facebook likes as the United Kingdom's mainstream Labour Party, which has only one million followers.
With that much reach, the group was able to both incite people online and inspire real-life violence. When Labour MP Jo Cox (an immigration advocate) was shot and stabbed to death in 2016, her assailant yelled "Britain First" during the attack.
Golding, Fransen and Britain First were banned from Twitter in December after the social network's hate speech rules went into effect. President Donald Trump infamously retweeted one of the group's posts.