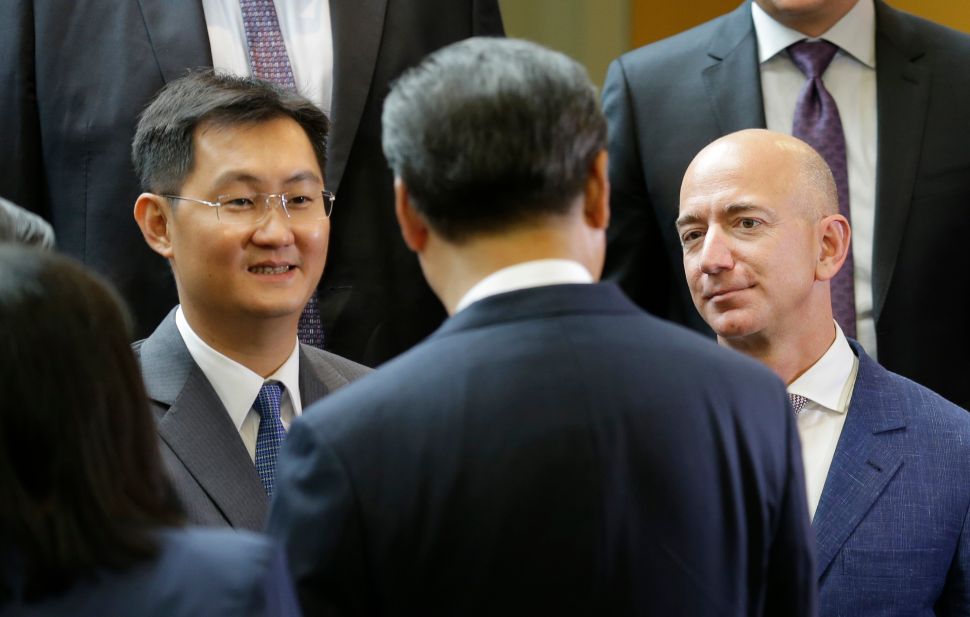 There are a record number of billionaires in the world now. According the Forbes 2018 Billionaires list, 2,208 of the richest people on the planet collectively own $9.1 trillion of assets.
Aside from generations-old family business heirs and American tech titans, a group of young billionaires stand out: the founders of Chinese internet companies. They have climbed the ranks quickly and are overall much younger than their western counterparts.
Some are already familiar faces to western media, such as Alibaba founder Jack Ma, and Tencent founder Pony Ma. Others are lesser known, but their fast rise through wealth ranks says a great deal about Chinese companies' growing influence over global markets.
Chinese billionaires take 10 seats in the top 100 ranks on Forbes list this year.
Aside from hiers of family businesses and real estate magnates, most of them are founders of China's most successful tech companies that have grown from startups to global giants in a short period of time. And a majority of them are under the age of 50.
Pony Ma, the founder and CEO of tech company Tencent, is now the 17th richest person in the world with $45.3 billion of assets.
He has also topped Alibaba's Jack Ma, who sits three ranks behind, as the richest man in China.
In the past year, Tencent's stock price has increased by over 100 percent. The company, whose flagship products are messaging apps (WeChat), music streaming (QQ Music) and online gaming, has been aggressively consolidating power with its U.S. competitors. Tencent holds significant shares in Snap and Spotify.
The fast rise of Tencent also created an unexpected billionaire, Zhang Zhidong, the company's former chief technology officer and co-founder. Zhang, 46, advanced from No. 212 on Forbes 2016 list to No. 87 this year.
Another rising star this year is Wang Wei, the founder of SF Express, China's equivalent to FedEx. The company's IPO in 2017 pushed Wang to No. 63 from No. 366 in 2016.
While SF Express is technically not an internet company, its success is largely a byproduct of the e-commerce boom in China fueled by Alibaba and its competitors. As the SF Express' revenue has increased more than four folds since 2010, the company is expanding its footprint overseas. It has a U.S. operation through a partnership with UPS.
In many ways, the tech boom in China is reminiscent to that in the U.S. a decade ago, when Google, Facebook and Amazon saw early exponential growths. The three companies' founders are still ahead of their Chinese counterparts on the world's richest list, but the Chinese are catching up quickly.
Here are the 10 wealthiest people in China featured on Forbes Top 100 Billionaires List:
No. 17: Pony Ma, age 46, founder and CEO of Tencent
No. 20: Jack Ma, age 53, founder and chairman of Alibaba
No. 24: Hui Ka Yan, age 59, founder of real estate group China Evergrande Group
No. 26: Wang Jianlin, age 63, founder and chairman of Dalian Wanda Group (acquired AMC Entertainment in 2012)
No. 43: Yang Huiyan, age 36, heir of real estate group Country Garden Holdings
No. 50: He Xiangjian, age 75, founder of Midea Group, a home appliance manufacturer
No. 63: Wang Wei, age 48, founder and chairman of SF Express
No. 69: William Ding, age 46, founder and CEO of Netease, one of China's largest online gaming companies.
No. 87: Zhang Zhidong, age 46, cofounder and former CTO of Tencent
No. 91: Li Shufu, age 54, founder of Geely Automobile Holdings (acquired Volvo in 2010)