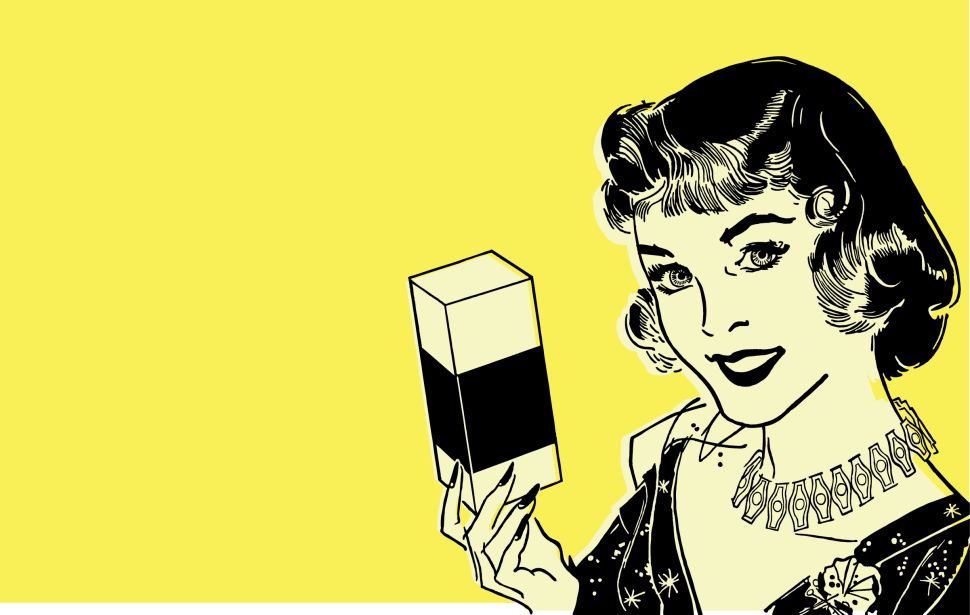 Today, the world celebrates International Women's Day, founded by the Suffragettes in 1911 to bring governments, companies, charities, schools, and more together in a quest for gender parity.
A day on which men and women will unite with #PressForProgress, a virtual signal of support to challenge gender stereotypes and biases. A day the United Nations' Women for Peace Association's Awards Luncheon honors the First Lady of Panama, Lorena Castillo De Varela, for her work with UNAIDS and the Zero Discrimination Movement. A day there are marches, rallies, concerts, art exhibitions, and even Pussycat Painting Parties to come together as one for the cause.
A day, too, for every public relations firm in New York, LA and beyond to permeate inboxes of editors everywhere with pitches about how giving their clients your money in exchange for their widget or widget equivalent is the PERFECT way to express your admiration for the quest to abolish shockingly blatant cases of sexism that I wish I could say were innocent/oblivious/pre-Time's Up.
Yes, some of these co-opting brands donate a portion of proceeds to charity. Those ones, sure, they're ok. The below are not. To allow the guilty one get-out-of-jail-free, names, email addresses, and clients have been deleted: 
A 90s-inspired activewear brand "celebrating all shapes, sizes, ethnicities, backgrounds and beliefs" (and TBH I'd actually love to hear more about how exactly this is accomplished) celebrates in downward dog—but first, they need my bra size.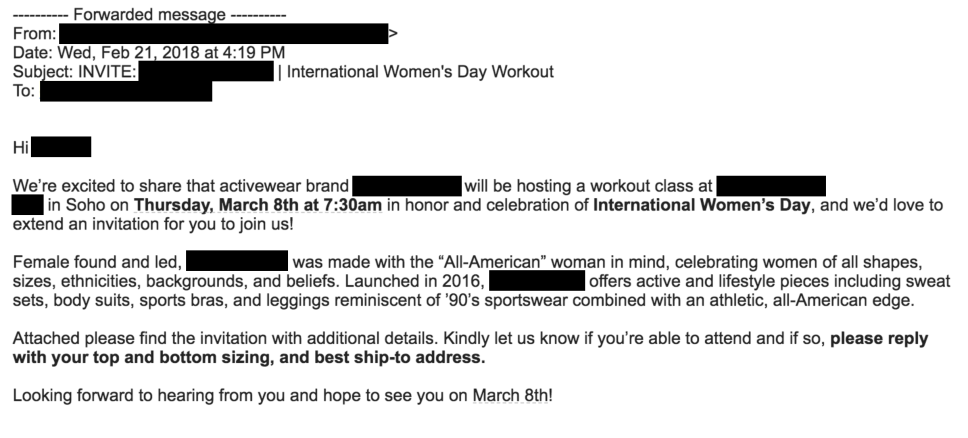 Getting loaded, that's good. So "Let's toast activism with fine wines and craft beers," says "leading" on-demand alcohol delivery service. Extra credit for getting the official IWD hashtag wrong.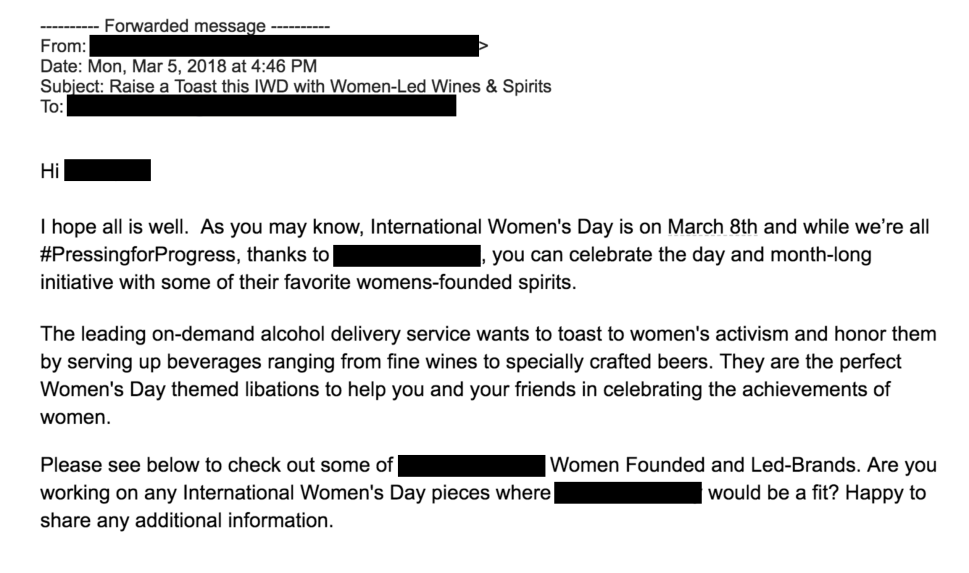 Obviously, "working with top female" cosmetic surgeons viciously preys on insecurities helps women look and feel their best. (No longer a "boy's club"? Phew!)
One-stop shopping, RIGHT HERE LADIES: "cheeky feminista fine jewelry," meets "comfy marching shoes," with "a wrap for easy and discreet breastfeeding."

Who can we count on to believe "heavily in women being the leaders in the world," if not a vegan cookie leader?