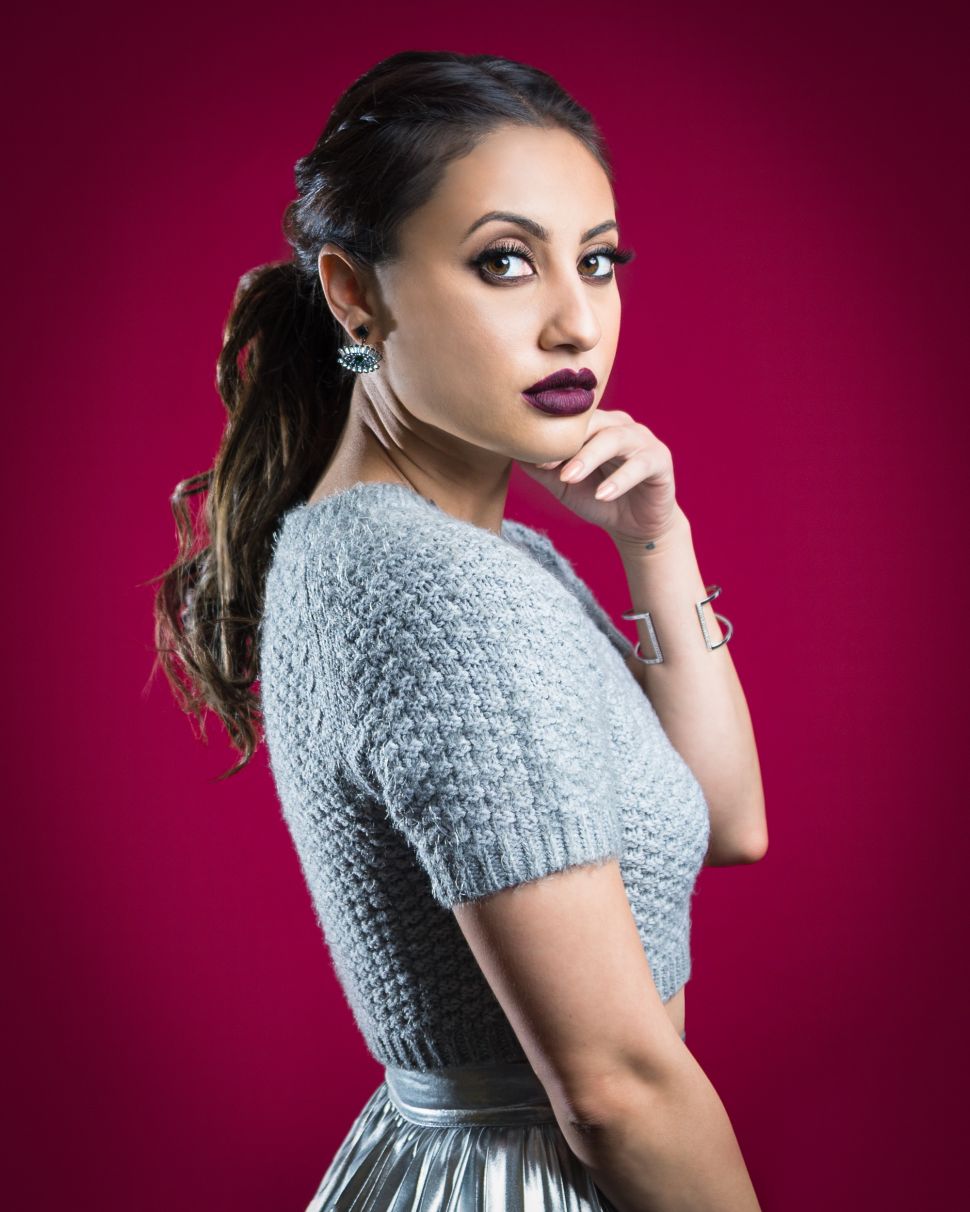 "I can't believe my life right now," Francia Raisa said while getting her hair and makeup done for an appearance on MTV's TRL, a show the actress admits to being obsessed with as a kid. Dressed in a plaid pant suit with a black leather bralette serving as her top, the 29-year-old Los Angeles native was clearly excited, but not necessarily nervous. Life has been moving a mile a minute for Raisa over the past 12 months, and while the actress has been quick to capitalize on the attention, she clearly has her priorities in check—around landing a starring acting gig, she's also found time to advocate for immigrant rights, watch all the TV shows that her friends star in…and donate a kidney. To Selena Gomez.
Right now, she's most often described as the breakout star of Freeform's Grown-ish—a spinoff from the Golden Globe-winning series Black-ish—which premiered this January. The original sitcom, now in its fourth season on ABC, follows the story of Rainbow and Dre Johnson (Tracee Ellis Ross and Anthony Anderson), an upper-middle class African-American couple navigating the experience of raising their kids in a predominantly white neighborhood. When the Johnson's eldest daughter Zoey, played by Yara Shahidi, approached college age at the end of season three, the network decided to make a show of her new life, adding it to the lineup of their teen-oriented channel. Raisa stars as Zoey's freshman roommate and soon friend, Ana Maria Patricia Torres, and will continue to do so for at least another year—already a smash, it's been renewed for second season with a full 20-episode order.
But before Raisa took the Grown-ish gig, she was perhaps best known for reasons other than her acting chops. Her name hit headlines in September 2017 when her close friend Selena Gomez revealed on Instagram the actress had donated a kidney to the songstress, who suffers from Lupus.
"We had the surgery in June and by September, when the news came out, [Selena and I] had already gone back to work and moved on," Raisa said, like this was just an unremarkable event in anyone's life. "When people mentioned it, we were like what? Oh, yeah. That happened. It was the first personal thing I ever had go public and I was overwhelmed and so grateful from all the positive responses."
Prior to this, Raisa's biggest role was as Adrian on ABC Family's The Secret Life of the American Teenager, though she also had supporting appearances in Rosewood, The Mindy Project and Dear White People. With a rising profile, she's been quick to parlay any star power she acquires into raising awareness for issues she believes in. Recently she penned a personal essay in Marie Claire championing the importance of DACA; she serves as an ambassador for Unlikely Heroes, an organization dedicated to end human trafficking; and has traveled to Haiti with the organization Generosity, which helps bring clean water to developing countries.
So with such a busy schedule, but with her priorities clearly set, how does Raisa stay grounded? A key factor, she says, is exercise. "There are days where I'll get up at 4 a.m. or 5 a.m. and go to the gym just because I feel sane when I work out," Raisa said. "If I go two days without working out, I'm like my ass is sagging. I can't have it!"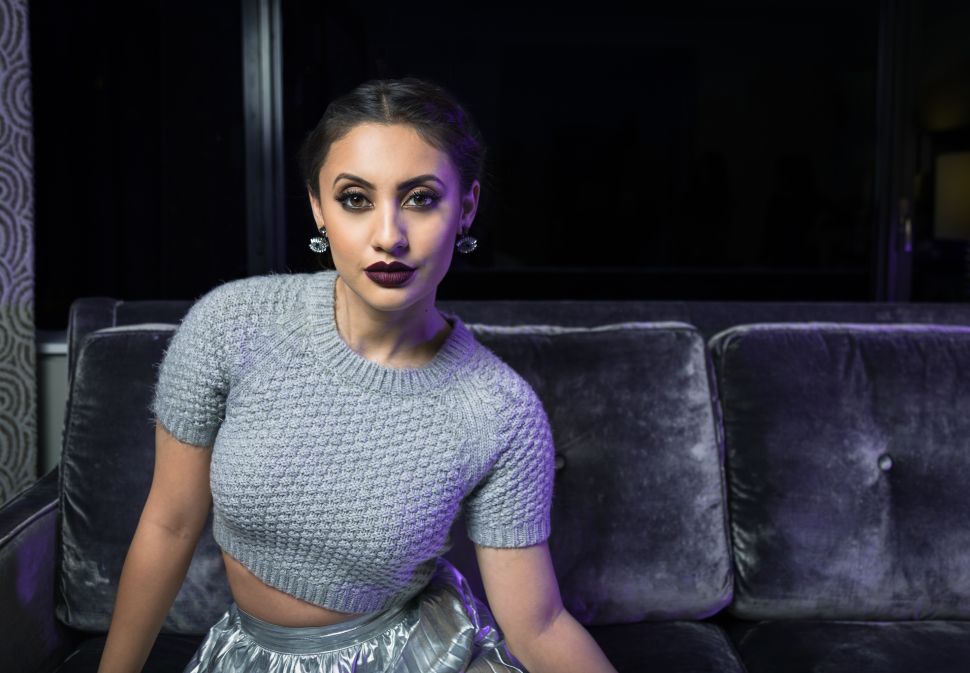 Being immobile, she explained, was the hardest part of the post-surgery process. "Selena and I couldn't walk up and down stairs, so we had to depend on other people a lot. The doctors said it would take six months to a year to feel like yourself again. I am constantly thirsty and I have to pee every five seconds now, but other than that, I'm good!" Raisa enthused, making her exuberance for everything she has happening at the moment, in this new light, seem almost superhuman. "Last week, I went back to dance for the first time and that's my first love," she said. And Raisa had to get back to auditions within just two weeks of the surgery. As luck would have it, that was exactly when the opportunity for the Grown-ish role came up, and there was no way she was missing the opportunity to land it.
"I watched Black-ish, so I was really excited," Raisa said. "In June, I met with the casting directors and they were like great, don't change a thing. Then I got to meet [series creator, writer, producer] Kenya Barris and it was nerve-wracking. He was like 'I can see you're nervous, that was one take. Let's do it again.' Usually, you have one chance. And if you mess it up, then you've messed it up."
Raisa was brought in to do a chemistry read with Yara a week afterward, and then nearly a month passed before she was notified she'd be testing for the show. A week later, on July 26, Raisa's birthday, she tested. And finally, a week after that, the role was hers.
Of Honduran-Mexican descent, she did a great deal of research to accurately portray her character's culture on screen, and copious amounts of reading to broaden her understanding of Ana's conservative nature. Other than being raised Catholic, Raisa felt has little in common with her fictional role. Unlike Ana, Raisa's not a Republican, no one in her family is, nor did she ever go to college. But neither that lack of real experience to draw on, nor the decade age difference between her and her character stopped her from fleshing out the role convincingly. The friendship she has struck up with Shahidi and the rest of the cast helps guide her. "I learn from [Shahidi] every single day. I have a lot more life experience than the rest of my cast [most of whom are 18] but Jesus, they are so smart."
In fact, it's thanks to her friendship with Yara that Raisa began dating boyfriend, cameraman Chris Adkins. Raisa was apprehensive to mix work and relationships, but Yara (and Yara's mother, with whom she has become close) encouraged her to give him a shot. Chris started out as a P.A. on Black-ish before being promoted as a cinematographer on Grown-ish, so they could both vouch for him.
"Yara's mom was like 'you have to stop setting parameters for yourself." So, on their suggestion, she agreed to a date. "And now, here we are!" But the actress also lamented, "I hardly get to see him because we have our individual schedules, but he's a great support to me and my career, and vice-versa."
Cleary not having exhausted her capacity for being a best friend, the final (but no less important) element that Raisa credits with supporting her career and keeping her feet firmly planted is the community she's fostered with fellow Latina actresses.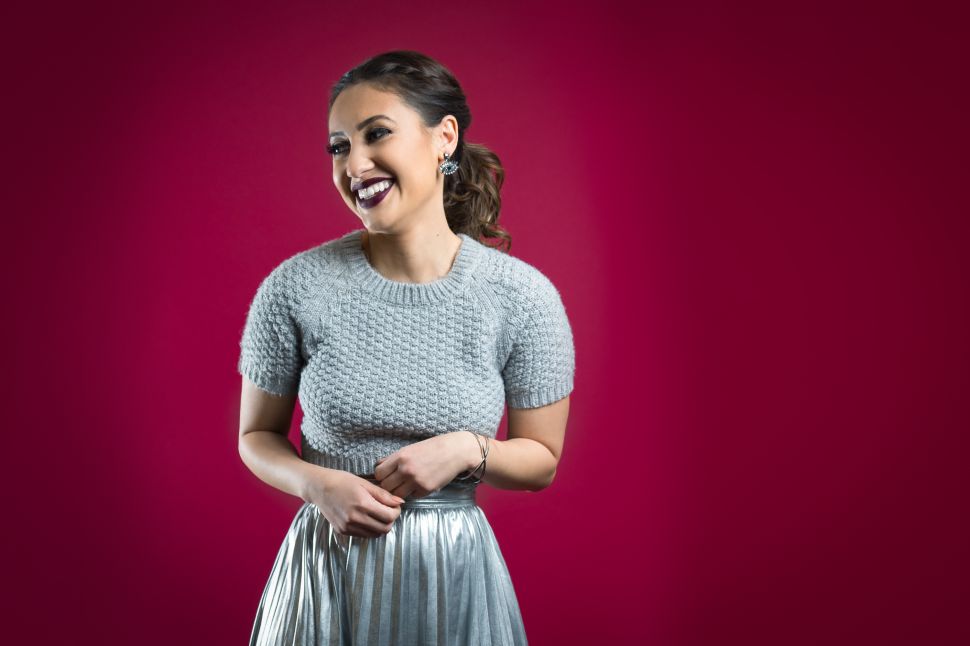 The group has sprung up pretty recently, but Raisa describes the positivity it has brought to her life as "incredible." It was at a Latinas Who Lunch event organized by America Ferrera and Gina Rodriguez that she met these sisters in arms. "The first time I went, I told everyone there, I've being doing this for 12 years and I'm embarrassed to say that I know two of you [personally]. Rodriguez and Anjelah Johnson. That's it. The whole movement is so we can get to know one another and support each other because we weren't. I don't know why. We noticed that actors in the Black community definitely do that and we [thought] why aren't we doing that? Eva Longoria was like, 'Wanna know why the ALMA Awards don't exist anymore? It's because you guys wouldn't show up.' And we were like, 'Damn. We're sorry.'"
"Now, it's so awesome," Raisa said. "Literally, everyone's like check out my girl on this show Grown-ish, and I'm doing the same for them. Right now, my girl is on Station 19 and I'm like check out Jaina Ortiz! She's the new face of TGIT!"
And of course she tries to watch every show that features these BFFs. Right now, that includes "Black-ish, obviously." As well as "Jane the Virgin, Superstore and One Day a Time…I want to binge it all. I need more time. I want to see what all my friends are doing!" she said, the consummate bestie, clearly keeping her eye on what she prizes most.