Prior to my first trip to Glasgow, I wasn't particularly well-versed in the city's rich architecture scene. More specifically, I wasn't especially familiar with the work of Scottish artist and architect Charles Rennie Mackintosh.
That relative lack of knowledge changed within hours of touching down on Glasgow's stone-paved streets, as it's difficult to find a corner of the city that hasn't been, in some way, impacted by the architect who was born there in 1868.
Mackintosh is one of the main creators of the Glasgow Style, an arts and architecture movement that was also pioneered by teachers, students and graduates of the Glasgow School of Art between 1890 and 1920. It's part of the Art Nouveau movement, and combines Scottish, Celtic and Japanese influences for a unique aesthetic.
"The legacy of Charles Rennie Mackintosh is part of the very fabric of Glasgow," David McDonald, chairman of Glasgow Life and deputy leader of the Glasgow City Council, told Observer. "His buildings, art and design are of international importance."
His masterpiece is often considered to be the Mackintosh Building at the Glasgow School of Art, built between 1897 and 1909. Yes, Mackintosh's work inspired a whole school of artists, and since 2005, the Glasgow School of Art has produced five Turner Prize winners. Alas, the Mackintosh Building is currently closed, as a fire caused major damage in 2014, but it is expected to reopen in 2019.
Mackintosh is always celebrated in Glasgow, but 2018 is special. It's the 150th anniversary of Mackintosh's birth, so programming and events are planned throughout the year, which is sure to bring even more visitors in the coming months.
Glasgow, the largest city in Scotland, hasn't always attracted the same hoards of visitors as its more mainstream neighbor, Edinburgh. More and more, however, people are flocking to Glasgow for its lively music and bar scene, Victorian-era buildings, and of course, its art and architecture. "Glasgow has become this incredible center for art," Richard Parry, the director of Glasgow International, told Observer on a recent trip to the city. "There's been a burst of culture."
Glasgow is definitely grittier than the more polished Edinburgh, but it's the city's character that makes it even more appealing. Glaswegians' friendly nature is a hugely attractive aspect of visiting the city. The locals are welcoming and eager to help with any questions from tourists and visitors, without the condescension found in, say, New York.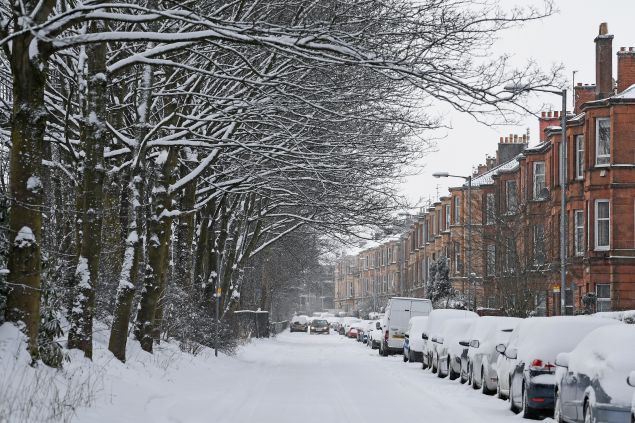 My first experience in Glasgow was definitely colored by the weather conditions—I thought I was prepared for the chilly and damp Scottish climate. However, there just so happened to be a snowstorm hours after I arrived, and I was surprised to discover that snow is a rare occurrence in Glasgow, and as such, Glaswegians are quite unaccustomed to the frosty conditions.
But the snow only added to the storybook feel of the city, and a visit to the Kelvingrove Art Gallery and Museum is nearly worth slipping in the freshly falling wintry mix.
Kelvingrove is one of the most popular tourist destinations in the city, and not just for the Instagram-fodder created by Sophie Cave's Floating Heads exhibition. It also houses works by Dali, Rembrandt and Van Gogh, and of course, Mackintosh.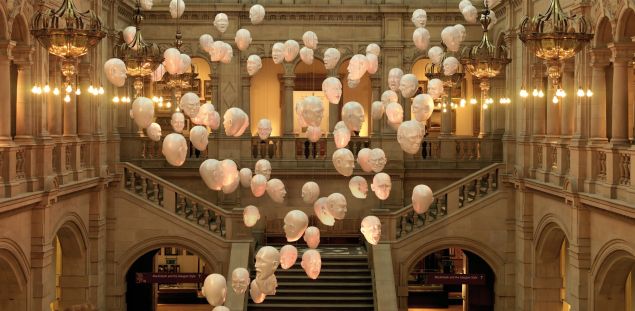 In honor of the 150th anniversary, Kelvingrove is hosting a temporary exhibition centered on Mackintosh, showing a timeline of his life and work. The exhibition is only open from March 30 until August 14, though the Mackintosh and the Glasgow Style Gallery is a permanent display, showcasing the architect's work as well as other design and art.
To celebrate the 500th anniversary of Leonardo Da Vinci's death, an exhibition featuring 12 of the famed artist's drawings is coming to Kelvingrove. The art is directly from the Queen's Royal Collection, and this is the only Scottish location that will be displaying da Vinci's work through May 2019—offering even more motivation to get to Glasgow within the next year.
True Mackintosh enthusiasts need to see House for an Art Lover, which is located in Bellahouston Park. Construction on House for an Art Lover didn't begin until 1989 (it was completed seven years later) but was based on a 1901 design from Mackintosh and his wife, Margaret Macdonald.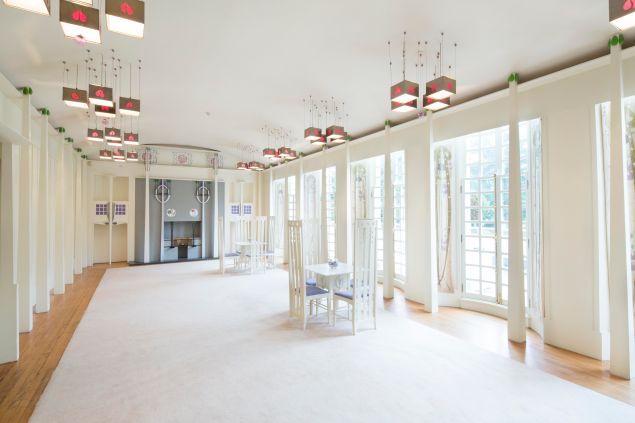 Mackintosh and Macdonald submitted the plans for a competition held by German design magazine Zeitschrift für Innendekoration. The guidelines said only "genuinely original modern designs will be considered," with specific requirements as to room size, cost and finishes. Alas, Mackintosh and Macdonald didn't send in parts of the proposal until the deadline had passed, so their submission was disqualified. Even so, the judges praised the design and eventually, the brilliant design specs were realized in physical form, though not during Mackintosh or Macdonald's lifetime. Visitors can take a guided tour of each of the rooms in the building, with commentary on each individual space, and the couple's thought processes to accompany each.
Mackintosh is far from the only highlight in Glasgow, but he's hard to escape. I was determined to see the Glasgow Necropolis, a 37-acre Victorian cemetery that was established in 1832. The icy conditions made trekking up the Necropolis a little treacherous, but upon reaching the top you can take in the entire cityscape, which is even more stunning at sunset. Over 50,000 Glaswegians are buried in the cemetery—Mackintosh isn't among those interred at the Necropolis, but he still left his mark, as he designed a Celtic Cross for the grave of his family friend Andrew McCall.
There's no way to visit Scotland without partaking in one of the nation's favorite activity: drinking whiskey. For a more refined experience than chugging at the corner bar, consider stopping at Clydeside Distillery, appropriately located right on the scenic River Clyde. Still, there's no arguing that the pubs aren't one of the best spots to enjoy the drink of your choice—the Pot Still is a scotch-lover's dream on Hope Street, and they offer a hot toddy that makes you believe the local talk that Scotland is, indeed, where the now-trendy drink originated in the eighteenth century. Add that to your list of reasons to visit this charming city.