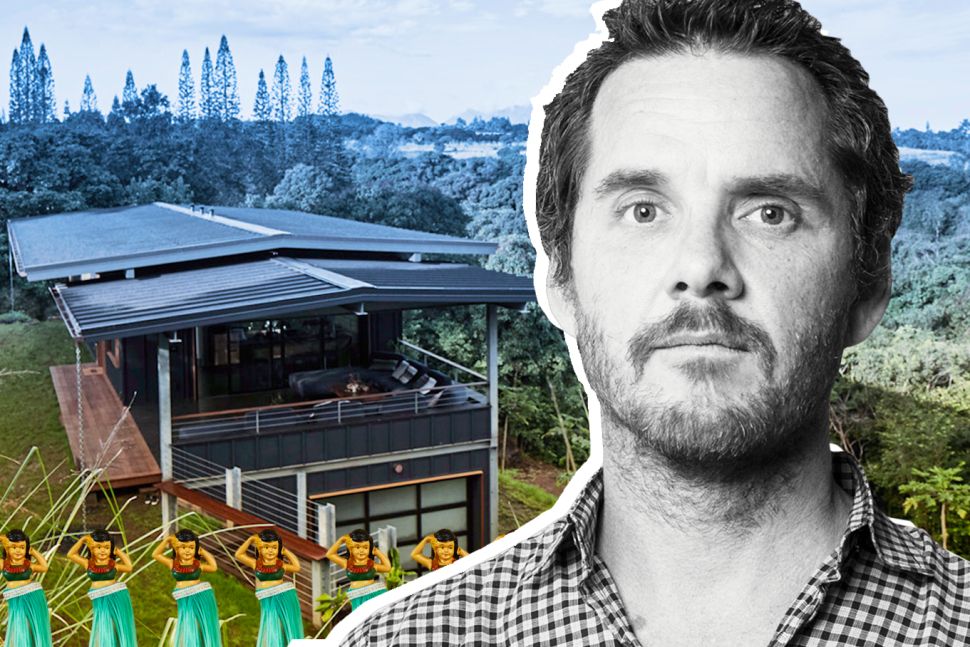 Graham Hill just built the eco-friendliest house in Hawaii. His first totally solar, off-grid "tiny home," dubbed LEM, for LifeEdited Maui. A blueprint, he tells me, of "lower-cost stuff," to possibly pave the way for lease-to-own homes that do the earth abundant good. "To help people get into the new American dream."
Turns out, not everyone likes that so much. At least not dedicated hate-readers of eco-real estate porn in the New York Times, in which Hill and his Maui home were recently featured, then both subjected to commentary along the lines of:
$1M for that ugly pile of junk? A complete joke. Just like all this "sustainable" hype, it's for rich poseurs.
This whole article is about how the rich congratulate themselves on being eco conscious.
As my native Hawaiian relatives who can no longer afford to own a home in their own ancestral lands (Maui) would say, "Haole go home!"
It would be lovely if Mr. Hill applied some of his genius to solve the rampant homelessness in Hawaii.
Journalist Craig Vetter called this architectural style "conspicuous denial."
Maui, I think, is a lost cause. It's gone to the rich. 
The response to those helpful thoughts from Hill, the tech millionaire who a decade ago became a champion of environmentalism—which in turn managed to make him many millions more?
"I am a rich guy. Yeah, that happened to me. And I'm trying to do a good thing. And you can look at it in multiple ways—it's not perfect. I'm not perfect, and most people aren't. I could be in, like, nuclear arms, and the funny thing is, people probably wouldn't say a thing. But as soon as anyone tries to do anything good, they become a target. I'm not trying to pull one over on anyone. I can sleep at night."
Maybe you remember Hill's viral 2013 New York Times op-ed which chronicles the decision, as a tech-trepreneur "flush with cash from an Internet start-up sale," to abandon two sprawling homes in Seattle and Soho for a 420-square-foot studio apartment. Or perhaps you saw Hill's 2011 TED Talk, "Less Stuff, More Happiness," along with nearly four million other viewers. Even if you missed both, you might still have seen last week's brilliantly photographed, 14-page slideshow wherein The Times feeds details to critics like raw meat to beasts.
In "The Luxury of Sustainability," over $20,000 in modular sofas surround $8,000 worth of Italian Oak convertible-height dining tables. Multiple $6,148 soaking bathtubs, $5,050 Murphy beds and $415 Brooklyn-made aluminum sconces fill the 1,000 square-foot, four-bedroom, two-bath eco-friendly prototype on a 2.2-acre plot in Haiku, Hawaii. Naturally, there's a $400 "foot faucet." And, in the middle of it all, Hill stands, smiling widely with a set of banged-up surfboards and electric bikes. He is casual, lean, tan, and classically attractive—an unfiltered Instagram of wealthy white dude health.
"I get the 'I'm a rich guy, I'm just doing this to make myself feel better.' Everyone can complain. One lady was talking about how I was talking about the waves and the wind and the rainbows, and she said, 'What about the people?' like somehow I have committed a sin, because in the one sentence that they ended up quoting, I didn't talk about the amazing Hawaiian people. So somehow I'm a bad person because of that." Hill catches his breath. "I poured my heart and soul into that place."
I already know that. Three weeks ago I was there, in Haiku, doing my best to make sense of the man who explained with gentle calculation how everything in his home must swivel, stack and fold. And though The Times was quick to capture Hill's '73 Tesla-battery-powered Volkswagen Thing, the piece didn't mention "Chester," Hill's clumsy, dented and dinged 2003 Ford E350 van with only one locking door.
"My friend, the physicist-surfer Garett Lisi, lived in a similar one for a year when he moved to Maui," Hill nods. "He told me I should get one. $3,500!" The Clash pumps. Chester snakes along the Hana Highway, sandwiched between the Pacific and an abandoned stretch of sugarcane farms as I bounce, unbelted, on a seat swaddled with knobby-knit, rainbow-striped falsa blankets. Just before we pull into LEM, Hill's eyes fly out the window, across the road, and land on "hippie heaven": a sub-community of surfers near the town of Paia, on the island's northern shore.
When Hill says "hippie" he becomes instantly boyish, decades less than 47. His nose crinkles. It's a word he knows well, having been raised on health food and nudity in Sutton, Quebec—a sleepy town near the border of Vermont—one of six kids in a cabin circled by chickens, cows and pigs. The family drank from a gravity-fed well, and the children went to a school run by other local parents. Hill dreamed of becoming an inventor. By college, he had fallen headfirst for the Internet.
Hill talks CD-ROMs with stars in his eyes. This was pre-Netscape, when even 22-year-olds confused email addresses with URLs. In 1995, Hill rode a motorcycle to Seattle and began building websites with his cousin Tish. In less than 12 months, they won a $10,500 job with Microsoft and promptly founded Sitewerks. Over the next three years, the company grew to 60 employees doing millions of dollars in business, and sold in '98 for an undisclosed sum to a firm Hill has described as being "worth about a billion dollars."
"Acquisitions, most of the time, will go wrong," Hill fades, sitting barefoot and meditative on the U-shaped sectional lining the perimeter of LEM's lanai. "People went from feeling like a family to feeling like a number." We're nestled above a gnarly patch of forest from which wild roosters race when papaya rinds are tossed to the ground. Anyone who thinks these birds rise at dawn has never been to Maui. Here, they bark all day and all night, breaking only to swarm compost in hysterical bursts of feathers.
Hill points his chin to the cedar-paneled ceiling, and for a moment gets lost following two black steel fans. "In design, the hardest project is the one with no parameters. When you're used to only spending so much money, money answers questions. At 28, I had all the money in the world. And money makes a lot of decisions for you."  
In 1999, Hill's money had decided to move him into a 1,900-square-foot loft on the corner of Mercer and Broome Streets in Manhattan's Soho. He kept his 3,600-square-foot house in Seattle, hired Courtney Love's assistant—a guy named Seven—as his personal shopper, and filled both homes with "tons of crap." It felt wrong, but "society pushes you to spend money—and so I did that."
In a self-described frenzy of consumption, Hill collected $300 sunglasses, oversized furniture, top-of-the-line electronics, and a turbocharged Volvo with a remote control starter. Among the items sent to Hill's Soho space were a lush array of budding greens, multiple aquariums, exotic fish and moss. Hill quickly became obsessed with the notion that plants clean the air, and that business can change the world for the better, and in 2003 he founded TreeHugger.com for "the mainstream green" people in big cities who are still environmentally conscious.
Hill was part of an "incestuous early blogging group"—among it, Gawker founder Nick Denton. "Nick is a pretty great guy, but he didn't like the name TreeHugger." When Hill had the Zuckerberg-esque idea to let readers "vote" on posts they "liked," Denton firmly told him: "Don't do that." Hill shrugs good-spiritedly, "I took most of his advice."
By the time TreeHugger sold to Discovery for a reported $10 million in 2007, Hill had built a completely virtual office, with 80+ employees all working remotely. He himself was writing wholly from the road, spending months in Bangkok, Toronto, Buenos Aires. In the process, Hill happened upon how little he actually needed, and upon returning to New York he downsized to a 420-square-foot studio on Houston Street in Soho. The move planted the seed for his next project.
"TreeHugger's success showed people that there was money in being green—that you can make money doing things you care about," Hill says as he sips coffee from a ceramic mug modeled after the iconic Greek cup that has littered New York streets since the '60s. "I became enamored by the idea of editing. We like editing, and we edit for a reason. So I edited my life."
Hill launched LifeEdited, the sustainable development firm behind LEM, with a contest. The rules were simple: design "a jewel box of an ultra-low-footprint apartment," giving the 420-square foot space functionality beyond its size. The winning plan would need to seat 12 for dinner, have a home office, and spare room for guests.
Of the 297 applicants, Hill awarded the project and $70k prize to two Romanian architecture students—one of whom, Catalin Sandu, still works for LifeEdited as the company's lead designer. "I thought, from a mission perspective, that it would be a way to expose—and to get a lot of designers thinking about—small living. It's not a time or money-efficient way of doing things," Hill smiles. "I don't even think we said anything about budget."
In addition to press, the first LifeEdited house—LE1—also attracted a "total Japanofile." Hill sold the apartment and moved into what would later become LE2, an even smaller unit on the top floor of the same building, ultimately featured on the cover of design bible Dwell.
"What we really want to do is be developers, and we are at the early stages." I ask where that would make sense. "For small living, you want high cost per square foot because otherwise it doesn't pencil out very well. At a certain point, when real estate is really cheap, you're like, 'Oh, I'll just build another bedroom.' Right? To get dual or triple-use out of one room, the furniture is not cheap. The nice, transformer furniture is expensive. Why spend $5,000 extra on a bed, when you can just spend $5,000 and have an extra room? So you sort of want the density, so New York would be a good place."
And yet here we are, in Hawaii.
Hill leads me through the house, pointing to bamboo floors, mango wood trim, magnetic doors and walls washed in an anti-fungal paint—"that you can eat!"—which eliminate up to 88 percent of air pollution. The kitchen is fitted with heavy-looking statement appliances and a black, chalk-like backsplash made from eco-friendly paper. The basement floors are polished concrete and the bathrooms are wombs of shiny designer tiles, perfectly matched to the same grey-blue, molten-lava tone of the house and the Thing.
Hill uses an app to track the electricity usage of the Blue Ion batteries powering LEM. Three 4×10' solar thermal panels affixed to a 160-gallon tank circulate the home's hot water source, allowing the heaters to effectively work without electricity. "Most people wouldn't do what we did. They would have a generator for tricky times."
Hill's been living here the last two years, flying to and from New York to see his girlfriend—a 34-year-old model with four Vogue covers under her belt—when she can't make it to Maui. Though private about the relationship, he's patently in love. The same as he is with LEM: everything here feels very deeply cared for. It also is, doubtlessly, very expensive. Though Hill's an open book in every other way, he's too embarrassed to divulge what the house cost to build.
So when he tells me later, "I don't like buying stress," one has to wonder if that's exactly what he purchased in Maui, when one flight to his amazingly eco-friendly home can apparently negate the effect of years of recycling. How does he reconcile sustainable development in a place that's so remote for so many people? And how is it worth all the hate mail?
Hill's been there before, with TreeHugger. "You get to the point where, in your mind, you think 'Well, what the fuck are you doing? You don't like it? Write your own blog.' I'm the guy who could be doing nothing good. You know? I've been lucky, I've made some money, I could do whatever the fuck I want and, I think, as with all things, the comments say more about the commenter than what they are commenting on." 
Graham Hill isn't a bad guy. He's neither loud nor evangelical, and for the five days I followed him through Maui he was so half-absorbed in his own world that I had to remain glued to catch the slightest hint of who he actually was. When I saw it, I knew: while everyone else fumbled for towels, Hill washed his feet in a puddle of rainwater. He's incredibly focused on wasting nothing out here—not space, not stuff, not energy, not words—but has to take an Airbus to do it. He's human, and roasted for it. 
"You know, most people rationalize stuff by saying 'They're going to come anyways, the plane is going anyway'—the plane is NOT actually going anyway. If enough people stop going, they don't send the plane. It actually does make a difference."
"The net effect that I am bringing more people to Maui…it's a rabbit hole. If they weren't going to Maui, are they going elsewhere? Is that place better, worse? Further? Closer? And then, you know, here we go again: What about the fact that I am showing them a new way of living that may encourage them to do things differently, or to tell people about it, or all of that impact? I built TreeHugger. I've served a billion webpages. Arguably my influence in terms of the environmental stuff is enormous."
In the last year, Hill has lost three people close to him. I ask how he wants to be remembered; he's thought about this a lot. "I want to be thrown in a hole to nourish a tree."
But for now? "I should be able to do whatever the hell I want. I'm not saying that—but one could say that. You know what I mean? It's a complicated thing."