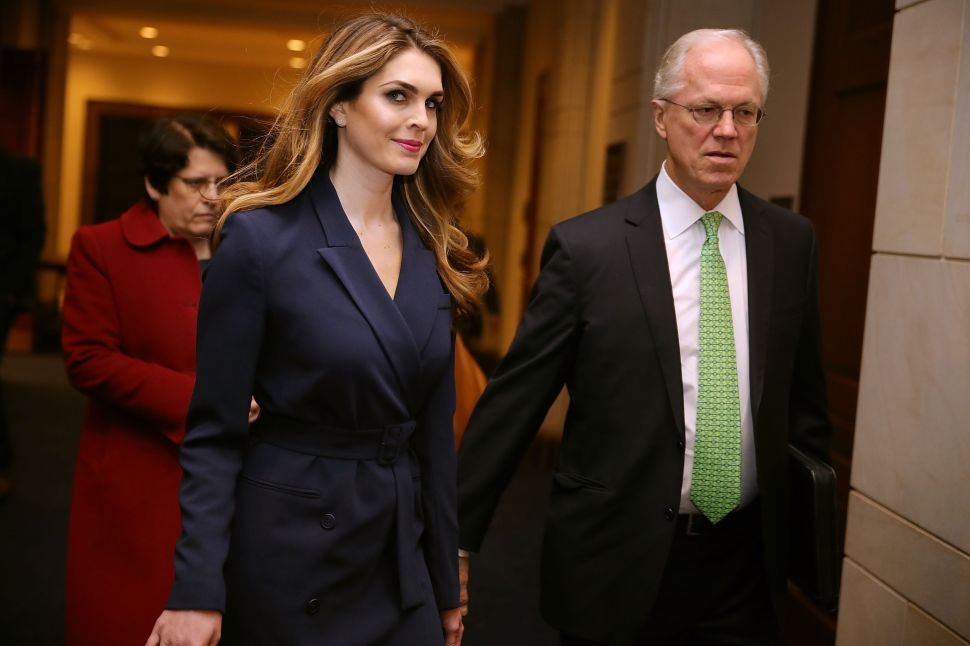 The White House is at war with the outer fringes of Trumpworld.
In a new feature narrating the whirlwind rise—and almost limitless future—of outgoing White House communications director Hope Hicks, New York Magazine's Olivia Nuzzi illuminates the shadowy powerplays dominating the West Wing. Mixing investigative reporting, tabloid gossip and palace intrigue, Nuzzi presents a definitive look at how the White House works (or doesn't depending on one's viewpoint).
Here are the biggest takeaways:
White House Staff Waged a PR War Against Corey Lewandowski 
One prevailing character depicted as a Machiavellian serpent is Corey Lewandowski—President Donald Trump's former campaign manager who never made it to the current administration after manhandling a Breitbart reporter.
Several sources close to Hicks speculate that Lewandowski played a role in resurfacing allegations of domestic abuse against Trump's former staff secretary, Rob Porter, who dated Hicks before resigning in early February. Lewandowski is also said to have dated Hicks (according to former Trump aide-turned-kamikaze media hound Sam Nunberg and reported as fact in Michael Wolff's Fire and Fury) and sought revenge against Porter.
"[Lewandowski] got wind that [Hicks] was dating Porter, and he could not handle that," a source close to the White House told NY Mag. "There were still raw feelings."
"I think that he thinks he should control her," another source told the publication.
Nuzzi teases the possibility of a conspiracy between Lewandowski and Citizens United Chairman David Bossie to oust White House Chief of Staff John Kelly—"They would be the ideal gatekeepers for people who would otherwise need to jump the gate."
Porter's ex-wife Jennie Willoughby also speculated that Porter was fearful Lewandowski would unearth the allegations.
Rather than acknowledge its systematic failures in employing someone who allegedly beat his wives, the White House used NY Mag as a vehicle to turn issues of national security into palace intrigue—implying that Porter was fired because of a revenge plot helmed by Lewandowski, rather than multiple women coming forward with firsthand accounts of physical abuse.
Nuzzi states on the onset that Hicks declined to comment on-record, meaning that her own narrative is likely intertwined on-background with the accounts of dozens of past and present White House officials: Detailed descriptions of her workout regimen and notebooks certainly imply this is the case.
Hicks and Mercedes Schlapp Jockeyed for West Wing Hegemony 
Several senior White House officials told NY Mag that Hicks and Mercedes Schlapp vied for influence within the the White House communications department. A Fox News contributor married to Conservative Political Action Committee Chairman Matt Schlapp, Mercedes was John Kelly's preferred pick—due to her influence within the Republican establishment.
"The battle between Mercedes and Hope was ugly as hell. I mean, Mercedes was fucking cutting her up," said a former White House official.
"Kelly wanted Hope to move out of the anteroom to the Oval Office and into the communications office," another former official said. "He did not like that she had that level of access and influence."
John Kelly Allowed Hicks to Take the Fall for Drafting Rob Porter Statement 
In moving to diminish Hicks' authority in the White House, Kelly allowed Hicks to be blamed for his statement praising Rob Porter's character.
"Rob Porter is a man of true integrity and honor, and I can't say enough good things about him. He is a friend, a confidant and a trusted professional. I am proud to serve alongside him," wrote Kelly after Porter's allegations first arose.
Even as reports surfaced that Hicks drafted these words, Kelly stayed mum and let her take the fall—despite dictating them himself. Both White House aide Kellyanne Conway and press secretary Sarah Huckabee Sanders confirmed to NY Mag that Hicks had not authored the Porter statement.
Vulturous Paparazzi and Opposition Agencies Have Infested D.C.
Although D.C.'s tabloid presence boomed during the Monica Lewinsky scandal, it exploded in the Trump era. As vulturous paparazzi creatures openly camp outside the glamorous Kalorama neighborhood, massive political operations deploy investigative reporters to track the powerful from the shadows.
According to Nuzzi's report, an organization called Probe Media—with implied links to Lewandowski—photographed Hicks and Porter necking in a private car. The blurry photographs were then published on the Daily Mail, in what appears as a pipeline between shadowy political opposition groups and mainstream media outlets.
Paparazzi also staked outside Hicks' apartment complex when her resignation became public.
Despite the lack of A-list celebrities—many of whom frequented Washington regularly during the Obama years—Hollywood's globalized industry has corporatized Capitol Hill's sleaze into blockbuster spectacle.