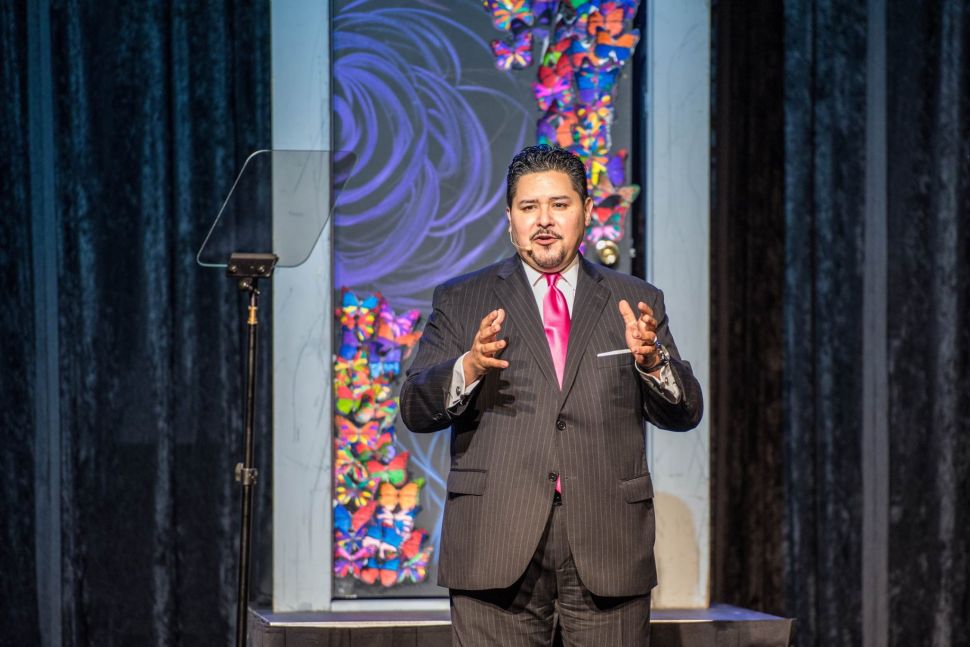 Mayor Bill de Blasio has tapped Houston schools superintendent Richard Carranza to become the next New York City schools chancellor—four days after Miami-Dade Schools Superintendent Albert Carvalho bailed on the job at the last-minute.
On Wednesday evening, POLITICO reported that Carvalho, 52, would succeed city schools chancellor Carmen Fariña, who is retiring after first ascending to the position in 2013. Carvalho changed his mind during a dramatic school board meeting in Miami, during which board members and community members implored him to stay in his current position, which he has held since 2008.
Since August 2016, Carranza, 51, has been serving as superintendent of the Houston Independent School District—the largest school district in Texas and the seventh largest district in the United States, with a primarily Hispanic and black student population.
De Blasio noted that in Houston, Carranza—who was de Blasio's second choice for the position—was praised for leading a successful effort to reopen schools two weeks after Hurricane Harvey, which included securing transportation for students living in shelters and offering counseling for students and staff.
And during his eight years as deputy superintendent and then superintendent for the San Francisco Unified School District, Carranza raised graduation rates for African-American students by 13.9 percentage points and for Hispanic students by 15.4 percentage points—faster than the overall growth rates in California as a whole.
"He's someone who understands our children and our parents… this is someone who, every day, will relate to the kids he serves and will be able to communicate with the parents who care so deeply about their children's future and that gives me tremendous confidence," de Blasio told reporters in the Blue Room at City Hall on Wednesday afternoon.
Carranza's salary will be the same as his base pay in Houston—$345,000. The mayor said his decision was "straightforward."
"We first made contact well over a month ago," he said. "I said, 'We had a great process with you but it came down to two people. We made a different choice.' But I told him how much I admired him… I said, 'Richard, I really like you, and I hope our paths will cross again someday.' I did not know I could predict things that quickly."
De Blasio said he and Carranza had "very fruitful discussions" in which they covered "anything and everything."
"Carmen was strongly after that, urging me to go ahead, and we felt very, very confident again after probably, I'm counting well over 12 hours of discussion, and I made an offer 10 o'clock last night sitting at the dining room table at Gracie Mansion, and Richard agreed immediately," the mayor added.
Carranza said his trajectory "has always been that of a teacher." He was a high school bilingual social studies and music teacher and a principal in Tucson.
"I used to work with children in classrooms, I now work with adults in bigger environments, and I still make it a point every week to visit classrooms," he said. "That's where I find my inspiration, that's where I find my strength and quite frankly that's where I find the good things that are happening as we think about education and children."
As to his approach, he noted that there are similarities that exist across the country when examining public education in the United States, particularly in urban environments.
"Equity is an issue and I will tell you that from the work that we did in San Francisco carrying on through Houston, when you look at schools by whatever metrics are 'underperforming'… my experience has been—again, now in four different states and four different school systems—that the schools don't just decide that they're going to be underperforming," he said. "There are issues, there are situations, there are structural inequities that lead to underperformance."
He said he prefers to refer to these schools as "historically underserved" and not "underperforming."
"I think what is incredibly important here in New York City and part of the work that I've been able to be part of in my district is really looking at social-emotional learning and mental-social well-being of students in schools and quite frankly the adults it serves," he continued. "We know that by the very nature of living in an urban environment, there are some modicum of trauma or stress that students undergo."
The new chancellor said he is an "absolutely passionate supporter" of public schools but thinks both public schools and charter schools can be good and bad. He also said he is not advocating for a "testing culture" but that there needs to be some indicators to "be able to have a pulse on how are you progressing."
And he plans to tackle the issue of segregation in schools.
He also told Observer he cannot yet speak to the effectiveness of mayoral control, which grants the mayor full authority to pick a chancellor (Houston does not have mayoral control). But he said that he and de Blasio are politically aligned.
"To have synergy for me just eliminates a lot of the need to navigate some of the other politics," Carranza added.
And he promised he'd be around for the long haul.
"I'm gonna be in New York City as long as you'll have me," he said.
Fariña noted she and Carranza have a lot in common.
"Not only were we both non-English speakers, our families were laborers, and they came to the understanding that working with your hands is not a bad thing if that's what you had to do to earn a living for your family," she said.
Before moving to San Francisco, Carranza served as the Northwest Region superintendent for the Clark County School District in Las Vegas.
The grandson of Mexican immigrants, Carranza is a fluent Spanish speaker. He and his wife, Monique, have two daughters. He is also a mariachi musician and has a twin brother.