"Jessica Rabbit!" English actor Jim Sturgess blurts out with a huge grin in the middle of the conversation. No, he's not suffering any sort of manic episode. During our interview, I asked him which fictional character he would most like to have dinner with. Stumped in silence, Sturgess finally conceded, saying he'd have to text me with an answer later. No problem, it wasn't like I was going to use this as the lead for the piece or anything.
But several minutes later, while we're discussing the complexity of American salads ("you have a million dressings and sides," he laments), Strugess' answer hits him like, well, the mysterious cosmic event that is set to end the world in his new Hulu series Hard Sun (arriving on the streamer today).
Strugess has an eclectic filmography from Across the Universe and 21 to Crossing Over and Cloud Atlas. He's also got a deep love for music—his encyclopedic knowledge of early 1990s hip-hop is impressive, to say the least—which makes for an interesting perspective on all things artistically creative.
To start off, I'm sure you've been asked this a million times but what do you enjoy more, music or acting?
It's impossible to separate the two in my life and it genuinely is—I've always sort of been attracted to both. Always. They were the only two things I was really ever any good at. Music, acting and skateboarding were the three things that I kind of loved growing up.
Not a bad trio.
So yeah, that was kind of it. In school, I certainly did not excel in any sort of way until the minute it was a creative class—a drama class or music or even making a clay pot, then I was into it. I knew very quickly that I was attracted to a more creative way of expressing myself than an academic one.
It's weird because I was in a band for a very long time, and most people tend to be sort of actors wishing they were playing in a band. I was sort of in a band with half an eye looking at the world of acting, cinema and movies. I just grew up watching a lot of films and listening to a lot of records. So when I was in a band, it was a very tumultuous, volatile and difficult time to be honest. It was a lot of head cases all together making music. It was very exciting when I was younger, but I don't know if I could be in a band like that now.
Is it true that when you were 15, you would lie to pub owners so that you and your band could get gigs? What was that like?
(Laughing) Even my Dad would lie to them.
So he was on your side?
He would sort of help out. He would drive us, the band and the equipment to the pubs sometimes—
Which everybody knows is the coolest thing, when your band has a ride with your dad. 
That's how you roll in, yeah. I remember the guy running the pub—we were probably 15, 16—and he was like "are these kids 18?" because that's how old you have to be to drink in a pub and my dad half lied. Which didn't help us at all. He was like, "well they're 17," which is the most pointless lie. We got kicked out. We couldn't play the gig.
What would you be doing if you weren't acting or playing music?
I don't know. My dad just thinks I jammed it. I can't even imagine it. I would've always found a way to some sort of creative endeavor whether that meant I was totally broke and working on music or trying to make films or whatever; I don't know how to do anything else really, do you know what I mean?
I worked in a kitchen for a while. I remember getting promoted. I was the dishwashing boy, we called them pot wash boys, I was basically a human dishwasher in a restaurant. I remember I got promoted to the salad boy. I was way too overexcited about this promotion that it made me recheck my life.
Given your dual love of music and acting, Across the Universe must have just been the perfect breakout project for you. What was that entire experience like?
Mind-blowing for me. I'd never been to America, so I was sort of skyrocketed into New York City. I had a sort of fascination with New York for as long as I can remember. From watching 101 Dalmatians, Ghostbusters, New York City was always very present in my mind. And then like I said, later on, Scorsese movies and Woody Allen films. New York has sort of always been… there. So to finally arrive in—and also the music I was listening to. I grew up listening to a lot of hip-hop music. So that was a total fascination with New York. To arrive in New York, to shoot a movie, just blew my tiny mind. I remember just walking around and I couldn't believe it. It felt like I was walking around on a giant movie set.
Reviews have mentioned that Hard Sun is relevant today as world leaders increasingly talk about nuclear threats. What's your take on Putin's recent comments about Russia developing nuclear weapons that the world has never seen before? And how does that play into the pre-apocalyptic setting of the show?
I think Hard Sun does sort of tap into that fear of everything disappearing. The world coming to an end. It's the ultimate concept: Life as we know it being no more. There's almost a total arrogance about it. People don't ever believe that it could truly happen. I like the concept because we don't know a huge amount of what's going on out in space in the cosmos. Black holes. Meteors flying around. Who knows what kind of cosmic debris is out there in space? It reminds you that we are just floating on a little rock in space. We have to be very grateful and privileged to be here. So when idiots like… fucking whoever is running the world, whatever place is talking nonsense about blowing things up, it's embarrassing. It's embarrassing for the human race. It's horrific that people behave in that way when we are so lucky to—I don't want to get too crazy about it but we literally are the only form of life, as far as we know, and we behave like that. It's a shame.
If there are superior aliens, and if they've ever checked us out in their microscope, I just feel like they're embarrassed that they have to share the same universe as us.
We should be embarrassed! It's horrific what we do to this planet, as a whole, and how we behave. How we destroy rather than create. We're lucky enough to be that perfect distance from the sun that we're able to grow life. And we should be proud, too. We've done some incredible things (motions out the window to New York City).
Television is the perfect medium for apocalyptic stories. You want as much bandwidth as you can possibly get because there are so many different reactions and stages of acceptance or denial.
And so many different people will react differently. The show kind of touches on that in the beginning. It follows a very definite crime drama structure where you have the villain of the week. Who knows what will happen if we get to continue the story? The first one is set up as a bit of a crime-drama. I believe that the genre of the whole thing can sort of be metamorphosing into different things as it gets more and more of a serious issue.
Who do you think you'd be if they plopped you into an apocalyptic movie or show right now? Are you the hero? Are you the villain? Are you one of the zombies?
I wouldn't be the villain, but I don't know if I'd be the hero either. I'd be the scared friend. The guy who comes to tell everyone "this is a really bad idea."
I know acting is a very serious profession, but it's also populated by a lot of people who genuinely love entertainment. I am curious if you ever asked David Schwimmer about Friends when you were working with him on Feed the Beast?

Maybe, I was curious to know how they made the show. It blew my mind that they would sort of rehearse for a week and then shoot it in like 20 minutes or whatever. They shot it kind of live, in front of an audience, which I didn't know…
They were sort of the last of the—things changed when they started making a lot of money, those guys. The big companies were like "we've got to put a cap on what these actors get paid" because they went for it, rightly so, because the show doesn't exist without them.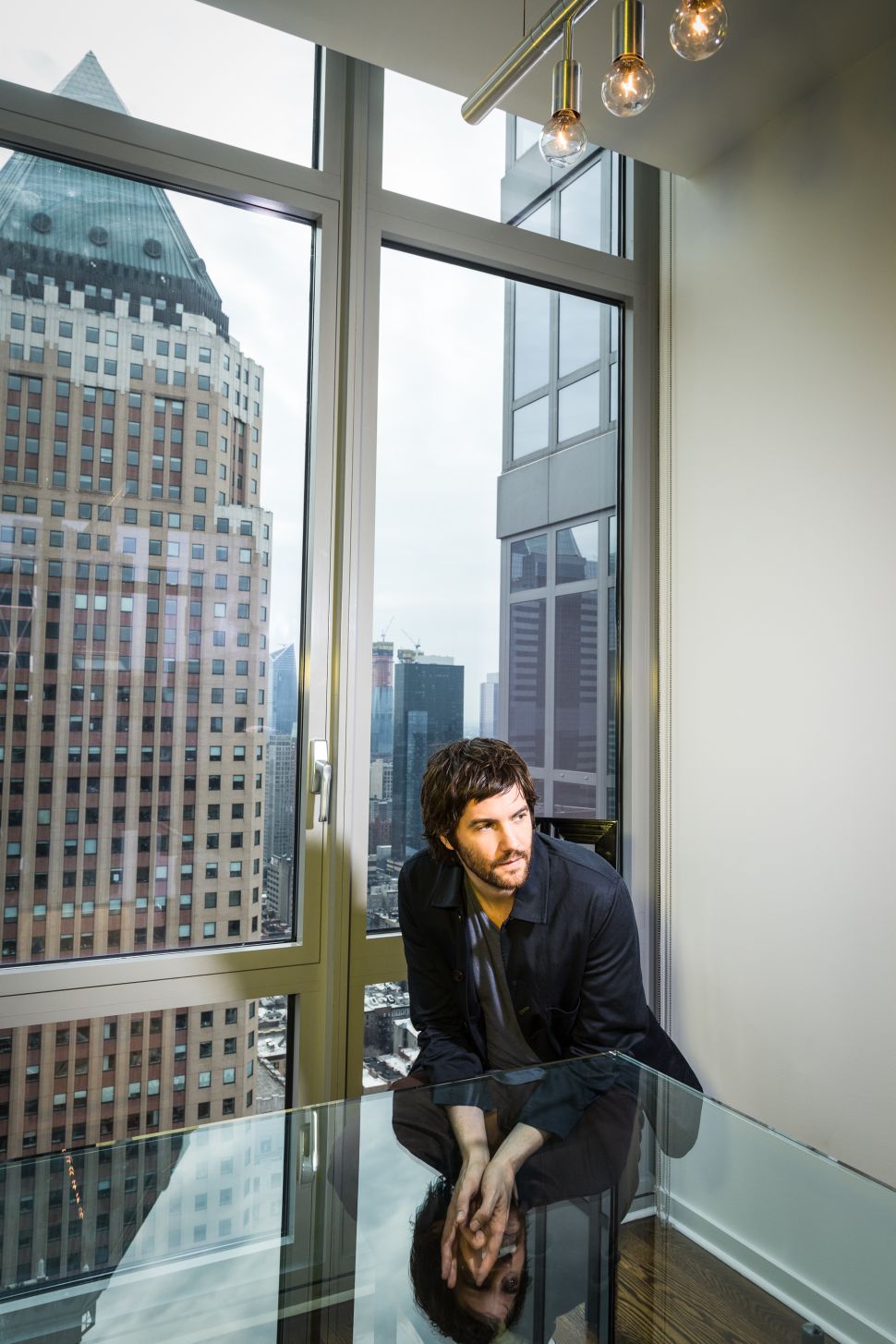 Is there anything you've noticed that may be misunderstood about David Schwimmer to the population at large who only know him as Ross?
He's a very serious guy actually. Very well read. Very interested in theatre. He's a smart guy. He's not this sort of douchey dude at all.
And he directed several episodes.
Yeah, he's on top of it. He knows what he's doing.
What is one thing you think audiences don't see or hear or read about the entertainment industry? One thing that they might be like "wow, I can't believe that's how it works."
That it's a long day of work probably. No one needs to know that. It is man.
What's the longest you spend on one shoot in a day?
I've done 18 hours before. There's night shoots, and it always amazes me because you can never see how cold it is on screen—to the point where it annoys me. No one will ever know how fucking cold it was that day! My experience with the film industry has been really, really positive. There is a very positive energy that goes around a film set most of the time. It's a shame that there are people who are abusing their positions of power or whatever.
My experience, and I hope a lot of other people's experience, is that it's a family environment. A group of strangers kind of come together to make this thing and very quickly everybody looks after each other because you're all each other has and I really enjoy it, the family kind of unit, and fall for it every time I make a film. And then go "Oh god, I'm never going to see those people again." But there's a huge support system within a film set, whether that be with the makeup team or the costume department, everyone sort of looks after each other. I feel very fortunate to be in a job that can be long days and hard work, but the energy of the people who are attracted to that kind of work are often very good, supportive people.
What is one thing that your fans would be surprised to learn about you. 
Oh my god. Oh my god. I don't know. I'm very indecisive. I'm not good at decision-making.
This interview has been edited and condensed for clarity.