NBC's new show Rise could kinda be described as a television show about putting on a show, though it's not really about that show. Sort of like the plot of another primetime network show, How I Met Your Mother, a show about telling a story, even though it's not really about that story. The irony is not lost on Josh Radnor, who is taking on his first broadcast network leading role since HIMYM wrapped after nine seasons. He's getting a lot of questions about how Ted-like his new character is.
"I think of them as very distinct and different characters," Radnor told Observer, not wanting to sound like he wanted to get as far away from Ted as possible…but also clearly not wanting to play "Teds" forever.
"After playing Ted for so long, I'm interested in leaning into different things." But he can't deny there's always a bit of the actor in any role, so naturally Lou, a high school music teacher, has a few similarities. "I had an acting teacher who said there's a 50 percent meeting of you and the character, so there's still 50 percent me in here, but Lou is very different from Ted and in a completely different world."
Here's a rundown on that world: Rise is the story of a teacher who revitalizes a town, and himself, when he convinces a local high school theater program to stage a controversial musical. And, much like how HIMYM wasn't about the mother, and Friday Night Lights wasn't really about football, Rise isn't really about musical theater.
It's about all the human drama (or hilarity, depending on the show) that happens around it.
That Rise shares a kinship with the aforementioned FNL is no surprise—showrunner Jason Katims is one of the creative forces behind both shows.
Katims said he was drawn to the project because, "I feel like shows that are very character driven and have a deep sort of emotional core are definitely the shows that not only appeal to me as a viewer, but it's also the kinds of stories I like to tell."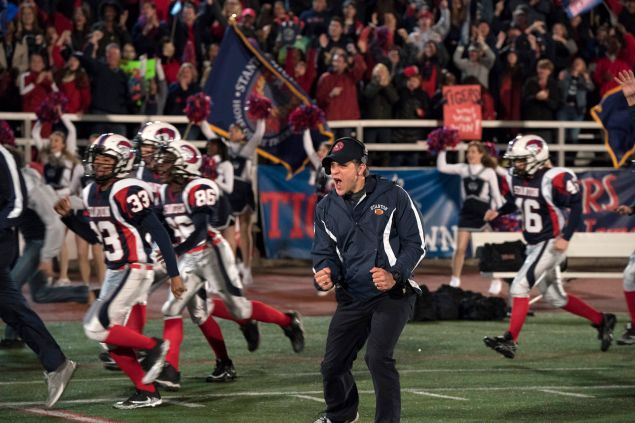 He credits the success of This Is Us for the recent push from networks to produce more character-oriented content. "It certainly shows that there's an audience for them," said Katims at a recent press event.
At the center of the series is a group of teens working on a production of the provocative show "Spring Awakening." The content of the musical—which features incest, abortion, and suicide—has some welcoming the weighty subject matter and others completely aghast.
Radnor's Lou is the one egging them on as a role model for the kids. Though in his personal life, he's has things anything but together.
"In the beginning, Lou is really at this crossroads so he does this Hail Mary pass in taking over the drama department and picking this complicated controversial show. Then he realizes, in a panicked way, that he has to rise to the occasion because he's asking a lot of everyone involved," explained Radnor.
"A lot of his arc is about him gaining faith in himself, then losing faith in himself, feeling like this was the absolutely right decision, then thinking, 'no wait, this was the wrong decision.' But, it's not just about him. The beautiful thing is that you'll find yourself getting more and more invested in the spirit of the people in this working-class town in Pennsylvania."
It certainly has that Anytown U.S.A. feel to it, and the characters introduce themselves basically as clichés, but don't be fooled, there's more meat to this high school set that first appears.
The youthful troupe is made up of what feel like stereotypical characters—the teenaged queen bee; the overbearing football coach; the lonely but extremely talented girl being raised by her single, struggling mom; the kid with strict religious parents who's yearning to break free of their rules; the star quarterback who is drawn to performing; and of course, the disenfranchised teacher who after just gliding along for several years thinks he can now magically change the world.
Among them, these characters ask some real questions about the allocation of funds in education, the role of religion in school, and address issues like gender-identity and sexual preference—and the way institutions and peers handle the personal issues of teens.
Pairing up with Radnor as another influential adult in these kids' lives is Tracey Wolfe (played by Oscar, Golden Globe and Emmy nominee Rosie Perez) the teacher he steps over to get his new position. Together they make excellent sparing partners.
For Radnor and Perez, it was the emphasis on musical theater that got them at least initially interested in the project. The medium had a huge influence on both of their career choices.
The first musical Radnor participated in was a high school production of "Oklahoma" in his Ohio hometown. "The next year I played the Emcee in "Cabaret" and that's when I knew that this was the thing for me. My life went from black and white to color at that moment."
Perez points to a field trip to see "The Wiz" when she was a pre-teen as having a profound influence on her. "I remember sitting in the theater and seeing this young, black girl singing about 'Home,' and it resonated with me. It was the first time I cried in public and I wasn't embarrassed. It changed me as a person."
And Perez has always had an interest in youth arts education. 25 years ago she founded a nonprofit called Urban Arts to support the arts in NYC and L.A. public schools. "We work with about 15,000 kids a year, using the arts to help them comprehend academics, strengthen their critical thinking, become civic-minded and to develop their self-esteem," Perez explained.
"I grew up not with a silver spoon in my mouth. It was very, very rough. But, I did have the arts, and it changed me because I was a very, very angry, introverted, yet still adorable, kid," said as she laughed a little at her self-description. "You provide that opportunity, and that child will rise to the occasion each and every time. Hence the name of the series—if you didn't get that already," she said with her trademark sass.
With all its layers, the narrative of Rise itself plays just like the staging of a big, big production, with all of these little bits and pieces that need to come together by a self-imposed deadline, while everyone watches with baited breath to see if it's really going to happen. In this respect, Rise sometimes feels like a slog through numerous rehearsals where nothing is going right. Some characters are too sullen for long periods of time, everyone has their own deep issue they're struggling to resolve, everyone tries to say something meaningful a bit too often for the dialogue to be completely realistic, and boy there are a lot of moving parts to keep track of. But, like in the lead up to any stage show, there's a turning point. And that makes the slog pretty well worth it.
'Rise' airs Tuesdays at 9/8c on NBC.