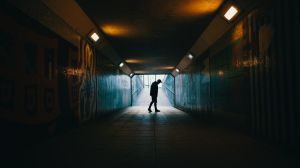 During his brief reign as the internet and media's most controversial troll, there were no shortage of people expressing their outrage about the comments and tactics of Milo Yiannopoulos. Yet for all these condemnations, and even violent protests in cities across the country, Milo remained a seemingly unstoppable figure until video footage published by a conservative website showed him essentially endorsing pedophilia.
In the days after the surfacing of that footage, Milo had lost his job at Breitbart, his book deal with Simon & Schuster, and within a year, the support of donor Robert Mercer. Most recently, his lawyers have dropped him in a case against his former publisher.
For those who did not follow the events closely, they may have suspected that this fall from grace was simply karma at work. In truth, this collapse was engineered by an anonymous 16 year old girl in Canada. While critics were caught in a feedback loop of outrage at Milo's offensive antics, she chose not to be angry and instead looked for a way to undermine his support with conservatives. In hours and hours of old interviews Milo had given, she found the perfect weapon, a comment that went so far beyond his ordinary controversy, even his most ardent fans could not accept: Milo's endorsement of the "incredibly life-affirming, important, shaping relationships…between younger boys and older men."
Others might have known of the comments, but no one else so effectively distributed them.
Worried that the news could be dismissed if it was seen as coming from the left, she collaborated with The Reagan Battalion, a conservative group who had criticized Milo in the past, and pointed them to the content she wanted them to post. Together, they timed the release against the recent announcement that Milo would be a keynote speaker at the annual CPAC conference and after his appearance on HBO's Real Time with Bill Maher. At 8:14pm on February 19th, 2017, the comments exploded across the media exactly as planned, unleashing a chain of woes for its subject.
The proper word to describe the events that led to this downfall is "conspiracy." That it had been orchestrated by a teenager hardly changes that it checks off all the boxes of a historical conspiracy: secrecy, collaboration, the element of surprise, and the exploitation of a chink in the armor. Most of all, this young woman—still unnamed to this date—appears to have seen it as a matter of last resort. "You shouldn't have to feel intimidated to stand up for what you believe in," she told Vox, of her use of shaming tactics against Milo's enablers.
For the most part, these events were cheered by the media and the public alike and rightfully so. Yet it is interesting to compare the reaction to the response to another conspiracy, orchestrated by the billionaire Peter Thiel.
For ten years, and at the cost of more than $10 million dollars, Peter Thiel worked in secret to bring down the website Gawker.com, for what he called a "full on attack out of the blue" in 2007 that outed him as gay and, more offensively to Thiel, said there was something psychologically wrong with him for being so secretive about it. Thiel had come to believe Gawker was a "singular sociopathic bully" and had decided to do something about it. Many in the media were appalled when news of Thiel's secret involvement in funding and orchestrating Hulk Hogan's $140 million lawsuit against Gawker was broken by Forbes and The New York Times. But the end of Gawker has many parallels to the end of Milo: The controversial media company looked invincible up until it wasn't, and its own words had been used fatally against it. Thiel and his conspirators had maneuvered in the shadows to make that happen.
We may agree with one conspiracy, and disagree with the other. The same people who are up in arms about the ability of a contrarian billionaire to legally back a case against a media outlet (that won in a court of law) seem to have little problem with an individual writer being deprived of his ability to speak at a private conference, his book deal, or his job.
But here's an interesting historical what-if: What if, in 2011, a deep-pocketed liberal had offered to secretly help along Shirley Sherrod's claim of libel and defamation against Breitbart.com? Might Milo have never risen to prominence in the first place?
As a strategy, a conspiracy is a neutral thing. In fact, it was Machiavelli who said that conspiracies were weapons of the people. Only states had the ability to wage open war against another. A conspiracy was open to everyone. Yes, even a billionaire. But also ordinary citizens like you or me.
Today, we recoil from conspiracies in part because they violate our modern belief in transparency, and perhaps, unconsciously, challenges our resignation to the status quo. Perhaps it's telling that one reaction from both government officials and the public alike to claims that members of the Trump administration may have colluded with Russia in the 2016 election, is to dismiss them as unlikely because the campaign was neither organized or smart enough. Understandably, it is easier to sign a petition than to dirty one's hands. The problem is that this high-mindedness cedes the domain of power to those who will.
Having spent many hours interviewing Peter Thiel, Hulk Hogan, and Charles Harder about their conspiracy, as well as Gawker's founder Nick Denton and former editor A.J. Daulerio (two men who admit they underestimated Thiel and Hogan), I found this ignorance of conspiracy to be both sad and incredibly naive. "We live in a world where people don't think conspiracies are possible," Thiel would tell me in an interview. "We tend to denounce 'conspiracy theories' because we are skeptical of privileged claims to knowledge and of strong claims of human agency. Many people think they are not possible, that they can't be pulled off." Believing or not believing in conspiracies is self-fulfilling prophecy in more ways than one.
In addition to his real life conspiracy, Thiel has become famous for a thought exercise, which he likes to ask job applicants and toss out at dinner parties: "What important truth do very few people agree with you on?"
Here's mine: Perhaps we have too few conspiracies, not too many. Too little scheming, rather than too much. What would happen if fewer people protested and more people plotted? I don't know the answer, but I believe there is a value in such a toolkit. A deeper understanding of how the tool works is essential for defending against political machinations as well.
It would be wonderful if rebutting the obnoxious arguments of a troll or an out-of-control gossip empire (or a political demagogue) was an effective strategy, but it rarely is. There is something nasty about isolating old comments from a public figure and ruining their credibility with the ensuing scandal, or funding secret legal cases, as there is with almost every kind of conspiracy.
What can't be argued—at least in these two recent cases—is that it doesn't work.
Ryan Holiday is the author of Conspiracy: Peter Thiel, Hulk Hogan, Gawker, and the Anatomy of Intrigue.