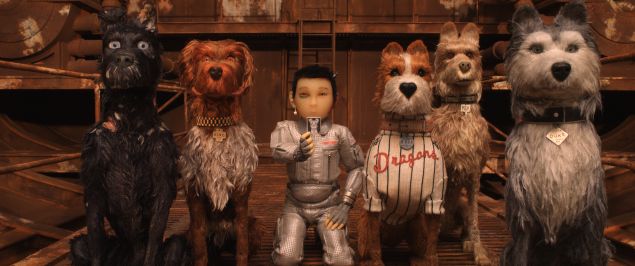 "It wasn't like I said, 'Guys, wait until you hear this: dogs and garbage,'" laughed Wes Anderson about coming up with the plot of his new film, Isle of Dogs. If the magnificently eclectic tale of feisty canines fighting for survival on a garbage dump feels itself like an alchemical fusion of creative scraps, then credit a filmmaker allergic to high-concept pitches.
During a masterclass at the Berlin Film Festival in February, where his movie went on to win the Silver Bear for Best Director, Anderson and his co-screenwriters, Roman Coppola, Jason Schwartzman, and actor Kunichi Nomura, elaborated on how their notebook-filling brainstorm sessions four years ago led to the Pacific Rim fever dream. "Who are these dogs?" was the question Schwartzman said they started with. "And they're all alpha dogs with alpha names. That was really the starting point. For me, it was more after an atmosphere." But it wasn't until they found their location, that the idea really caught on. "Early on, I do recall a setting that was decrepit. And dogs, and a boy," recalled Coppola, "But Japan was that catalyzing change."
Boy, was it: the quartet are Japanese movie junkies, primarily Akira Kurosawa's films but also the works of Yasujiro Ozu, Seijun Suzuki, and Hayao Miyazaki, as well as the rash of sci-fi Kaiju flicks from the '50s and '60s. "We're lovers of Japanese cinema," Anderson continued. "And somehow in our first time together focusing on our story, that's what came of it. And that's when I asked Kunichi [Nomura] to get involved. The very first hour I was ever in Japan, in 2003 or 2004, I met him, and we've been friends ever since. And Jason and Roman also knew him—for as long as I had or even longer."
Of their cinematic favorites, it was Kurosawa classics that impacted Isle of Dogs the most, but more contemporary urban films like High and Low, Stray Dog, The Bad Sleep Well, and Drunken Angel were ones that Anderson specifically cited as major influences. Subversively political in subject material though it may be, this film arguably has another concealed plot: to prime an audience who might grow into devotees of Japanese cinema, just like them.
The story is simple. In the Japanese Archipelago, 20 years in the future, dogs have been beset with a canine flu that creates a panic among the denizens of fictional Megasaki City. Mayor Kobayashi (voiced by Nomura) declares an immediate quarantine that exiles the dog population to Trash Island and effectively sentences them to a long, slow death. Enter Atari Kobayashi (Koyu Rankin), the 12-year-old orphaned ward of Mayor Kobayashi, who death-defyingly flies an absconded plane onto the island so he can find his beloved missing dog Spots (Liev Schreiber). Helping him on the rescue mission is a pack of domesticated alpha dogs, among them Rex (Edward Norton), Boss (Bill Murray), King (Bob Balaban), and Duke (Jeff Goldblum); plus Chief (Bryan Cranston), a street stray with a vicious bite.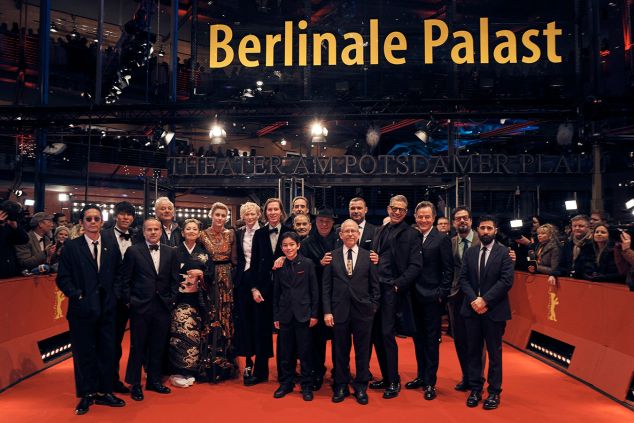 Many have remarked that the film's xenophobia and racist jingoism is surprisingly political for Anderson—not to mention topical. But to say that's all this film is about does it a disservice. This is also Anderson's love song to Japanese arts and cinema.
See this in the sequences directly influenced by ancient Japanese wood-block art from 19th century Edo-period print masters (Anderson met with the curator of Japanese Arts at the Metropolitan Museum of Art, and his storyboard artists visited the collections at the Victoria and Albert Museum in London). And watch the surprisingly spare visual compositions that support moments of silence unusual in a typical Anderson film. Unusual for him, yes—but not for a filmmaker like Miyazaki, whose penchant for stark, quiet moments had a direct impact on scenes in Isle of Dogs.
"One of the things I wrote in the notes I took was "Keep it poetic," said Anderson. "Which is crazy to write—what does that even mean? But we were hoping there would be something otherworldly or romantic about it."
His actors were quick agree he'd achieved his goal. The cast is stacked with a dozen familiar (even Oscar-caliber) names, from Frances McDormand and Greta Gerwig to Harvey Keitel and Tilda Swinton—not to mention Yoko Ono, who pops up playing a scientist named…Yoko Ono. (Anjelica Huston, who wanted to be in the film but didn't make the cut, is still credited at the end as a "mute poodle.")
A coterie of his stars joined Anderson in Berlin, and were effusive about how Isle turned out, especially since many of them weren't allowed to read the entire script and hadn't seen it until moments befor. "The first frame of the movie—it was so beautiful!" gushed Bill Murray, referring to an opening prologue all rendered in classic Japanese illustrations made to look hundreds of years old. "I had some idea of what was going to happen, but no idea of the complexity of what we saw. The worst film nerd would never leave his house with this movie. You could get buried with all that's contained in it."
Goldblum was equally bowled over by a film with references to Yojimbo and Citizen Kane almost within minutes of each other. "It's so rich," he said. "I'd like to see it again on a big screen, because it's gorgeous; and I'd like to see it at home where I can stop it and look at it. I was surprised at everything."
Murray felt lucky to be part of that core pack of dogs, since most of them were able to record all their lines together—in the space of a single day. "We were the test dogs," said Murray. "You got to see this spiral of canine performing: everybody got a little more doggy as we went along. It was fun to watch. And silly. I think Wes enjoyed watching us dog up like that."
Balaban was surprised at how different the experience was compared to other animated films he had voiced. "Those directors kept pumping you up," he said. "Everything had to get bigger and bigger, you had to be screaming, and it was really energetic. And that was the opposite of what we were all doing." Remember, Anderson was keeping it poetic.
Murray agreed. "It was very much more conversational and not performance-driven," he said. "Like we were talking to each other in an elevator. His dialogue is sort of like, it's overheard. It's not presentational."
But don't think that low-wattage approach extends to all the film's action scenes, where run-ins with vicious robot dogs spark serious combat all rendered in delightful cotton-ball dust clouds. Moments like that are Anderson's nod to Chuck Jones and Tex Avery cartoons, which is clearly his way of making sure that Isle of Dogs first and foremost is a kid's movie. But he does them a service by understanding that kids can take a movie that's not all gags.
Schreiber had the distinct honor of showing an early cut of the film to his children a few months before the film's premiere. Not only were they just as charmed as their father, they also got the distinct thrill of watching a PG-13 movie for the first time—and enjoying its salty wordplay. "There's one point at which Bryan's dog calls my dog a 'son of a bitch,'" he remembered. "And my son Kai just turns to me, smiling, and says, 'Well, that's okay, because he is a son of a bitch!'"
Scheiber's character, Spots, is really the soul of the film, the bodyguard dog separated from Atari who has to reconcile life without his master. "I noticed that Wes, who is a tremendously talented comedic director and writer, had pulled back on a lot of opportunities for gags and jokes, and was going for something more emotional and intimate," he said.
Co-writer Nomura was vital in helping create Anderson's distinct vision. "He even asked me what the department store uniforms looked like from the '60s—not the '70s, the '60s," said Nomura. Anderson has been a notorious stickler for production details in all his films (Balaban remembers wearing vintage underwear under his vintage clothes in Moonrise Kingdom). So it's no surprise his fastidious focus would apply to a culturally fertile country like Japan, but certainly the director was also conscious of making a movie about a culture in which he is an outsider.
His research process was complex, to say the least. "That's the interesting thing about doing research for a story like this," said Anderson. "Nowadays, you Google them. But you can't Google them if you don't have the right keyboard! It's as simple as that." Nomura was essential not only in providing context for Japanese culture, but in also translating Anderson's vision—sometimes quite literally. "We would have different people translating," said Anderson, "But Nomura would always say, 'That is fine but it doesn't sound like your movie.' And he would retranslate with some different literary voice in his head."
Although the animals speak English, Isle of Dogs is overwhelmingly in Japanese, and much of that dialogue goes unsubtitled, a brave creative choice that distributor Fox Searchlight is honoring. Anderson's biggest concern is that Japanese people won't see it as opportunistic carpet-bagging. "I hope we handled it right, because we wanted it to be about Japan, and we sort of combined a lot of different things at once," Anderson said. "So I hope people in Japan will feel that it has an authenticity even if it is a total and complete fantasy."